It Follows Locations
Written and directed by David Robert Mitchell, scored by Disasterpeace, starring Maika Monroe, Keir Gilchrist, Olivia Luccardi, Bailey Spry, Carollette Phillips, Lili Sepe, Debbie Williams, Jake Weary, Daniel Zovatto, and Ruby Harris, It Follows is an American horror thriller mystery movie premiered at Cannes on May 17, 2014. It was released in the United States on March 13, 2015, grossed $23.3 million against a $1.3 million budget and won several awards and nominations. It Follows was mainly shot in Michigan, USA. Jay Height's house was located in Trafalgar Way Sterling Heights, while the pool scene took place at Clawson High School, Clawson.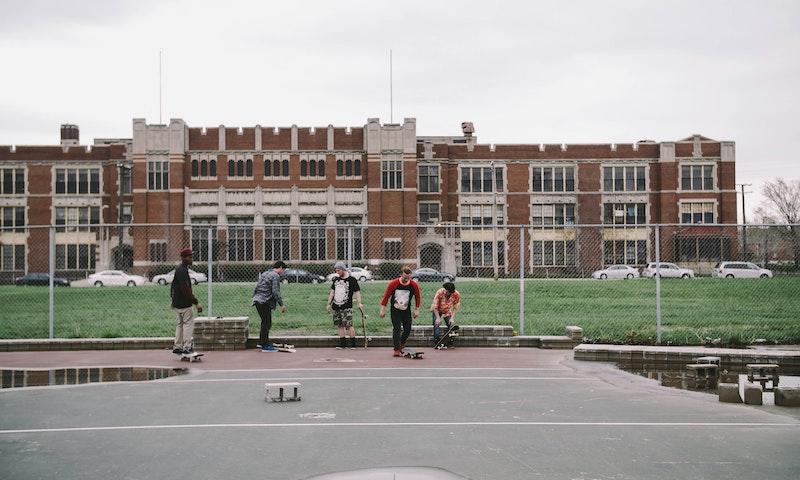 Detroit, MI, USA. Photo by Justin Eisner on Unsplash.
Where was It Follows Filmed?
It Follows was filmed in Clark's Ice Cream, Clawson High School, Detroit, Jaycee Park, Northville Psychiatric Hospital (Closed), Packard Automotive Plant, Redford Theatre, Sterling Heights, Trafalgar Way, University of Detroit Mercy and Water Works Park.
The complete list of the locations with latitude and longitude coordinates are listed below in the table.
It Follows Locations Map
It Follows Locations Table
| Location Name | Latitude | Longitude |
| --- | --- | --- |
| Clark's Ice Cream | 42.503197 | -83.192635 |
| Clawson High School | 42.536087 | -83.148270 |
| Detroit | 42.332352 | -83.061157 |
| Jaycee Park | 42.595615 | -83.116394 |
| Northville Psychiatric Hospital (Closed) | 42.360504 | -82.937637 |
| Packard Automotive Plant | 42.379368 | -83.028687 |
| Redford Theatre | 42.417416 | -83.257607 |
| Sterling Heights | 42.579994 | -83.034714 |
| Trafalgar Way | 42.578396 | -83.023514 |
| University of Detroit Mercy | 42.414055 | -83.139122 |
| Water Works Park | 42.358673 | -82.979630 |
Related Movies