Knight Rider Locations
Knight Rider is an American action crime drama television series created by Glen A. Larson. Starring David Hasselhoff, Edward Mulhare, Richard Basehart, Patricia McPherson, Rebecca Holden, and Peter Parros, the series was released from September 26, 1982 to April 4, 1986 on NBC, ran for 4 seasons, 90 episodes, nominated for the 1983 Primetime Emmy Awards in "Outstanding Film Sound Editing for a Series". Knight Rider was shot in Los Angeles, Beverly Hills, Stockton, Santa Clarita, and Burbank, California, USA. Filming also took place at Universal Studios, Universal City. Greystone Mansion was used for Devon's Headquarters on Season 1.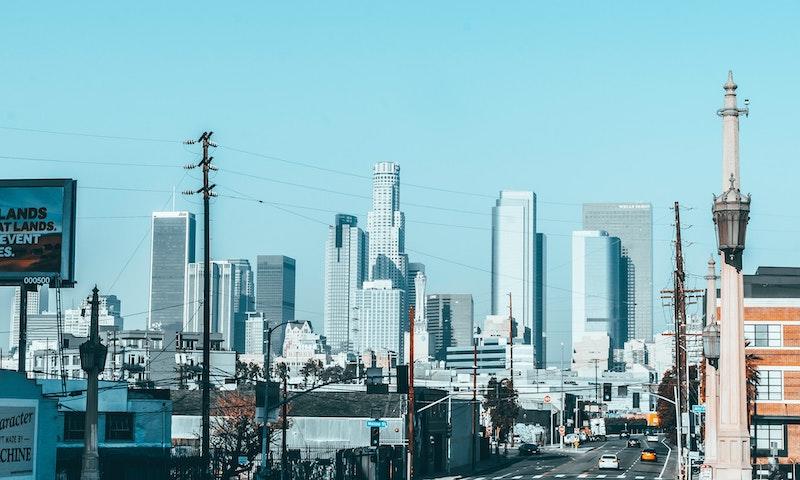 Downtown Los Angeles, CA, USA. Photo by Drastic Graphics on Unsplash.
Where was Knight Rider Filmed?
Knight Rider was filmed in 22255 Eucalyptus Ave, Burbank, Canoga Park, Colonial St, Courthouse Square, Covina, Denver St, Devon's Headquarters (Season 2), Downtown Los Angeles, Greystone Mansion, North Hollywood, Santa Clarita, Stockton and Universal Studios Hollywood.
The complete list of the locations with latitude and longitude coordinates are listed below in the table.
Knight Rider Locations Map
Knight Rider Locations Table
| Location Name | Latitude | Longitude |
| --- | --- | --- |
| 22255 Eucalyptus Ave | 33.931492 | -117.275429 |
| Burbank | 34.183498 | -118.337280 |
| Canoga Park | 34.207989 | -118.607582 |
| Colonial St | 34.139126 | -118.345337 |
| Courthouse Square | 34.141361 | -118.349609 |
| Covina | 34.092049 | -117.890923 |
| Denver St | 34.139629 | -118.346992 |
| Devon's Headquarters (Season 2) | 34.132969 | -118.124611 |
| Downtown Los Angeles | 34.040985 | -118.254120 |
| Greystone Mansion | 34.092300 | -118.401382 |
| North Hollywood | 34.187569 | -118.386742 |
| Santa Clarita | 34.406376 | -118.519768 |
| Stockton | 37.976326 | -121.316643 |
| Universal Studios Hollywood | 34.138008 | -118.353676 |
Related TV Series