Louie Locations
Louie is an American comedy-drama television series created, written, and directed by Louis C.K. Starring Louis C.K., Hadley Delany, Ursula Parker, Steve Fabricant, and Susan Kelechi Watson, it is loosely based on Louis C.K.'s life. The series was released on FX from June 29, 2010, to May 28, 2015, ran for 5 seasons, 61 episodes, and nominated for two Golden Globes. Actors, actresses, and comedians who have appeared on Louie are Robin Williams, Matthew Broderick, Chloë Sevigny, Chris Rock, Ricky Gervais, Melissa Leo, Pamela Adlon, Parker Posey, and many more. Louie was mainly shot in New York City, New York, USA. Filming also took place in New Jersey. Filming locations included The Beaumont, Carolines on Broadway, Strand Theater, and Comedy Cellar.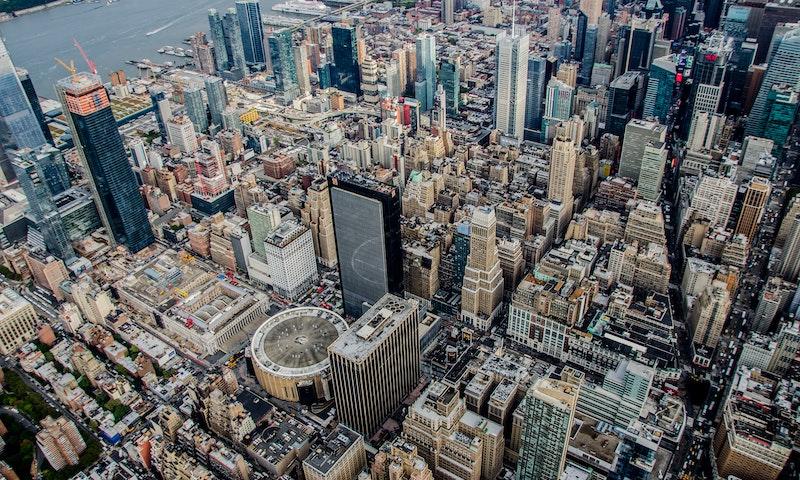 Madison Square Garden, New York, USA. Photo by Anthony Rosset on Unsplash.
Where was Louie Filmed?
Louie was filmed in 7th Ave & W 31st St (S05-E03), Beijing (北京市) (S03-E13), Ben's Pizzeria, Blue Island Tower (蓝岛大厦) (S03-E13), Carolines on Broadway, Comedy Cellar, Ed Sullivan Theater, Greenpoint, Madison Square Garden (S05-E03), Manhattan, Mojo Coffee, Olive Tree Cafe, Organic Deli & Grocery Corp., Santa Clarita, Strand Theater, The Beaumont and W 4 St - Wash Sq (Opening Credits).
The complete list of the locations with latitude and longitude coordinates are listed below in the table.
Louie Locations Map
Louie Locations Table
| Location Name | Latitude | Longitude |
| --- | --- | --- |
| 7th Ave & W 31st St (S05-E03) | 40.749283 | -73.992180 |
| Beijing (北京市) (S03-E13) | 39.951939 | 116.266922 |
| Ben's Pizzeria | 40.730392 | -74.000290 |
| Blue Island Tower (蓝岛大厦) (S03-E13) | 39.877636 | 116.665947 |
| Carolines on Broadway | 40.760948 | -73.984077 |
| Comedy Cellar | 40.730183 | -74.000664 |
| Ed Sullivan Theater | 40.763771 | -73.983040 |
| Greenpoint | 40.729687 | -73.952873 |
| Madison Square Garden (S05-E03) | 40.750515 | -73.993523 |
| Manhattan | 40.777992 | -73.978714 |
| Mojo Coffee | 40.734127 | -74.007500 |
| Olive Tree Cafe | 40.730164 | -74.000542 |
| Organic Deli & Grocery Corp. | 40.733643 | -73.954681 |
| Santa Clarita | 34.393040 | -118.549095 |
| Strand Theater | 40.094158 | -74.215279 |
| The Beaumont | 40.830379 | -73.949333 |
| W 4 St - Wash Sq (Opening Credits) | 40.731152 | -74.001266 |
Related TV Series