Luther Locations
Luther is a British crime drama mystery TV Series written and created by Neil Cross. Starring Idris Elba, Ruth Wilson, Steven Mackintosh, Indira Varma, Paul McGann, Saskia Reeves, Warren Brown, Dermot Crowley, Nikki Amuka-Bird, Aimee-Ffion Edwards, Kierston Wareing, Pam Ferris, David Dawson, Sienna Guillory, David O'Hara, Michael Smiley, Darren Boyd, Rose Leslie, Laura Haddock, Patrick Malahide, Wunmi Mosaku, Enzo Cilenti, and Hermione Norris, the series was released from 4 May 2010 to 4 January 2019, on BBC One. It was nominated for 11 Primetime Emmy Awards. Luther: The Fallen Sun serving as a film continuation of the series was released on 10 March 2023 by Netflix. Luther was shot in London, England, UK.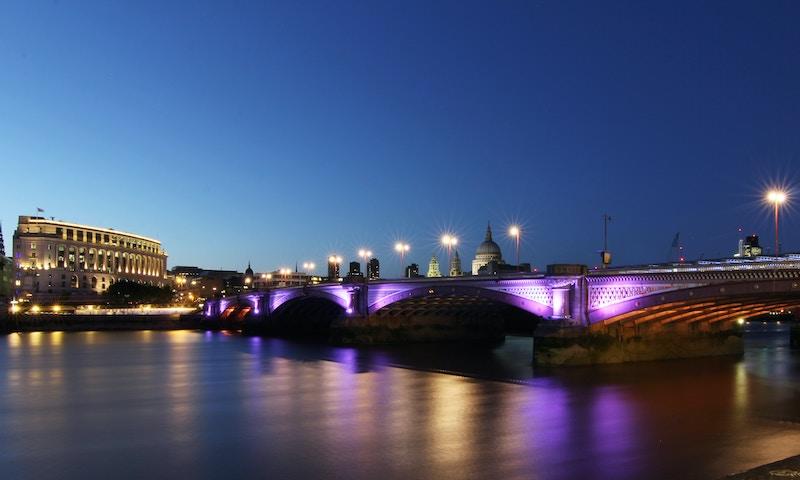 London, UK. Photo by Atanas Chankov on Unsplash.
Where was Luther Filmed?
Luther was filmed in 112 Roman Rd, 112 Roman Rd, 144 Southwark St, 182 Brick Ln, 2 Miles St, 4 Princelet St, 85 Swain's Ln, Barbican, Bateman's Row, Beachy Head, Bethnal Grn Rd, Bishopsgate, Blackfriars Bridge, Blizzard Institute, Boundary Estate, Boundary Passage, Calvert Ave, Coastguard Cottages, Corbridge Cres and Elephant & Castle Shopping Centre.
The complete list of the locations with latitude and longitude coordinates are listed below in the table.
Luther Locations Map
Luther Locations Table
| Location Name | Latitude | Longitude |
| --- | --- | --- |
| 112 Roman Rd | 51.528538 | -0.047848 |
| 112 Roman Rd | 51.528553 | -0.047814 |
| 144 Southwark St | 51.506695 | -0.102701 |
| 182 Brick Ln | 51.523548 | -0.071402 |
| 2 Miles St | 51.483013 | -0.124698 |
| 4 Princelet St | 51.519745 | -0.073274 |
| 85 Swain's Ln | 51.568439 | -0.147372 |
| Barbican | 51.520203 | -0.097763 |
| Bateman's Row | 51.525314 | -0.079068 |
| Beachy Head | 50.742378 | 0.234204 |
| Bethnal Grn Rd | 51.526245 | -0.066625 |
| Bishopsgate | 51.516773 | -0.081122 |
| Blackfriars Bridge | 51.509922 | -0.104440 |
| Blizzard Institute | 51.516792 | -0.061740 |
| Boundary Estate | 51.526062 | -0.075817 |
| Boundary Passage | 51.524723 | -0.076600 |
| Calvert Ave | 51.526283 | -0.076726 |
| Coastguard Cottages | 50.758568 | 0.144751 |
| Corbridge Cres | 51.534039 | -0.058161 |
| Elephant & Castle Shopping Centre | 51.494553 | -0.099550 |
| Elephant and Castle | 51.495628 | -0.101533 |
| Greenland Dock | 51.495018 | -0.036298 |
| Hermit Rd | 51.521507 | 0.012291 |
| HMP Wormwood Scrubs | 51.517014 | -0.240503 |
| Jerome St | 51.521118 | -0.074669 |
| Lansdowne Gardens | 51.476208 | -0.126377 |
| Leake St | 51.501453 | -0.114966 |
| Leonard St | 51.524685 | -0.084421 |
| Libeskind Building | 51.552395 | -0.111659 |
| Liverpool St | 51.518757 | -0.081518 |
| Liverpool Street Station | 51.518730 | -0.081563 |
| London | 51.507027 | -0.136723 |
| Lower Clapton | 51.556194 | -0.057475 |
| Lower Clapton Rd | 51.554016 | -0.053878 |
| Lund Point | 51.537579 | -0.006899 |
| Mace St | 51.530338 | -0.045675 |
| Millennium Mills | 51.505066 | 0.029473 |
| Moorfields | 51.518623 | -0.088653 |
| Moorgate | 51.517059 | -0.088859 |
| ODEON Luxe Holloway | 51.558598 | -0.121550 |
| Old Street Magistrates Court | 51.527321 | -0.080074 |
| Pedley St | 51.523014 | -0.066357 |
| Petticoat Lane Market | 51.516365 | -0.076431 |
| Queensbridge Rd | 51.539703 | -0.070239 |
| Randolph Ave | 51.528316 | -0.184119 |
| Ravey St | 51.524689 | -0.082153 |
| Renaissance London Heathrow Hotel | 51.480324 | -0.445729 |
| Rivoli Ballroom | 51.455208 | -0.037199 |
| Robin Hood Gardens | 51.509533 | -0.008648 |
| Ropemaker St | 51.519604 | -0.088901 |
| Sclater St | 51.523579 | -0.072806 |
| Shoreditch Church | 51.526836 | -0.077229 |
| Smithfield Market | 51.519409 | -0.101474 |
| Southwark Bridge | 51.508904 | -0.094131 |
| St Christopher's Pl | 51.516064 | -0.150611 |
| St Giles Cripplegate | 51.518703 | -0.093944 |
| St John St | 51.525822 | -0.104150 |
| Thames Path | 51.487747 | 0.001332 |
| The Griffin | 51.524899 | -0.082056 |
| The Palm Tree | 51.529102 | -0.040713 |
| Trinity Church Square | 51.499031 | -0.094071 |
| Uludag | 51.541439 | -0.076172 |
| Waterloo Station | 51.503143 | -0.112357 |
| Westfield London | 51.507557 | -0.221277 |
| Westminster | 51.497776 | -0.137819 |
| Worship St | 51.522060 | -0.083009 |
Related TV Series