Magnum, P.I. Locations
Magnum, P.I. is an American action-adventure crime TV Series starring Tom Selleck, John Hillerman, Roger E. Mosley, and Larry Manetti. It was released on CBS from December 11, 1980, to May 8, 1988, and ran for 8 seasons and 162 episodes. The series won 2 Primetime Emmy Awards. It follows the adventures of a private investigator (P.I.) living in Hawaii. Magnum, P.I. was filmed in O'ahu, Hawaii, USA. Like many Hawaii-themed tv series and movies, Magnum, P.I. was also footage at Hanauma Bay, one of the most popular tourist destinations on the Island of Oʻahu. Anderson Estate, situated at 41-505 Kalanianaole Highway, Waimanalo, was used as the iconic Robin Masters' Nest. But the estate was demolished in 2018.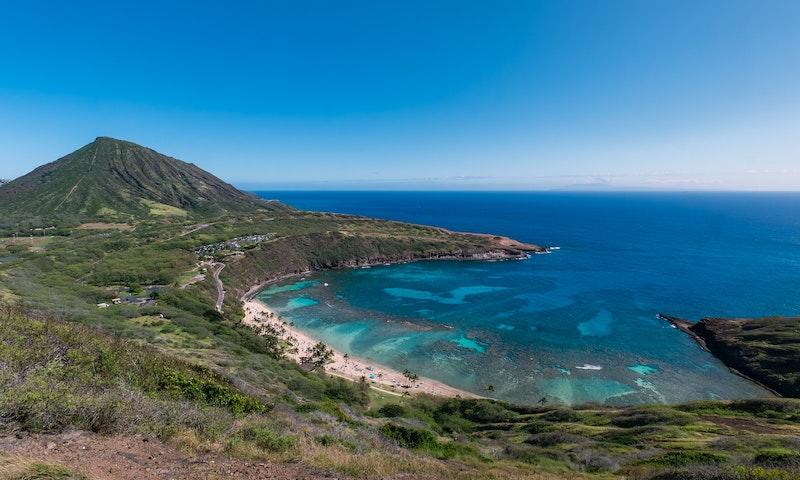 Hanauma Bay. Photo by Amanda Phung on Unsplash.
Where was Magnum, P.I. Filmed?
Magnum, P.I. was filmed in 10250 Santa Monica Blvd, 1697 Ala Moana Blvd, 1701 Lanakila Ave, 215 Kawaihae St, 2411 Makiki Heights Dr, 2616 Pali Hwy, 3101 Diamond Head Rd, 3573 Waialae Ave, 3585 Alohea Ave, 3632 Waialae Ave, 3759 Maunaloa Ave, 3860 Old Pali Rd, 39 Hotel St, 41-505 Kalanianaole Hwy, 45 Gloucester Sq, 4551 Kahala Ave, 500 South St, 51-666 Kamehameha Highway, 66-457 Kamehameha Hwy and 6700 Hawaii Kai Dr.
The complete list of the locations with latitude and longitude coordinates are listed below in the table.
Magnum, P.I. Locations Map
Magnum, P.I. Locations Part 1
| Location Name | Latitude | Longitude |
| --- | --- | --- |
| 10250 Santa Monica Blvd | 34.059017 | -118.418953 |
| 1697 Ala Moana Blvd | 21.286346 | -157.839691 |
| 1701 Lanakila Ave | 21.326675 | -157.862015 |
| 215 Kawaihae St | 21.286291 | -157.719284 |
| 2411 Makiki Heights Dr | 21.311930 | -157.832733 |
| 2616 Pali Hwy | 21.331692 | -157.843369 |
| 3101 Diamond Head Rd | 21.257824 | -157.817520 |
| 3573 Waialae Ave | 21.282711 | -157.799606 |
| 3585 Alohea Ave | 21.271793 | -157.805038 |
| 3632 Waialae Ave | 21.282621 | -157.798569 |
| 3759 Maunaloa Ave | 21.274410 | -157.799026 |
| 3860 Old Pali Rd | 21.348158 | -157.826050 |
| 39 Hotel St | 21.311447 | -157.862671 |
| 41-505 Kalanianaole Hwy | 21.324617 | -157.679840 |
| 45 Gloucester Sq | 51.514008 | -0.170595 |
| 4551 Kahala Ave | 21.262514 | -157.785294 |
| 500 South St | 21.301035 | -157.859955 |
| 51-666 Kamehameha Highway | 21.559429 | -157.862991 |
| 66-457 Kamehameha Hwy | 21.581177 | -158.105637 |
| 6700 Hawaii Kai Dr | 21.294382 | -157.708054 |
| Ala Moana Regional Park | 21.289976 | -157.847824 |
| Ala Wai Boat Harbor | 21.283707 | -157.840698 |
| Aliʻiolani Hale | 21.305250 | -157.860428 |
| Aloha Stadium | 21.372797 | -157.930038 |
| Bellows Air Force Station | 21.368822 | -157.710724 |
| Bellows Beach | 21.357595 | -157.708496 |
| Buckingham Palace | 51.501350 | -0.141966 |
| Castle Medical Center | 21.380957 | -157.758072 |
| Clapham Junction | 51.464024 | -0.170285 |
| College Hill | 21.303877 | -157.821213 |
| Colony Surf | 21.262377 | -157.821259 |
| Davies Pacific Center | 21.307684 | -157.862396 |
| Diamond Head Lighthouse | 21.255686 | -157.809586 |
| Diamond Head Memorial Park | 21.267422 | -157.796707 |
| Dillingham Airfield | 21.578764 | -158.207581 |
| Dillingham Ranch | 21.576593 | -158.164917 |
| Elks Lodge | 21.261581 | -157.821045 |
| Falls of Clyde | 21.305576 | -157.864853 |
| Financial Plaza of the Pacific | 21.308367 | -157.862488 |
| Ford Island | 21.364285 | -157.960388 |
| Fort Street Mall | 21.309675 | -157.861618 |
| Halawa Correctional Facility | 21.373510 | -157.899307 |
| Halona Beach | 21.281672 | -157.677567 |
| Hanauma Bay | 21.271082 | -157.697083 |
| Hawaii Film Studio | 21.269529 | -157.798996 |
| Hawaii Kai | 21.295151 | -157.703827 |
| Hawaii State Capitol | 21.307493 | -157.857193 |
| He'eia State Park | 21.440760 | -157.810013 |
| Henry J Kaiser High School | 21.285522 | -157.695465 |
| Hickam Air Force Base | 21.336012 | -157.955765 |
| Honolulu | 21.320860 | -157.846466 |
| Honolulu Harbor | 21.309441 | -157.872559 |
| Honolulu International Airport (Daniel K. Inouye International Airport) | 21.318647 | -157.925369 |
| Hunakai Beach | 21.262777 | -157.784027 |
| Ilikai Hotel | 21.284502 | -157.838791 |
| International Market Place | 21.278378 | -157.826660 |
| Kahua Ranch | 20.117752 | -155.787491 |
| Kaimuki | 21.278999 | -157.800476 |
| Kaimukī High School | 21.286160 | -157.817139 |
| Kamehame Ridge | 21.311920 | -157.682800 |
| Kapāolono Community Park | 21.275928 | -157.803604 |
| Kapiʻolani Community College | 21.270439 | -157.800278 |
| King Kalakaua Building | 21.306396 | -157.860641 |
| Koko Marina Center | 21.278072 | -157.704605 |
| Kuliʻouʻou Beach Park | 21.284487 | -157.720673 |
| Leeds Castle | 51.248711 | 0.629780 |
| Lēʻahi Hospital | 21.273270 | -157.801758 |
| Lincoln Memorial | 38.889267 | -77.050377 |
| Little Venice | 51.524422 | -0.184632 |
| Magic Island | 21.284399 | -157.846741 |
| Magistrates Court | 51.513638 | -0.122368 |
| Makai Pier | 21.318686 | -157.669952 |
| Makani Kai Marina | 21.418930 | -157.790985 |
| Makapuu Point | 21.310677 | -157.649490 |
| Manoa | 21.315931 | -157.808578 |
| Mauna Lani | 19.946188 | -155.866913 |
| McCoy Pavillion | 21.290825 | -157.851410 |
| Mokoliʻi | 21.509604 | -157.829315 |
| National Mall | 38.887512 | -77.036484 |
| National Memorial Cemetery of the Pacific | 21.313078 | -157.842712 |
| Neal S. Blaisdell Center | 21.300203 | -157.851257 |
| Puʻu ʻUalakaʻa State Wayside | 21.312517 | -157.825027 |
| Queensway | 51.514004 | -0.187863 |
| Sand Island | 21.306269 | -157.878250 |
| Sherwood Forest | 21.345299 | -157.706207 |
| Shriners Children's Hawaii | 21.300631 | -157.835495 |
| Territorial Building | 21.305059 | -157.859390 |
| The Byodo-In Temple | 21.430742 | -157.832306 |
| The Cathedral of St. Andrew | 21.309830 | -157.857315 |
| The Kahala Hotel & Resort | 21.271877 | -157.773926 |
| The Market Building | 51.526421 | -0.109089 |
| Tower Bridge | 51.505947 | -0.075381 |
| United States Naval Academy | 38.982048 | -76.483994 |
| University of Hawaiʻi at Mānoa | 21.299831 | -157.814880 |
| University of Hawaiʻi at Mānoa | 21.299814 | -157.814941 |
| US Coast Guard: Air Station Barbers Point | 21.300407 | -158.070007 |
| Valley of the Temples Memorial Park | 21.434702 | -157.828018 |
| Waimānalo | 21.348930 | -157.716507 |
| Waipahu | 21.384026 | -158.004715 |
Magnum, P.I. Locations Part 2
| Location Name | Latitude | Longitude |
| --- | --- | --- |
| Waiʻalae Beach Park | 21.269690 | -157.777756 |
| Waiʻalae Beach Park | 21.269678 | -157.777710 |
| War Memorial Natatorium | 21.264574 | -157.822144 |
| Whiteman Airport | 34.259773 | -118.412186 |
| Windward Community College | 21.407940 | -157.812286 |
| Wo Fat Chop Suey restaurant | 21.312382 | -157.863098 |
| 'Āina Haina | 21.282553 | -157.754044 |
Related TV Series