Miami Vice Locations
Miami Vice is an American action crime drama thriller TV series created by Anthony Yerkovich. Starring Don Johnson, Philip Michael Thomas, Saundra Santiago, John Diehl, Michael Talbott, Olivia Brown, Edward James Olmos, and Gregory Sierra, the series was released from September 16, 1984, to January 25, 1990, on NBC, and ran for 5 seasons/113 episodes. It won 4 Primetime Emmy Awards. Miami Vice was shot in Miami, Florida, USA. The exteriors of Vice HQ were filmed at Gold Coast Shipping Building, at 615 SW 2nd Avenue, which was demolished in 2007. Filming also took place at Greenwich Studios.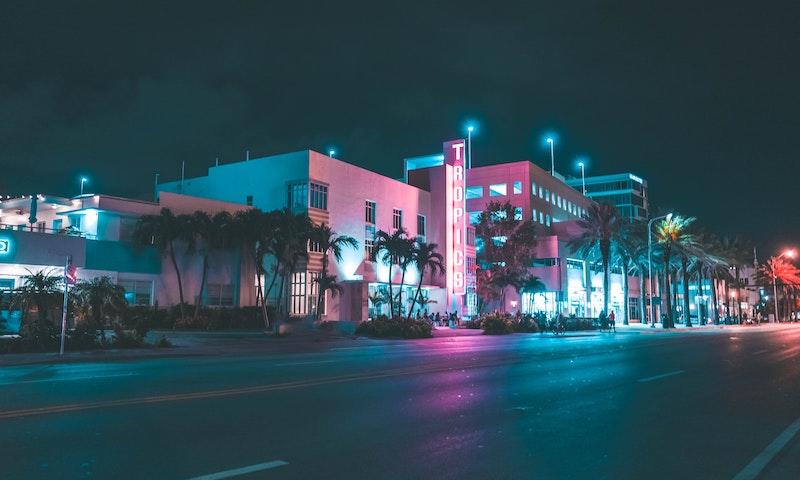 Miami. Photo by Ryan Spencer on Unsplash.
Where was Miami Vice Filmed?
Miami Vice was filmed in 1000 Venetian Way, 1001 Brickell Bay Dr, 101 N Beach Rd, 101 Park Ave, 10337 E Broadview Dr, 10337 E Broadview Dr, 1155 Avenue of the Americas, 1200 Brickell Ave, 1215 Meridian Ave, 1400 N View Dr, 1400 NW 12th Ave, 1400 Ocean Dr, 1415 N View Dr, 1450 Collins Ave, 1450 S Dixie Hwy, 160 W Alameda St, 1727 W 27th St, 2025 Brickell Ave, 221 W Broadway and 241 E 5th St.
The complete list of the locations with latitude and longitude coordinates are listed below in the table.
Miami Vice Locations Map
Miami Vice Locations Part 1
| Location Name | Latitude | Longitude |
| --- | --- | --- |
| 1000 Venetian Way | 25.789768 | -80.174042 |
| 1001 Brickell Bay Dr | 25.763580 | -80.189224 |
| 101 N Beach Rd | 26.055063 | -80.112999 |
| 101 Park Ave | 40.750946 | -73.977730 |
| 10337 E Broadview Dr | 25.893047 | -80.135597 |
| 10337 E Broadview Dr | 25.893036 | -80.135582 |
| 1155 Avenue of the Americas | 40.756691 | -73.983559 |
| 1200 Brickell Ave | 25.761980 | -80.192436 |
| 1215 Meridian Ave | 25.783041 | -80.136101 |
| 1400 N View Dr | 25.805223 | -80.142616 |
| 1400 NW 12th Ave | 25.788731 | -80.215927 |
| 1400 Ocean Dr | 25.785330 | -80.130180 |
| 1415 N View Dr | 25.805824 | -80.142624 |
| 1450 Collins Ave | 25.787098 | -80.130943 |
| 1450 S Dixie Hwy | 25.710068 | -80.282097 |
| 160 W Alameda St | 32.222874 | -110.973915 |
| 1727 W 27th St | 25.802904 | -80.145737 |
| 2025 Brickell Ave | 25.752977 | -80.198723 |
| 221 W Broadway | 40.719128 | -74.006165 |
| 241 E 5th St | 34.045483 | -118.246422 |
| 241 Harbor Dr | 25.697130 | -80.169121 |
| 28 Harbor Point | 25.688566 | -80.175674 |
| 3033 NW N River Dr | 25.797316 | -80.244698 |
| 3067 Jefferson St | 25.736231 | -80.233742 |
| 3937 N Federal Hwy | 26.176903 | -80.119705 |
| 4343 Collins Ave | 25.815617 | -80.122269 |
| 485 W Matheson Dr | 25.691793 | -80.174347 |
| 550 Madison Ave | 40.761513 | -73.973671 |
| 60 Hudson St | 40.717720 | -74.008408 |
| 600 91st St | 25.877716 | -80.127670 |
| 6001 SW 116th St | 25.663967 | -80.290474 |
| 615 SW 2nd Ave | 25.767857 | -80.197273 |
| 650 Ocean Dr | 25.776529 | -80.131927 |
| 685 Washington Ave | 25.776873 | -80.133476 |
| 7398 Ocean Terrace | 25.859646 | -80.119865 |
| 7747 Atlantic Way | 25.862434 | -80.119537 |
| 800 Brickell Ave | 25.765993 | -80.191895 |
| 8225 SW 64th St | 25.710398 | -80.327187 |
| 9325 N Bayshore Dr | 25.861855 | -80.171440 |
| Bal Harbour Shops | 25.888599 | -80.124969 |
| Bank of America Financial Center | 34.053738 | -118.253220 |
| Bayside Marina | 25.779137 | -80.186714 |
| Bear Mountain | 41.312862 | -74.006371 |
| Bill Baggs Cape Florida State Park | 25.675768 | -80.158676 |
| Biltmore Hotel Miami Coral Gables | 25.740837 | -80.278816 |
| Blackstone Apartments | 25.778629 | -80.133995 |
| Brooklyn Bridge | 40.706055 | -73.996964 |
| Cameo Night Club (Closed) | 25.787132 | -80.131485 |
| Cape Florida Lighthouse | 25.666613 | -80.156044 |
| Card Sound Rd | 25.343880 | -80.414902 |
| Cardozo South Beach | 25.784157 | -80.130157 |
| Casino Miami | 25.807371 | -80.257416 |
| Cementario Santa María Magdalena de Pazzi | 18.469643 | -66.119797 |
| Chrysler Building | 40.751846 | -73.975586 |
| Coral Gables | 25.695814 | -80.271866 |
| Deering Estate | 25.615782 | -80.308502 |
| Elliot Key | 25.439650 | -80.200531 |
| Española Way | 25.786875 | -80.134293 |
| Federal Building | 34.056252 | -118.448494 |
| Filmore, Jackie Gleason Theater | 25.792921 | -80.135277 |
| Fort Lauderdale | 26.127048 | -80.156906 |
| Freedom Tower | 25.780313 | -80.189499 |
| Golden Beach | 25.965269 | -80.123253 |
| Gramercy House | 40.737572 | -73.981964 |
| Greenwich Studios | 51.478622 | -0.016198 |
| Henrosa Hotel | 25.786800 | -80.130424 |
| Hotel Victor South Beach | 25.782373 | -80.130600 |
| John F. Kennedy International Airport | 40.641323 | -73.778549 |
| Jose Marti Park | 25.771143 | -80.200684 |
| La Carreta | 25.764416 | -80.253906 |
| Lincoln Rd | 25.790758 | -80.131989 |
| Macy's | 40.750797 | -73.989326 |
| Miami | 25.763227 | -80.206268 |
| Miami Beach | 25.810541 | -80.142761 |
| Miami International Airport | 25.795858 | -80.287231 |
| Miami Shores | 25.864811 | -80.195427 |
| Miami Tower | 25.772299 | -80.191666 |
| Miami-Dade County Courthouse | 25.774307 | -80.195457 |
| Miami-Opa Locka Executive Airport | 25.907452 | -80.277557 |
| Moondance Diner | 40.725056 | -74.004990 |
| Morgans New York | 40.749809 | -73.981224 |
| Mount Sinai Medical Center | 25.813242 | -80.141060 |
| North Bay Village | 25.846888 | -80.155716 |
| North Miami Beach | 25.932049 | -80.178406 |
| Rickenbacker Causeway | 25.741016 | -80.170830 |
| Shelborne South Beach | 25.794136 | -80.129196 |
| Solow Building Corporation | 40.763775 | -73.975166 |
| Southeast Financial Center | 25.772167 | -80.188301 |
| St. Croix | 17.726843 | -64.841110 |
| The Alexander | 25.829992 | -80.123543 |
| The Ancient Spanish Monastery | 25.929695 | -80.154686 |
| The Carlyle | 25.783802 | -80.130272 |
| The Clay Hotel | 25.786850 | -80.132172 |
| The Marlin Hotel | 25.783041 | -80.131569 |
| The Villa Casa Casuarina | 25.781958 | -80.130554 |
| Trump Tower | 40.762459 | -73.973846 |
| Turnberry Isle North Tower | 25.958946 | -80.125824 |
| Ultramont Mall | 25.772654 | -80.191307 |
| Vizcaya Museum & Gardens | 25.744413 | -80.210548 |
Miami Vice Locations Part 2
| Location Name | Latitude | Longitude |
| --- | --- | --- |
| Winter Garden Theatre | 40.761684 | -73.983765 |
| World Trade Center | 40.711891 | -74.013550 |
Related TV Series