Moonlighting Locations
An American romantic comedy-drama mystery TV Series Moonlighting stars Cybill Shepherd, Bruce Willis, Allyce Beasley, and Curtis Armstrong. Created by Glenn Gordon Caron, the series was released on ABC from March 3, 1985, to May 14, 1989, and ran for 5 seasons and 67 episodes. It won 6 Primetime Emmy Awards and is considered one of the best television series of all time. Moonlighting was shot in Los Angeles, California, USA. Filming took place at Fox Studios, 10201 Pico Blvd., Century City. The exteriors of the detective agency building were filmed at ABC Entertainment Center, 2040 Avenue of the Stars.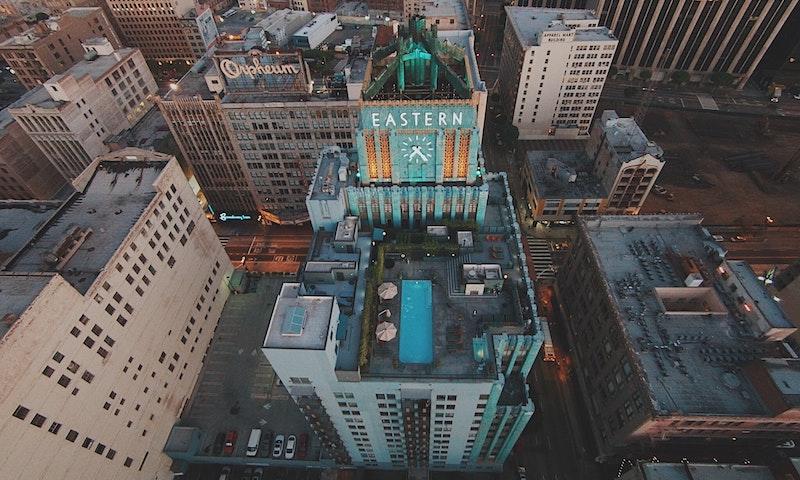 Eastern Columbia Lofts. Photo by Jordan Rubin on Unsplash.
Where was Moonlighting Filmed?
Moonlighting was filmed in 10452 Kling St, 118 N June St, 120 S June St, 1250 N Hollenbeck Ave, 1490 Cardiff Ave, 221 S Wilton Pl, 2959 Wilshire Blvd, 368 N Sycamore Ave, 4301 Cahuenga Blvd, 555 N Mission Rd, 607 S. Park View St, 611 S Muirfield Rd, 6230 Sunset Blvd., 635 S Muirfield Rd, 650 S. Spring St, 851 S Grand Ave, ABC Entertainment Center, Ambassador Hotel, E Ave G & 198th St E and Eastern Columbia Lofts.
The complete list of the locations with latitude and longitude coordinates are listed below in the table.
Moonlighting Locations Map
Moonlighting Locations Table
| Location Name | Latitude | Longitude |
| --- | --- | --- |
| 10452 Kling St | 34.155525 | -118.359108 |
| 118 N June St | 34.074650 | -118.334030 |
| 120 S June St | 34.072922 | -118.334335 |
| 1250 N Hollenbeck Ave | 34.102081 | -117.898575 |
| 1490 Cardiff Ave | 34.052593 | -118.391899 |
| 221 S Wilton Pl | 34.070499 | -118.314682 |
| 2959 Wilshire Blvd | 34.062069 | -118.286110 |
| 368 N Sycamore Ave | 34.078121 | -118.342926 |
| 4301 Cahuenga Blvd | 34.148281 | -118.361862 |
| 555 N Mission Rd | 34.055405 | -118.223770 |
| 607 S. Park View St | 34.061024 | -118.278946 |
| 611 S Muirfield Rd | 34.063583 | -118.330696 |
| 6230 Sunset Blvd. | 34.097847 | -118.324799 |
| 635 S Muirfield Rd | 34.062923 | -118.330421 |
| 650 S. Spring St | 34.044754 | -118.252190 |
| 851 S Grand Ave | 34.044975 | -118.259285 |
| ABC Entertainment Center | 34.058392 | -118.414345 |
| Ambassador Hotel | 34.061626 | -118.297791 |
| E Ave G & 198th St E | 34.735088 | -117.776726 |
| Eastern Columbia Lofts | 34.042679 | -118.256073 |
| Exposition Park | 34.014919 | -118.286263 |
| Exposition Park Rose Garden | 34.017345 | -118.286011 |
| First Congregational Church of Los Angeles | 34.064178 | -118.285080 |
| First United Methodist Church of North Hollywood | 34.159267 | -118.378899 |
| Fox Studio | 34.051422 | -118.410156 |
| Gaylord Apartments | 34.061932 | -118.297073 |
| Gerald Desmond Bridge | 33.764729 | -118.221413 |
| Hilton Los Angeles/Universal City | 34.136944 | -118.358490 |
| Hollywood Walk of Fame | 34.101643 | -118.326813 |
| Il Cielo | 34.071815 | -118.388451 |
| InterContinental Los Angeles Century City, an IHG Hotel | 34.054073 | -118.414536 |
| Millennium Biltmore Hotel Los Angeles | 34.049732 | -118.254196 |
| Natural History Museum of Los Angeles County | 34.016941 | -118.288818 |
| SB Lofts | 34.046093 | -118.250710 |
| Security Building | 34.046841 | -118.249466 |
| St. John's Episcopal Cathedral | 34.027401 | -118.275665 |
| TCL Chinese Theatre | 34.102028 | -118.341064 |
| Terminal Annex | 34.058094 | -118.235451 |
| The Ebell of Los Angeles | 34.061211 | -118.324966 |
| The Hollywood Roosevelt | 34.101166 | -118.341858 |
| The Westin Bonaventure Hotel & Suites, Los Angeles | 34.052780 | -118.255699 |
| Union Station | 34.056087 | -118.237000 |
| Universal Studios | 34.141369 | -118.349670 |
Related TV Series