Ocean's Twelve Locations
Ocean's Twelve is an American crime thriller film directed by Steven Soderbergh, written by George Nolfi, produced by Jerry Weintraub, and scored by David Holmes. Starring George Clooney, Brad Pitt, Catherine Zeta-Jones, Julia Roberts, Matt Damon, Andy García, Don Cheadle, Vincent Cassel, Bernie Mac, Casey Affleck, Elliott Gould, Scott Caan, Eddie Jemison, and Carl Reiner, the film was released on December 10, 2004, and grossed $362.9 million worldwide against a $110 million budget. It became the tenth-highest-grossing film of the year. Ocean's Twelve was shot in the United States, Italy, France, and the Netherlands. Bellagio Hotel & Casino, a luxury hotel in Las Vegas, was used as a filming location. Villa Erba, a 19th-century villa in Cernobbio, also served as a filming location. Filming also took place in various places in the Netherlands, such as Haarlem railway station and Hotel Pulitzer.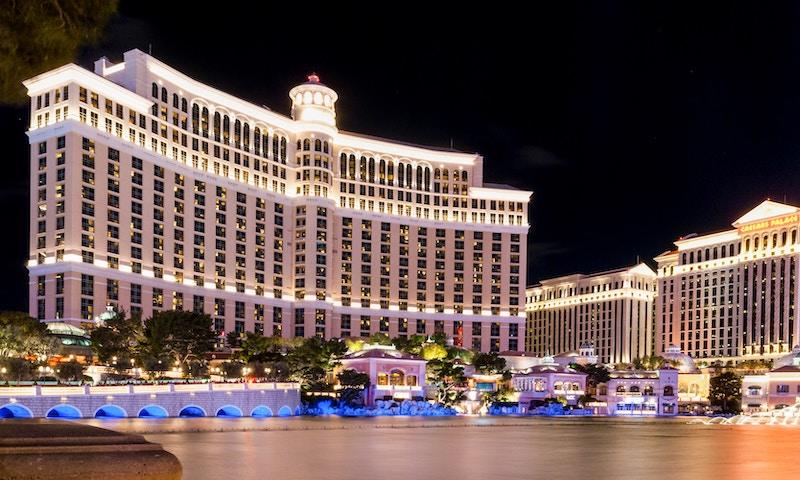 Bellagio Hotel & Casino. Photo by David Vives on Unsplash.
Where was Ocean's Twelve Filmed?
Ocean's Twelve was filmed in Atlantic City, Bellagio Hotel & Casino, Casino de Monte-Carlo, Castellammare del Golfo, Chicago, Embassy of Australia, Gare du Nord, Haarlem, KattenKabinet (Cat Cabinet), Pulitzer Amsterdam, Rome, Sorbonne, St. Petersburg, The Hague Municipality and Villa Erba.
The complete list of the locations with latitude and longitude coordinates are listed below in the table.
Ocean's Twelve Locations Map
Ocean's Twelve Locations Table
| Location Name | Latitude | Longitude |
| --- | --- | --- |
| Atlantic City | 39.365479 | -74.430573 |
| Bellagio Hotel & Casino | 36.112961 | -115.176674 |
| Casino de Monte-Carlo | 43.739094 | 7.427984 |
| Castellammare del Golfo | 38.017826 | 12.883660 |
| Chicago | 41.877480 | -87.649986 |
| Embassy of Australia | 48.855137 | 2.290002 |
| Gare du Nord | 48.880943 | 2.355193 |
| Haarlem | 52.388035 | 4.638657 |
| KattenKabinet (Cat Cabinet) | 52.365631 | 4.891367 |
| Pulitzer Amsterdam | 52.373028 | 4.883238 |
| Rome | 41.903435 | 12.458355 |
| Sorbonne | 48.848618 | 2.343174 |
| St. Petersburg | 27.768940 | -82.666267 |
| The Hague Municipality | 52.077984 | 4.316794 |
| Villa Erba | 45.838123 | 9.077076 |
Related Movies