Orphan Black Locations
A Canadian drama sci-fi thriller television series Orphan Black stars Tatiana Maslany, Dylan Bruce, Kevin Hanchard, Jordan Gavaris, Michael Mando, Evelyne Brochu, Maria Doyle Kennedy, Ari Millen, Kristian Bruun, and Josh Vokey. Created by Graeme Manson and John Fawcett, the series was released from March 30, 2013, to August 12, 2017, on Space in Canada and on BBC America in the US. Maslany received "Outstanding Lead Actress in a Drama Series" for her performance at the 2016 Primetime Emmy Awards. Orphan Black was mainly shot in Toronto, Ontario, Canada. The University of St. Michael's College was used as a stand-in for the University of Minnesota in the series. Filming also took place in Mississauga.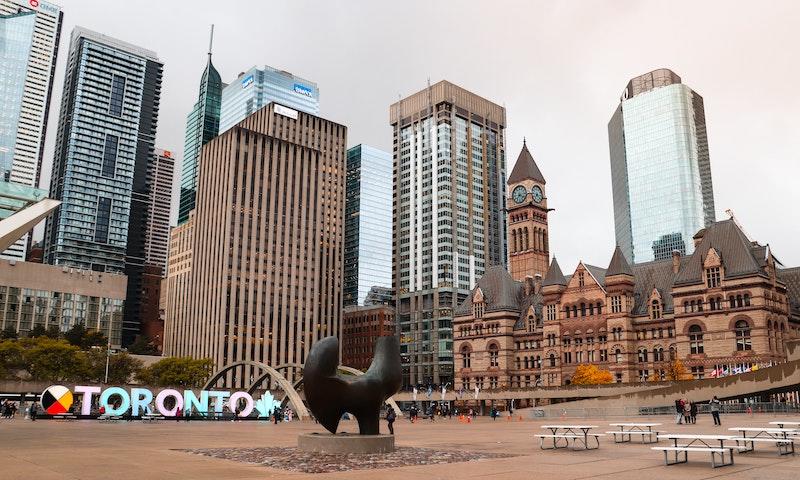 Toronto, Canada. Photo by Rachael Annabelle on Unsplash.
Where was Orphan Black Filmed?
Orphan Black was filmed in 1303 Lakeshore Rd E, 14386 Creditview Rd, 148 Morse St (Mrs. S' House), 1606 Danforth Ave, 20 Wagstaff Dr, 274 Queen St S, 346 Dundas St E, 35 Harper Hill Rd (Alison's House), 35 Mariner Terrace (Beth's Apartment), 3990 Major Mackenzie Dr E, 483 Queen St W (Fe's House), 507 King St E, 83 Underhill Dr, Brennan Hall, Bridgepoint Health Hospital, Founders House, John M. Kelly Library (University of St. Michael's College), Le Germain Hotel, Modern Hair Works and Papas Laundromat.
The complete list of the locations with latitude and longitude coordinates are listed below in the table.
Orphan Black Locations Map
Orphan Black Locations Table
| Location Name | Latitude | Longitude |
| --- | --- | --- |
| 1303 Lakeshore Rd E | 43.583607 | -79.553246 |
| 14386 Creditview Rd | 43.751678 | -79.921425 |
| 148 Morse St (Mrs. S' House) | 43.659344 | -79.340981 |
| 1606 Danforth Ave | 43.683727 | -79.323212 |
| 20 Wagstaff Dr | 43.673679 | -79.331047 |
| 274 Queen St S | 43.579391 | -79.711143 |
| 346 Dundas St E | 43.658745 | -79.369820 |
| 35 Harper Hill Rd (Alison's House) | 43.894688 | -79.321274 |
| 35 Mariner Terrace (Beth's Apartment) | 43.639660 | -79.392159 |
| 3990 Major Mackenzie Dr E | 43.894718 | -79.336601 |
| 483 Queen St W (Fe's House) | 43.648254 | -79.397896 |
| 507 King St E | 43.654636 | -79.359253 |
| 83 Underhill Dr | 43.746033 | -79.324692 |
| Brennan Hall | 43.666374 | -79.389984 |
| Bridgepoint Health Hospital | 43.666348 | -79.355408 |
| Founders House | 43.665539 | -79.389397 |
| John M. Kelly Library (University of St. Michael's College) | 43.665009 | -79.389633 |
| Le Germain Hotel | 43.642780 | -79.380989 |
| Modern Hair Works | 43.676239 | -79.822968 |
| Papas Laundromat | 43.658440 | -79.369911 |
| Riverside Dental | 43.658840 | -79.350670 |
| The Waverley | 43.658344 | -79.400558 |
| Thompson Hotel (Closed) | 43.642841 | -79.402115 |
| Toronto | 43.722446 | -79.442780 |
| University of St. Michael's College | 43.666878 | -79.390556 |
Related TV Series