Pink Floyd: The Wall Locations
Starring Bob Geldof, Christine Hargreaves, James Laurenson, Eleanor David, Kevin McKeon, Bob Hoskins, David Bingham, Jenny Wright, and Alex McAvoy, produced by Alan Marshall, directed by Alan Parker, written by Roger Waters, Pink Floyd: The Wall is a British musical drama film based on the 1979 Pink Floyd album of the same name. It premiered at the 1982 Cannes Film Festival, was released on 15 July 1982 in the UK, and won 2 BAFTA Film Awards. Pink Floyd: The Wall was shot in London, England, UK. The war scenes took place on Saunton Sands in Devon, while the school scenes were shot at Masonic School for Boys in Bushey.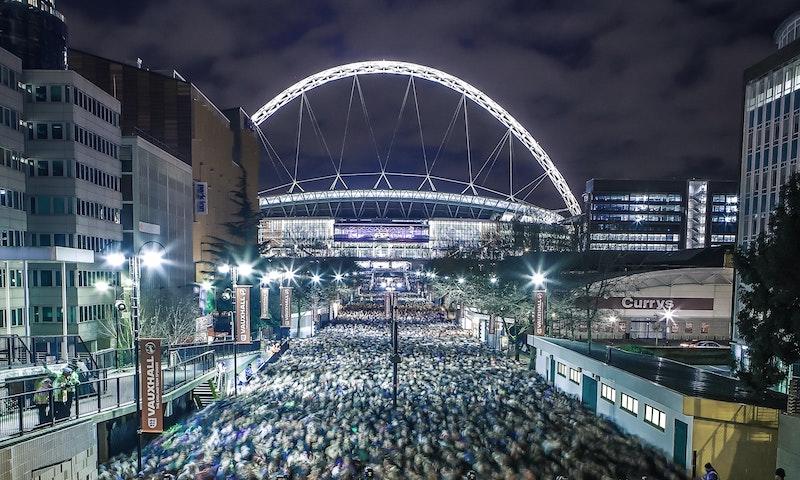 Wembley Stadium, London, UK. Photo by Jaanus Jagomägi on Unsplash.
Where was Pink Floyd: The Wall Filmed?
Pink Floyd: The Wall was filmed in Bradford, Ingrow, Keighley, Keighley & Worth Valley Railway, Keighley Train Station, Kensington Gas Works, Masonic School for Boys, Olympic Stadium, Pinewood Studios, Saunton Sands, St Nicholas' Church, The Royal Horticultural Halls, Lindley Hall and Lawrence Hall and Wembley Stadium.
The complete list of the locations with latitude and longitude coordinates are listed below in the table.
Pink Floyd: The Wall Locations Map
Pink Floyd: The Wall Locations Table
| Location Name | Latitude | Longitude |
| --- | --- | --- |
| Bradford | 53.796261 | -1.761335 |
| Ingrow | 53.854763 | -1.918516 |
| Keighley | 53.868202 | -1.915605 |
| Keighley & Worth Valley Railway | 53.831161 | -1.948795 |
| Keighley Train Station | 53.868046 | -1.901683 |
| Kensington Gas Works | 51.526741 | -0.222272 |
| Masonic School for Boys | 51.652241 | -0.370172 |
| Olympic Stadium | 45.557884 | -73.551758 |
| Pinewood Studios | 51.548855 | -0.532270 |
| Saunton Sands | 51.091782 | -4.226074 |
| St Nicholas' Church | 51.485989 | -0.250346 |
| The Royal Horticultural Halls, Lindley Hall and Lawrence Hall | 51.494427 | -0.134396 |
| Wembley Stadium | 51.555992 | -0.279977 |
Related Movies