Rocky II Locations
The sequel to the 1976 movie Rocky and followed by Rocky III, Rocky II stars Sylvester Stallone, Talia Shire, Burt Young, Carl Weathers, Burgess Meredith, and Tony Burton. Written and directed by Sylvester Stallone, produced by Irwin Winkler and Robert Chartoff, scored by Bill Conti, the film was released on June 15, 1979, in the USA, earned $200.2 million against a $7 million budget. Rocky II was shot in Philadelphia, Pennsylvania, USA. Filming also took place in Los Angeles, California.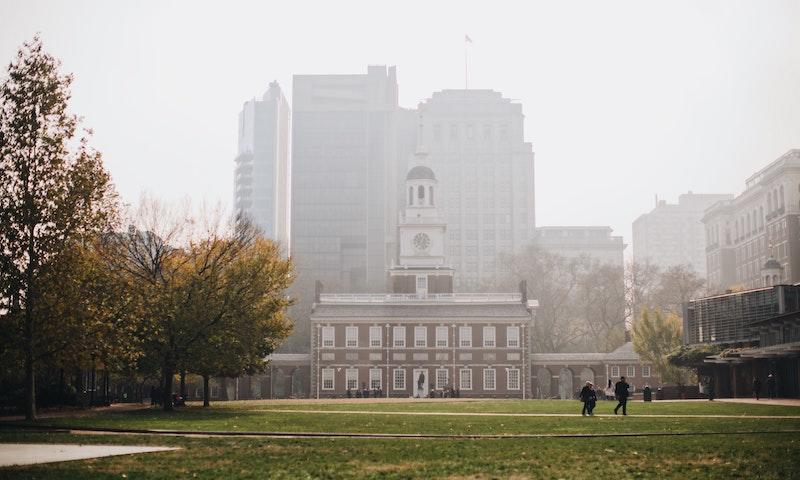 Independence National Historical Park. Photo by Phillip Goldsberry on Unsplash.
Where was Rocky II Filmed?
Rocky II was filmed in 1818 E Tusculum St, 2313 S Lambert St (Rocky and Adrian's house), Center City, Fairmount Park, Independence National Historical Park, LA Memorial Coliseum, Nordstrom Rack, Philadelphia City Hall, Philadelphia Museum of Art, Philadelphia Zoo and Wachovia Spectrum (Wells Fargo Center).
The complete list of the locations with latitude and longitude coordinates are listed below in the table.
Rocky II Locations Map
Rocky II Locations Table
| Location Name | Latitude | Longitude |
| --- | --- | --- |
| 1818 E Tusculum St | 39.989944 | -75.124100 |
| 2313 S Lambert St (Rocky and Adrian's house) | 39.922897 | -75.180832 |
| Center City | 39.956280 | -75.165657 |
| Fairmount Park | 39.987751 | -75.204475 |
| Independence National Historical Park | 39.949627 | -75.149712 |
| LA Memorial Coliseum | 34.014046 | -118.287941 |
| Nordstrom Rack | 39.951313 | -75.169052 |
| Philadelphia City Hall | 39.952789 | -75.163536 |
| Philadelphia Museum of Art | 39.965530 | -75.181038 |
| Philadelphia Zoo | 39.972012 | -75.196335 |
| Wachovia Spectrum (Wells Fargo Center) | 39.901218 | -75.172142 |
Related Movies