Rocky III Locations
Starring Sylvester Stallone, Talia Shire, Burt Young, Carl Weathers, Burgess Meredith, Tony Burton, Mr. T, and Hulk Hogan, Rocky III is an American sports drama movie that was released on May 28, 1982, in the USA, grossed $270 million worldwide and nominated for an Oscar for Best Music, Original Song ("Eye of the Tiger" by the group Survivor). Written and directed by Stallone, produced by Irwin Winkler and Robert Chartoff, scored by Bill Conti, it ​is the third installment of the Rocky franchise and was followed by Rocky IV in 1985. Rocky III was shot in Los Angeles, Las Vegas, Philadelphia, and New York City, USA. The running scenes took place at Santa Monica Beach.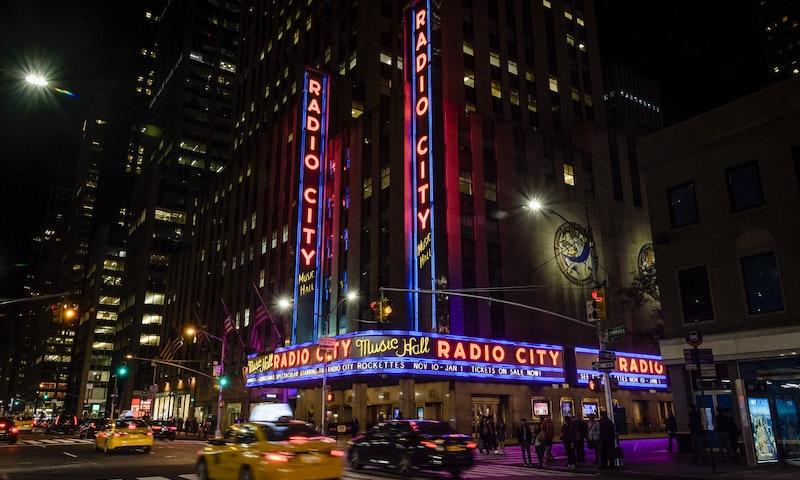 Radio City Music Hall, NY, USA. Photo by Steve Harvey on Unsplash.
Where was Rocky III Filmed?
Rocky III was filmed in Caesars Palace, Felt Forum (Hulu Theater at Madison Square Garden), Hollywood Forever Cemetery, MGM Grand Hotel, Millennium Biltmore Hotel Los Angeles, Philadelphia Museum of Art, Radio City Music Hall, Santa Monica and Santa Monica Beach.
The complete list of the locations with latitude and longitude coordinates are listed below in the table.
Rocky III Locations Map
Rocky III Locations Table
| Location Name | Latitude | Longitude |
| --- | --- | --- |
| Caesars Palace | 36.116169 | -115.174614 |
| Felt Forum (Hulu Theater at Madison Square Garden) | 40.750469 | -73.993439 |
| Hollywood Forever Cemetery | 34.088917 | -118.319557 |
| MGM Grand Hotel | 36.101879 | -115.168961 |
| Millennium Biltmore Hotel Los Angeles | 34.049774 | -118.254227 |
| Philadelphia Museum of Art | 39.965572 | -75.181084 |
| Radio City Music Hall | 40.760014 | -73.979988 |
| Santa Monica | 34.026096 | -118.495834 |
| Santa Monica Beach | 34.012779 | -118.502670 |
Related Movies