Saturday Night Fever Locations
Saturday Night Fever is an American musical drama film based on the 1976 New York Magazine article "Tribal Rites of the New Saturday Night" by Nik Cohn. Directed by John Badham, written for the screen by Norman Wexler, scored by Bee Gees and David Shire, and produced by Robert Stigwood, the film was released by Paramount Pictures on December 16, 1977, and grossed $237.1 million against a $3.5 million budget. It was nominated for an Oscar for "Best Actor in a Leading Role" (John Travolta). Saturday Night Fever was shot in New York City, New York, USA. 2001 Odyssey Disco scenes took place at 802 64th Street in Brooklyn. The opening scene was filmed at 86th Street. Filming also took place at Phillips Dance Studio.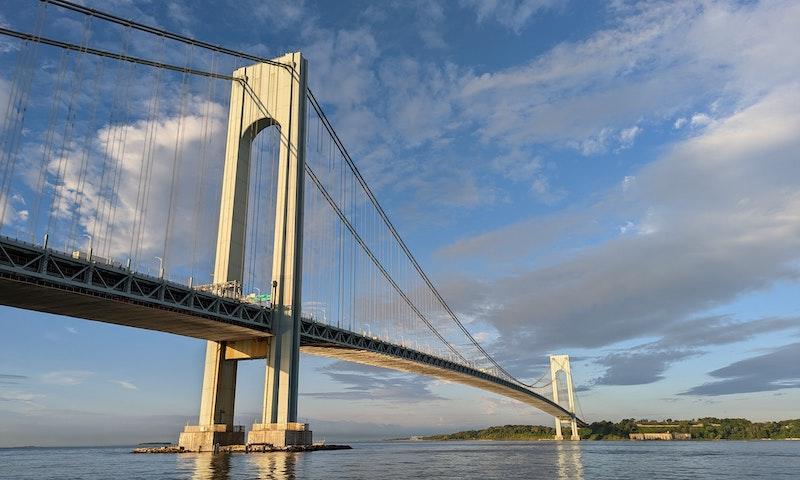 Verrazzano Bridge, Brooklyn, NY, USA. Photo by Jason Krieger on Unsplash.
Where was Saturday Night Fever Filmed?
Saturday Night Fever was filmed in 1301 W 7th St, 221 79th St, 5th Ave & 94th St, 7305 5th Ave, 802 64th St, 86th St, Bay Ridge, Bensonhurst, Brooklyn Bridge, Brooklyn Heights Promenade, John J. Carty Park, Kelly's Tavern, Lenny's Pizza, Manhattan and Verrazano-Narrows Bridge.
The complete list of the locations with latitude and longitude coordinates are listed below in the table.
Saturday Night Fever Locations Map
Saturday Night Fever Locations Table
| Location Name | Latitude | Longitude |
| --- | --- | --- |
| 1301 W 7th St | 40.613438 | -73.981613 |
| 221 79th St | 40.629162 | -74.030952 |
| 5th Ave & 94th St | 40.616508 | -74.030540 |
| 7305 5th Ave | 40.630730 | -74.021973 |
| 802 64th St | 40.632973 | -74.011932 |
| 86th St | 40.609367 | -74.006187 |
| Bay Ridge | 40.631779 | -74.031914 |
| Bensonhurst | 40.615463 | -73.997498 |
| Brooklyn Bridge | 40.706135 | -73.997047 |
| Brooklyn Heights Promenade | 40.697491 | -73.997421 |
| John J. Carty Park | 40.613506 | -74.029884 |
| Kelly's Tavern | 40.616814 | -74.030685 |
| Lenny's Pizza | 40.605049 | -73.998680 |
| Manhattan | 40.786392 | -73.980713 |
| Verrazano-Narrows Bridge | 40.606628 | -74.044731 |
Related Movies