Secret Invasion Locations
Secret Invasion is an American action-adventure drama TV Mini-Series developed by Kyle Bradstreet, based on the comic book of the same title by Brian Michael Bendis and Leinil Francis Yu. The series stars Samuel L. Jackson, Ben Mendelsohn, Cobie Smulders, Kingsley Ben-Adir, Olivia Colman, Martin Freeman, and Don Cheadle. It is scheduled to be released on Disney+ in 2023. Secret Invasion was shot in London, England, UK. Filming also took place at Longcross Studios. Filming locations included the Piece Hall in Halifax and Liverpool Street Station in London.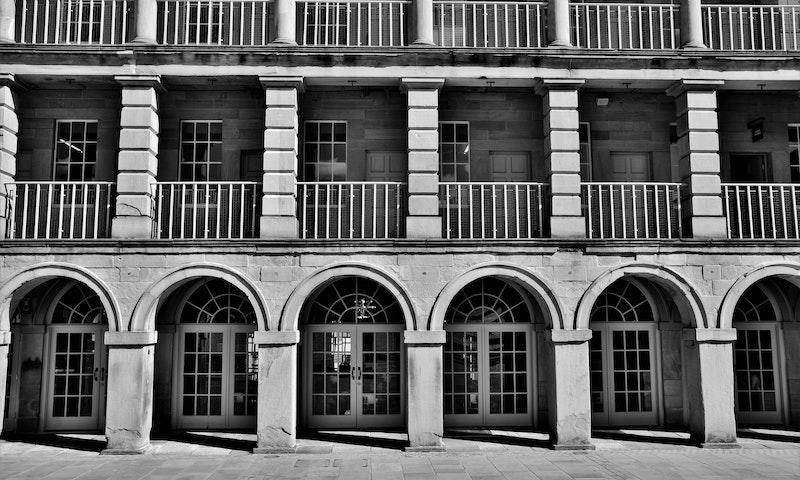 The Piece Hall, Halifax. Photo by John Sherbourne on Unsplash.
Where was Secret Invasion Filmed?
Secret Invasion was filmed in Atlanta, Halifax, Huddersfield, Leeds, Liverpool Street Station, London, Longcross Studios and The Piece Hall.
The complete list of the locations with latitude and longitude coordinates are listed below in the table.
Secret Invasion Locations Map
Secret Invasion Locations Table
| Location Name | Latitude | Longitude |
| --- | --- | --- |
| Atlanta | 33.771957 | -84.460228 |
| Halifax | 53.734119 | -1.887169 |
| Huddersfield | 53.653019 | -1.802942 |
| Leeds | 53.806656 | -1.568276 |
| Liverpool Street Station | 51.519238 | -0.081499 |
| London | 51.508423 | -0.193253 |
| Longcross Studios | 51.383110 | -0.594232 |
| The Piece Hall | 53.721973 | -1.857141 |
Related TV Series