The Fall Locations
The Fall is a British-Northern Irish crime drama television series created and written by Allan Cubitt. Starring Gillian Anderson, Jamie Dornan, John Lynch, Aisling Franciosi, Niamh McGrady, Bronagh Waugh, Sarah Beattie, and Stuart Graham, the series was released from 13 May 2013 to 28 October 2016 on BBC Two and nominated for BAFTA Awards. Gillian Anderson plays Detective Superintendent Stella Gibson in the show. The Fall was shot on location in Belfast, County Antrim, Northern Ireland, UK.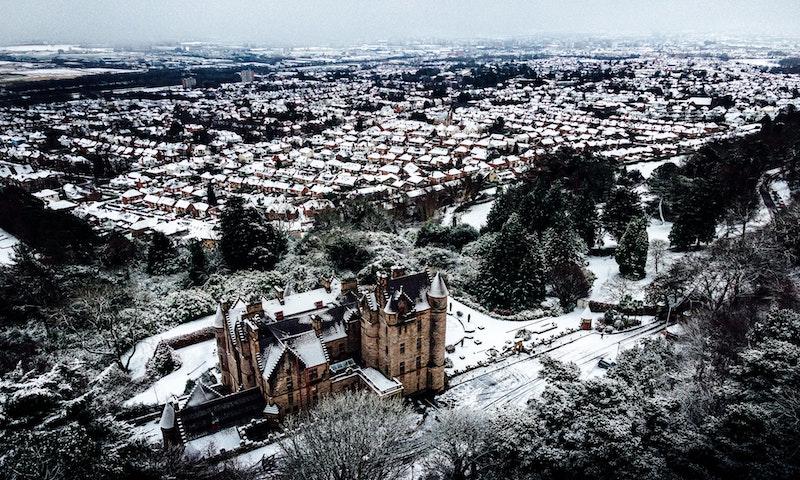 Belfast, UK. Photo by Rory McKeever on Unsplash.
Where was The Fall Filmed?
The Fall was filmed in 1 Victoria Sq, 2 Lanyon Pl, Belfast, Belfast International Airport, Belfast Metropolitan College, Cityside Retail & Leisure Park, Holiday Inn Belfast City Centre, Knightsbridge Park, The Merchant Hotel, The Odyssey Arena and Whiteabbey Hospital.
The complete list of the locations with latitude and longitude coordinates are listed below in the table.
The Fall Locations Map
The Fall Locations Table
| Location Name | Latitude | Longitude |
| --- | --- | --- |
| 1 Victoria Sq | 54.598461 | -5.924941 |
| 2 Lanyon Pl | 54.596230 | -5.920770 |
| Belfast | 54.597015 | -5.930894 |
| Belfast International Airport | 54.655720 | -6.217873 |
| Belfast Metropolitan College | 54.600021 | -5.936476 |
| Cityside Retail & Leisure Park | 54.608505 | -5.926575 |
| Holiday Inn Belfast City Centre | 54.592857 | -5.936080 |
| Knightsbridge Park | 54.567596 | -5.937820 |
| The Merchant Hotel | 54.601074 | -5.925649 |
| The Odyssey Arena | 54.603825 | -5.915115 |
| Whiteabbey Hospital | 54.671780 | -5.912519 |
Related TV Series