The Hitman's Wife's Bodyguard Locations
Starring Salma Hayek, Ryan Reynolds, Samuel L. Jackson, Antonio Banderas, Morgan Freeman, Frank Grillo, Tom Hopper, Richard E. Grant, and Caroline Goodall, The Hitman's Wife's Bodyguard is an American action crime comedy movie that was released on June 16, 2021, in the United States. Directed by Patrick Hughes, written by Tom O'Connor, Brandon Murphy, and Phillip Murphy, scored by Atli Örvarsson, the film is a sequel to The Hitman's Bodyguard (2017). The Hitman's Wife's Bodyguard was shot in Croatia, Bulgaria, Italy, the UK, and Greece. Filming took place in Zagreb County and Istria, Croatia; London, England; and Trieste, Friuli-Venezia Giulia, Italy.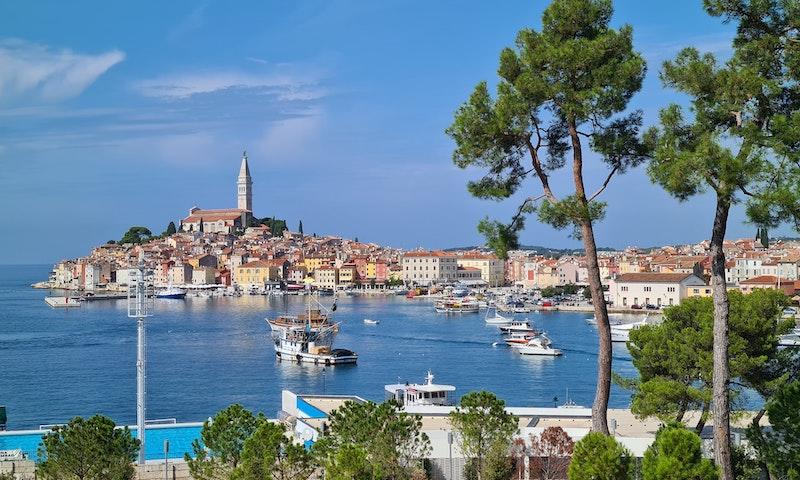 Istria, Croatia. Photo by Vlado Sestan on Unsplash.
Where was The Hitman's Wife's Bodyguard Filmed?
The Hitman's Wife's Bodyguard was filmed in Biševo, Buje, Carera ul., Castello di Miramare, Istria County, Karlovac, Lim Channel, Metropolitan Studios, Motovun, Mulini Beach Bar, Natural History Museum, Palazzo della Prefettura di Trieste, Piazza Unità d'Italia, Pisarovina, Rijeka, Rovinj, Šetalište Lona, Thessaloniki (Θεσσαλονίκη), Trieste and Vodnjan.
The complete list of the locations with latitude and longitude coordinates are listed below in the table.
The Hitman's Wife's Bodyguard Locations Map
The Hitman's Wife's Bodyguard Locations Table
| Location Name | Latitude | Longitude |
| --- | --- | --- |
| Biševo | 42.978230 | 16.009787 |
| Buje | 45.406483 | 13.655434 |
| Carera ul. | 45.082104 | 13.636435 |
| Castello di Miramare | 45.702480 | 13.712284 |
| Istria County | 45.139763 | 13.708785 |
| Karlovac | 45.487392 | 15.546800 |
| Lim Channel | 45.133038 | 13.632581 |
| Metropolitan Studios | 51.542412 | -0.338162 |
| Motovun | 45.335281 | 13.823697 |
| Mulini Beach Bar | 45.072254 | 13.635678 |
| Natural History Museum | 51.496704 | -0.176428 |
| Palazzo della Prefettura di Trieste | 45.650658 | 13.767886 |
| Piazza Unità d'Italia | 45.650097 | 13.767747 |
| Pisarovina | 45.588009 | 15.857796 |
| Rijeka | 45.352589 | 14.408236 |
| Rovinj | 45.082748 | 13.638714 |
| Šetalište Lona | 45.072163 | 13.635852 |
| Thessaloniki (Θεσσαλονίκη) | 40.621796 | 22.947805 |
| Trieste | 45.649208 | 13.774234 |
| Vodnjan | 44.963974 | 13.841871 |
| Woolwich Town Hall | 51.489048 | 0.065253 |
| Zagreb | 45.820045 | 15.954777 |
Related Movies