The Rock Locations
An American action-adventure thriller film The Rock stars an amazing cast consisting of Sean Connery, Nicolas Cage, Ed Harris, Michael Biehn, and William Forsythe. Directed by Michael Bay, written by David Weisberg, Douglas Cook, Mark Rosner, from a story by David Weisberg and Douglas Cook, scored by Nick Glennie-Smith and Hans Zimmer, the film was released on June 7, 1996, in the US, grossed $335.1 million worldwide, and nominated for an Oscar. The Rock was shot in San Francisco, Ventura, Los Angeles, and San Bruno, California, USA.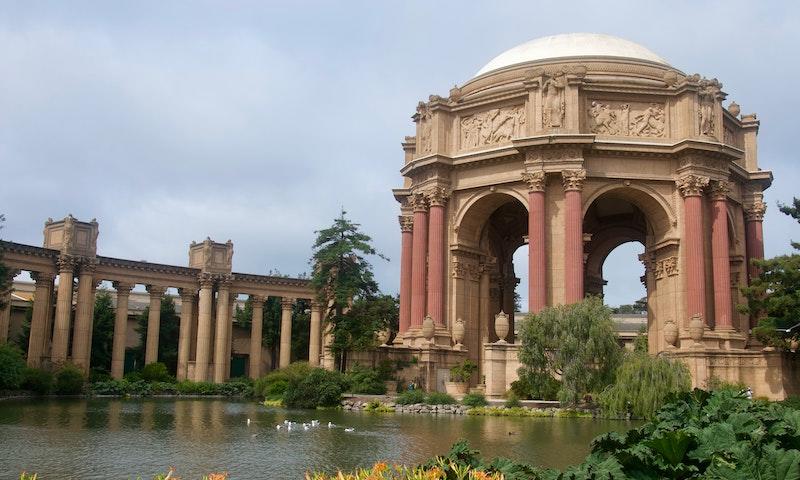 Palace of Fine Arts, CA, USA. Photo by Dan Dennis on Unsplash.
Where was The Rock Filmed?
The Rock was filmed in 11000 Darling Rd, 285 W 7th St, 611 W 37th St, Alcatraz Island, Civic Center Plaza, Fairmont San Francisco, Golden Gate National Cemetery, Hunter's Point Shipyard, Millennium Biltmore Hotel Los Angeles, New Russian Hill Market (Closed), Rosslyn Hotel, San Pedro, The Palace of Fine Arts, Ventura and War Memorial Veterans Building.
The complete list of the locations with latitude and longitude coordinates are listed below in the table.
The Rock Locations Map
The Rock Locations Table
| Location Name | Latitude | Longitude |
| --- | --- | --- |
| 11000 Darling Rd | 34.286610 | -119.153694 |
| 285 W 7th St | 33.737629 | -118.283371 |
| 611 W 37th St | 33.710312 | -118.290169 |
| Alcatraz Island | 37.827003 | -122.423553 |
| Civic Center Plaza | 37.779465 | -122.417862 |
| Fairmont San Francisco | 37.792408 | -122.410515 |
| Golden Gate National Cemetery | 37.634815 | -122.429886 |
| Hunter's Point Shipyard | 37.721035 | -122.367432 |
| Millennium Biltmore Hotel Los Angeles | 34.049767 | -118.254234 |
| New Russian Hill Market (Closed) | 37.795971 | -122.414948 |
| Rosslyn Hotel | 34.046803 | -118.248940 |
| San Pedro | 33.737862 | -118.296768 |
| The Palace of Fine Arts | 37.802921 | -122.448524 |
| Ventura | 34.288403 | -119.268265 |
| War Memorial Veterans Building | 37.779678 | -122.420700 |
Related Movies