The Twilight Saga: Eclipse Locations
Written by Melissa Rosenberg, directed by David Slade, scored by Academy Award Winner Howard Shore, and based on Stephenie Meyer's bestselling novel "Eclipse", The Twilight Saga: Eclipse is the third movie of the series. Starring Kristen Stewart, Robert Pattinson, Taylor Lautner, Billy Burke, Justin Chon, Anna Kendrick, Michael Welch, and Christian Serratos, the film premiered on June 24, 2010, in LA, and was released on June 30, 2010, earned $698.4 million worldwide. The Twilight Saga: Eclipse was shot in British Columbia, Canada, and Washington, USA. Some filming took place at Vancouver Film Studios, 3500 Cornett Road.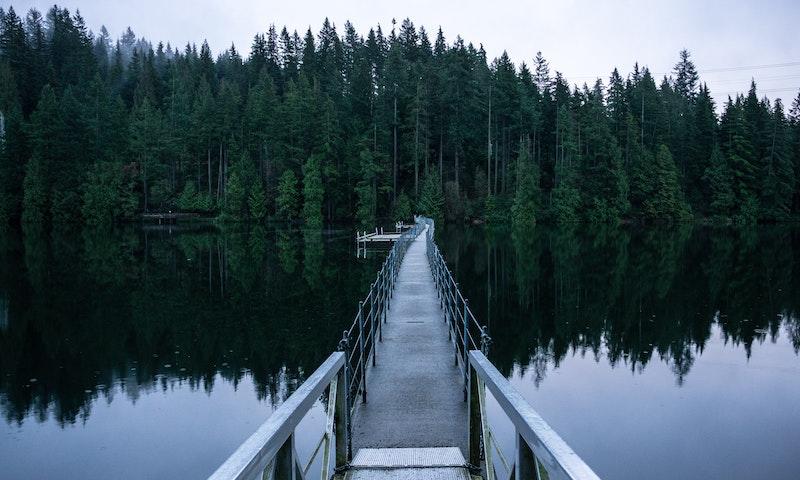 Belcarra Regional Park, BC, Canada. Photo by Lance Magnaye on Unsplash.
Where was The Twilight Saga: Eclipse Filmed?
The Twilight Saga: Eclipse was filmed in Belcarra Regional Park, Canadian Motion Picture Park, Capilano University, Como Lake Middle School, David Thompson Secondary School, Front St, Gastown, Langley City, Port Moody, Robert Burnaby Park, Steveston, Surrey, Vancouver, Vancouver Film Studios and Widgeon Valley National Wildlife Area.
The complete list of the locations with latitude and longitude coordinates are listed below in the table.
The Twilight Saga: Eclipse Locations Map
The Twilight Saga: Eclipse Locations Table
| Location Name | Latitude | Longitude |
| --- | --- | --- |
| Belcarra Regional Park | 49.314331 | -122.890465 |
| Canadian Motion Picture Park | 49.192596 | -122.969299 |
| Capilano University | 49.317497 | -123.019775 |
| Como Lake Middle School | 49.251740 | -122.859924 |
| David Thompson Secondary School | 49.220795 | -123.070915 |
| Front St | 49.205681 | -122.902054 |
| Gastown | 49.283020 | -123.105972 |
| Langley City | 49.103973 | -122.662712 |
| Port Moody | 49.301159 | -122.897629 |
| Robert Burnaby Park | 49.233311 | -122.933968 |
| Steveston | 49.132957 | -123.183472 |
| Surrey | 49.186695 | -122.854965 |
| Vancouver | 49.266888 | -123.127357 |
| Vancouver Film Studios | 49.261021 | -123.028152 |
| Widgeon Valley National Wildlife Area | 49.371655 | -122.635071 |
Related Movies