The Twilight Saga: New Moon Locations
Starring Kristen Stewart, Robert Pattinson, Taylor Lautner, Christina Jastrzembska, Billy Burke, Anna Kendrick, Michael Welch, Justin Chon, and Christian Serratos, The Twilight Saga: New Moon is the second part of The Twilight Saga film series. Based on Stephenie Meyer's bestselling book "New Moon", it was released on November 20, 2009, has grossed $711 million worldwide against a $50 million budget. Directed by Chris Weitz, written for the screen by Melissa Rosenberg, and scored by French composer Alexandre Desplat, The Twilight Saga: New Moon was shot in Vancouver, and New Westminster, British Columbia, Canada. Interiors for the Cullens house were filmed at 118 Stevens Drive. Scenes for Jacob's family house were shot in Gilley's Trail, Coquitlam.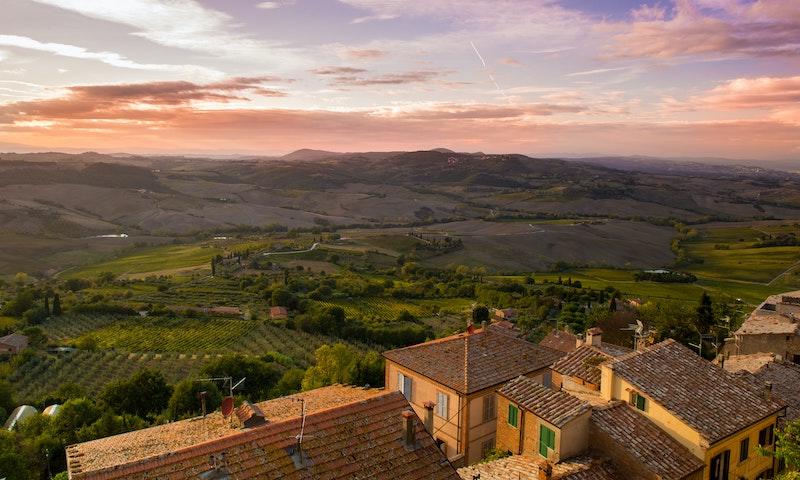 Montepulciano, Italy. Photo by Łukasz Czechowicz on Unsplash.
Where was The Twilight Saga: New Moon Filmed?
The Twilight Saga: New Moon was filmed in 118 Stevens Dr, Columbia St, David Thompson Secondary School, Front St, Gilleys Trail, Long Beach, Montepulciano, Pacific Rim National Park Reserve and Parthenon Park.
The complete list of the locations with latitude and longitude coordinates are listed below in the table.
The Twilight Saga: New Moon Locations Map
The Twilight Saga: New Moon Locations Table
| Location Name | Latitude | Longitude |
| --- | --- | --- |
| 118 Stevens Dr | 49.358494 | -123.121849 |
| Columbia St | 49.203800 | -122.906776 |
| David Thompson Secondary School | 49.220757 | -123.071075 |
| Front St | 49.205700 | -122.902023 |
| Gilleys Trail | 49.295410 | -122.717430 |
| Long Beach | 49.065842 | -125.767670 |
| Montepulciano | 43.098614 | 11.785729 |
| Pacific Rim National Park Reserve | 48.791870 | -125.156799 |
| Parthenon Park | 49.350922 | -123.269386 |
Related Movies