Virgin River Locations
Developed by Sue Tenney, based on the novels of the same name by Robyn Carr, Virgin River follows the story of Melinda "Mel" Monroe who moves from Los Angeles to a remote Northern California town to work as a nurse practitioner. Starring Alexandra Breckenridge, Martin Henderson, Jenny Cooper, Colin Lawrence, Lauren Hammersley, Tim Matheson, Annette O'Toole, Sarah Dugdale, Benjamin Hollingsworth, Grayson Gurnsey, Zibby Allen, and Marco Grazzini, the series was released on Netflix on December 6, 2019. The third season of the show premiered on July 9, 2021. Virgin River was mainly shot in British Columbia, Canada. Mel's cabin was located at 2720 Pemberton Avenue, North Vancouver. The Watershed Grill at 41101 Government Rd, Brackendale was used for the exterior scenes of Jack's Bar.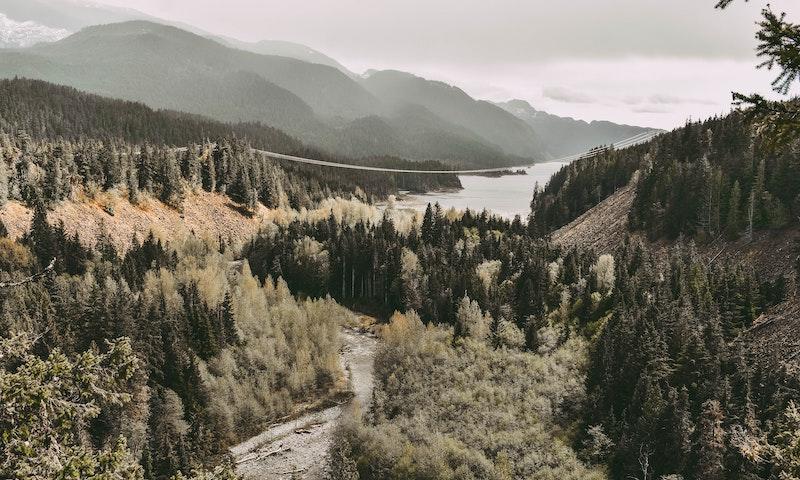 Squamish, Canada. Photo by Jacalyn Beales on Unsplash.
Where was Virgin River Filmed?
Virgin River was filmed in 122 1st St, 2720 Pemberton Ave (Mel's cabin), Agassiz, Burnaby Fraser Foreshore Park, Murdo Frazer Park, New Westminster, Port Coquitlam, Shannon Falls Provincial Park, Snug Cove, Squamish, The Watershed Grill and Vancouver.
The complete list of the locations with latitude and longitude coordinates are listed below in the table.
Virgin River Locations Map
Virgin River Locations Table
| Location Name | Latitude | Longitude |
| --- | --- | --- |
| 122 1st St | 49.210705 | -122.904030 |
| 2720 Pemberton Ave (Mel's cabin) | 49.334938 | -123.106636 |
| Agassiz | 49.239307 | -121.768639 |
| Burnaby Fraser Foreshore Park | 49.186768 | -122.992332 |
| Murdo Frazer Park | 49.335709 | -123.109230 |
| New Westminster | 49.206757 | -122.925423 |
| Port Coquitlam | 49.259418 | -122.771835 |
| Shannon Falls Provincial Park | 49.665546 | -123.162262 |
| Snug Cove | 49.380032 | -123.339355 |
| Squamish | 49.702480 | -123.157463 |
| The Watershed Grill | 49.753452 | -123.141602 |
| Vancouver | 49.257530 | -123.160423 |
Related TV Series