World War Z Locations
World War Z is an American apocalyptic action-adventure horror movie directed by Marc Forster, written by Matthew Michael Carnahan, Drew Goddard, and Damon Lindelof, and based on the novel of the same title by Max Brooks. Starring Brad Pitt, Mireille Enos, Daniella Kertesz, James Badge Dale, Ludi Boeken, Fana Mokoena, Elyes Gabel, Abigail Hargrove, and Sterling Jerins, the film follows a former United Nations employee who must travel the world to find a way to stop a zombie pandemic. The film was released on June 21, 2013 (United States), grossed $540 million worldwide. World War Z was shot in different countries such as the UK, The USA, Malta, and Hungary. Filming locations included Blaenau Ffestiniog in Wales, Fort St. Elmo in Malta, Cochrane Street in Glasgow, and Discovery Park in Kent.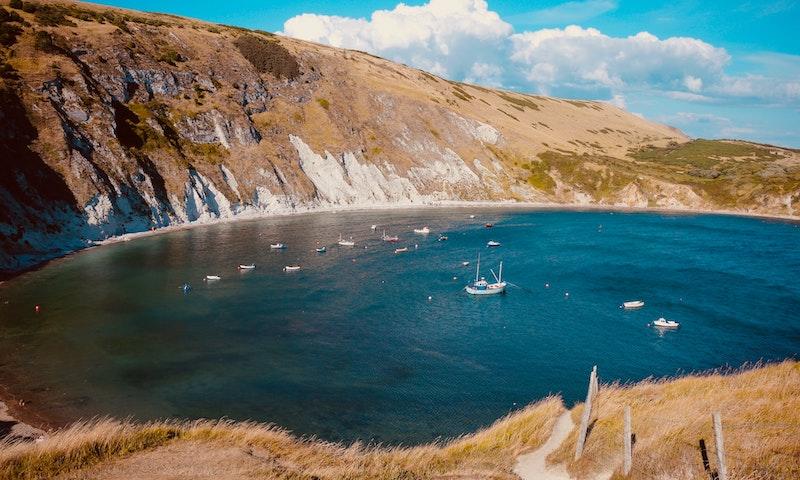 Lulworth Cove. Photo by Craig Smith on Unsplash.
Where was World War Z Filmed?
World War Z was filmed in Aldershot, Blaenau Ffestiniog, Budapest, Cochrane St, Discovery Park (WHO laboratory), Dunsfold, Elstree Studios, Falmouth, Fort St. Elmo, George St, Glasgow, Grangemouth, Hanningfield Water Treatment Plant, John St, Kwik Save (Closed), Lulworth Cove, Philadelphia and Upper Heyford Airfield (disused).
The complete list of the locations with latitude and longitude coordinates are listed below in the table.
World War Z Locations Map
World War Z Locations Table
| Location Name | Latitude | Longitude |
| --- | --- | --- |
| Aldershot | 51.248619 | -0.757388 |
| Blaenau Ffestiniog | 52.998363 | -3.945613 |
| Budapest | 47.498604 | 19.035566 |
| Cochrane St | 55.860405 | -4.247478 |
| Discovery Park (WHO laboratory) | 51.286385 | 1.346122 |
| Dunsfold | 51.119392 | -0.531830 |
| Elstree Studios | 51.658089 | -0.269369 |
| Falmouth | 50.152611 | -5.067413 |
| Fort St. Elmo | 35.900986 | 14.518767 |
| George St | 55.860859 | -4.244432 |
| Glasgow | 55.864784 | -4.254282 |
| Grangemouth | 56.009850 | -3.725334 |
| Hanningfield Water Treatment Plant | 51.663639 | 0.521588 |
| John St | 55.861210 | -4.247535 |
| Kwik Save (Closed) | 55.846184 | -4.335428 |
| Lulworth Cove | 50.618198 | -2.247123 |
| Philadelphia | 39.956161 | -75.174667 |
| Upper Heyford Airfield (disused) | 51.936565 | -1.257946 |
Related Movies