12 Monkeys Locations
12 Monkeys (Twelve Monkeys) is an American mystery science fiction thriller film directed by Terry Gilliam, written by David Webb Peoples and Janet Peoples, inspired by Chris Marker's short film La Jetée. Starring Bruce Willis, Madeleine Stowe, Brad Pitt, Christopher Plummer, and David Morse, it follows a convict who is sent back in time to gather information about the deadly virus that wiped out almost all of humanity on the planet. The film was released on December 29, 1995, grossed $168.8 million worldwide and nominated for 2 Oscars. 12 Monkeys was mainly shot in Philadelphia, Pennsylvania, and Baltimore, Maryland, USA.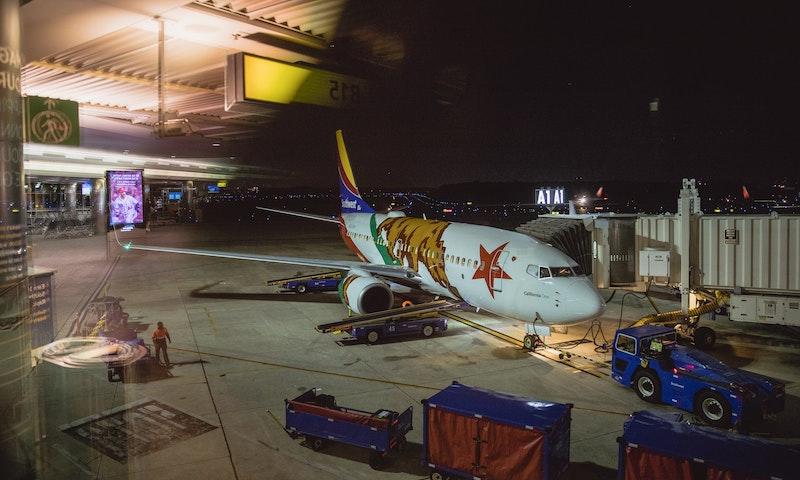 Baltimore-Washington International Airport. Photo by Karl Magnuson on Unsplash.
Where was 12 Monkeys Filmed?
12 Monkeys was filmed in 1313 Chestnut St, 2802 Kensington Ave (Twelve Monkeys headquarters), 306 W Franklin St (Globe Hotel), 344 North Gay St, Baltimore-Washington International Airport, Camden, Delaware Generating Station, Eastern State Penitentiary, Franklin Field, Garrett Jacobs Mansion, Girard College, High School For Creative & Performing Arts, Memorial Hall, Montréal, Mount Vernon, Philadelphia, Philadelphia Convention Center, Richmond Power Plant, The Cloisters Castle and The Renfrew Center for Eating Disorders.
The complete list of the locations with latitude and longitude coordinates are listed below in the table.
12 Monkeys Locations Map
12 Monkeys Locations Table
| Location Name | Latitude | Longitude |
| --- | --- | --- |
| 1313 Chestnut St | 39.950851 | -75.162476 |
| 2802 Kensington Ave (Twelve Monkeys headquarters) | 39.991695 | -75.122437 |
| 306 W Franklin St (Globe Hotel) | 39.295010 | -76.620514 |
| 344 North Gay St | 39.294140 | -76.607346 |
| Baltimore-Washington International Airport | 39.177361 | -76.668480 |
| Camden | 39.926331 | -75.121864 |
| Delaware Generating Station | 39.967880 | -75.126808 |
| Eastern State Penitentiary | 39.968327 | -75.172684 |
| Franklin Field | 39.950153 | -75.190147 |
| Garrett Jacobs Mansion | 39.297039 | -76.616577 |
| Girard College | 39.973385 | -75.171310 |
| High School For Creative & Performing Arts | 39.939327 | -75.165260 |
| Memorial Hall | 39.979305 | -75.209297 |
| Montréal | 45.498440 | -73.573021 |
| Mount Vernon | 39.297741 | -76.618828 |
| Philadelphia | 39.955181 | -75.181244 |
| Philadelphia Convention Center | 39.954384 | -75.160942 |
| Richmond Power Plant | 39.983528 | -75.079292 |
| The Cloisters Castle | 39.410446 | -76.670586 |
| The Renfrew Center for Eating Disorders | 40.064362 | -75.250618 |
| The Senator Theatre | 39.363400 | -76.610245 |
| The Walters Art Museum | 39.296383 | -76.616577 |
| Upperco | 39.563103 | -76.835785 |
Related Movies