28 Weeks Later Locations
28 Weeks Later is a horror sci-fi drama film directed by Juan Carlos Fresnadillo, written by Fresnadillo, Rowan Joffé, Enrique López-Lavigne, and Jesus Olmo. Starring Robert Carlyle, Rose Byrne, Jeremy Renner, Catherine McCormack, Imogen Poots, Harold Perrineau, and Idris Elba, the film is a sequel to the 2002 film 28 Days Later. It was released on 11 May 2007 (US & UK) and follows two young siblings who break protocol to find their infected mother after 6 months after the Rage Virus. 28 Weeks Later was shot in London, Cardiff, and Paris. Filming also took place at Canary Wharf on the Isle of Dogs.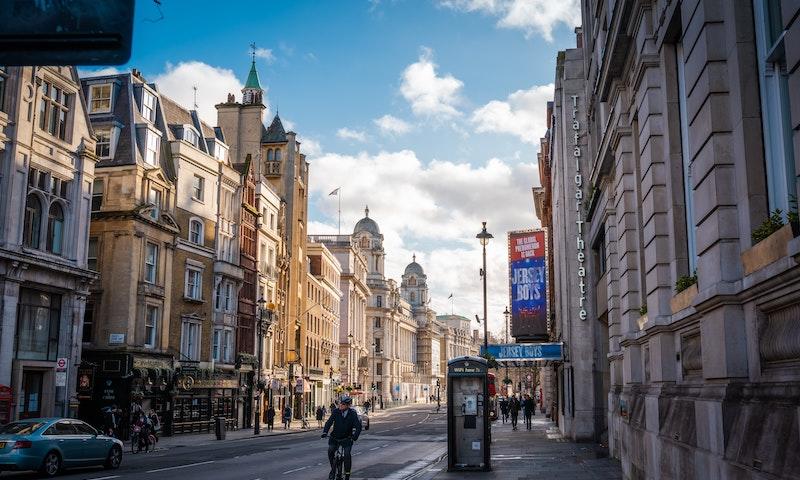 Trafalgar Square. Photo by Johen Redman on Unsplash.
Where was 28 Weeks Later Filmed?
28 Weeks Later was filmed in 3 Mills Studios, Canary Wharf, Charing Cross, CityPoint, Crouch Hill, Dover, Great Windmill St, Greenwich Foot Tunnel, Hyde Park, London, Millenium Bridge, Millennium Stadium, Parliament Square, Parvis des droits de l'homme, Shaftesbury Ave, Smithfield Market, South Quay Footbridge, Stansted Airport, Temple Station and Therapia Road.
The complete list of the locations with latitude and longitude coordinates are listed below in the table.
28 Weeks Later Locations Map
28 Weeks Later Locations Table
| Location Name | Latitude | Longitude |
| --- | --- | --- |
| 3 Mills Studios | 51.527390 | -0.006960 |
| Canary Wharf | 51.504818 | -0.023632 |
| Charing Cross | 51.508110 | -0.124841 |
| CityPoint | 51.519459 | -0.090043 |
| Crouch Hill | 51.575790 | -0.122279 |
| Dover | 51.127953 | 1.312467 |
| Great Windmill St | 51.510933 | -0.134124 |
| Greenwich Foot Tunnel | 51.483402 | -0.010198 |
| Hyde Park | 51.507271 | -0.165777 |
| London | 51.508610 | -0.144090 |
| Millenium Bridge | 51.509487 | -0.098612 |
| Millennium Stadium | 51.478172 | -3.182641 |
| Parliament Square | 51.501144 | -0.126945 |
| Parvis des droits de l'homme | 48.862556 | 2.287684 |
| Shaftesbury Ave | 51.513134 | -0.129421 |
| Smithfield Market | 51.518078 | -0.103154 |
| South Quay Footbridge | 51.502064 | -0.020320 |
| Stansted Airport | 51.886032 | 0.238616 |
| Temple Station | 51.510990 | -0.114319 |
| Therapia Road | 51.451859 | -0.058129 |
| Trafalgar Square | 51.507980 | -0.128186 |
| Wembley Stadium | 51.556004 | -0.279561 |
Related Movies