Down to Earth with Zac Efron Locations
Down to Earth with Zac Efron is an American web documentary series following actor Efron and wellness expert Darin Olien's travels as they seek sustainable lives around the world. It was released on Netflix on July 10, 2020, received good reviews. Efron and his pal Darin explore sustainability cultures and learn about environmental consciousness in different parts of the world. The first season of Down to Earth with Zac Efron was shot in Iceland, France, Costa Rica, Sardinia, Peru, Puerto Rico, England, and Peru.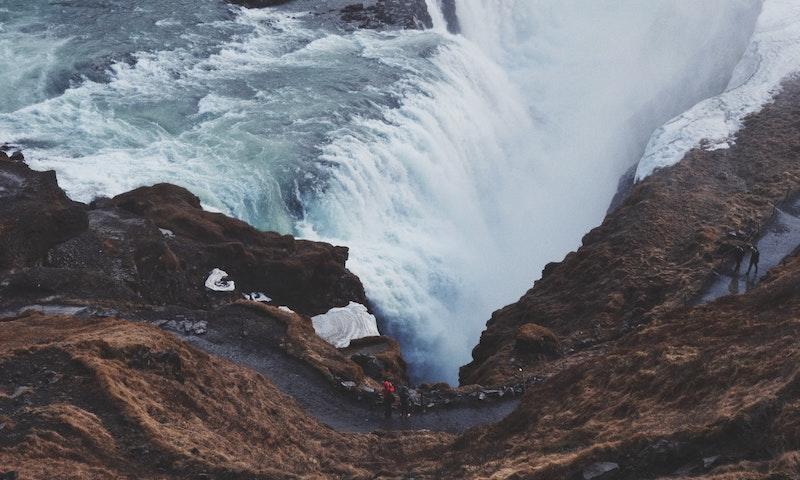 Gullfoss Falls, Iceland. Photo by Jonas Olsen on Unsplash.
Where was Down to Earth with Zac Efron Filmed?
Down to Earth with Zac Efron was filmed in Amazon Rescue Center, ArcelorMittal Orbit, Aritzo, Sardinia, Aulis London, Ayahuasca Foundation, Blue Lagoon Iceland, Calais, Cantera, Caribe Hilton, Casa Sol Bed & Breakfast, Central Restaurante, Channel Tunnel, Chilcas District, Cocina Abierta, Deliciously Ella, Dill Restaurant, Reykjavik, Frutos Del Guacabo, Gullfoss Falls, Ikiitu Restaurant and International Potato Center.
The complete list of the locations with latitude and longitude coordinates are listed below in the table.
Down to Earth with Zac Efron Locations Map
Down to Earth with Zac Efron Locations Table
| Location Name | Latitude | Longitude |
| --- | --- | --- |
| Amazon Rescue Center | -3.883647 | -73.351143 |
| ArcelorMittal Orbit | 51.538303 | -0.012921 |
| Aritzo, Sardinia | 39.955181 | 9.194802 |
| Aulis London | 51.514351 | -0.134377 |
| Ayahuasca Foundation | -3.882383 | -73.490433 |
| Blue Lagoon Iceland | 63.879360 | -22.446522 |
| Calais | 50.953163 | 1.853269 |
| Cantera | 18.424479 | -66.043594 |
| Caribe Hilton | 18.462990 | -66.086105 |
| Casa Sol Bed & Breakfast | 18.467333 | -66.113823 |
| Central Restaurante | -12.152849 | -77.022575 |
| Channel Tunnel | 51.022179 | 1.468774 |
| Chilcas District | -13.170968 | -73.906807 |
| Cocina Abierta | 18.455048 | -66.070663 |
| Deliciously Ella | 51.513355 | -0.150180 |
| Dill Restaurant, Reykjavik | 64.144493 | -21.922707 |
| Frutos Del Guacabo | 18.453053 | -66.466766 |
| Gullfoss Falls | 64.327049 | -20.120396 |
| Ikiitu Restaurant | -3.745987 | -73.242226 |
| International Potato Center | -12.078191 | -76.947060 |
| Iquitos, Peru | -3.756801 | -73.293846 |
| La Ecovilla, San Mateo | 9.962119 | -84.497169 |
| Laugarvatn | 64.217613 | -20.733305 |
| Ljosafoss Power Station | 64.094009 | -21.010551 |
| London School of Economics and Political Science | 51.514454 | -0.117053 |
| Malibu | 34.029579 | -118.791611 |
| Mishana | -3.761789 | -73.261856 |
| New York Hilton Midtown | 40.762234 | -73.979256 |
| Omnom Chocolate, Reykjavik | 64.157242 | -21.940935 |
| Paris | 48.859203 | 2.334873 |
| Port of San Juan | 18.463606 | -66.112038 |
| Punta Mona | 9.634640 | -82.631203 |
| Sanctuaires Notre-Dame de Lourdes | 43.097439 | -0.058327 |
| Seulo, Sardinia | 39.869926 | 9.235820 |
| Surquillo Market | -12.111143 | -77.024399 |
| Terraventuras Nativo Zipline | 9.655883 | -82.755119 |
| Thames River (Rainham) | 51.498756 | 0.181718 |
| The London Eye | 51.503262 | -0.119602 |
Related TV Series