The Notebook Locations
The Notebook is a romantic drama film directed by Nick Cassavetes, written by Jeremy Leven and Jan Sardi (adaptation). The film is based on Nicholas Sparks' book of the same name published in 1996. Starring Gena Rowlands, James Garner, Ryan Gosling, Rachel McAdams, Kevin Connolly, and Heather Wahlquist, the film was released on June 25, 2004 (United States), grossed $115.6 million worldwide and won eight Teen Choice Awards including "Choice Movie: Drama", "Choice Date Movie", "Choice Movie Love Scene" in 2005. The Notebook was mainly filmed in South Carolina. The Boone Hall Plantation, Rice Hope Plantation, Seabrook Island, Cypress Gardens, and the College of Charleston were among the filming locations.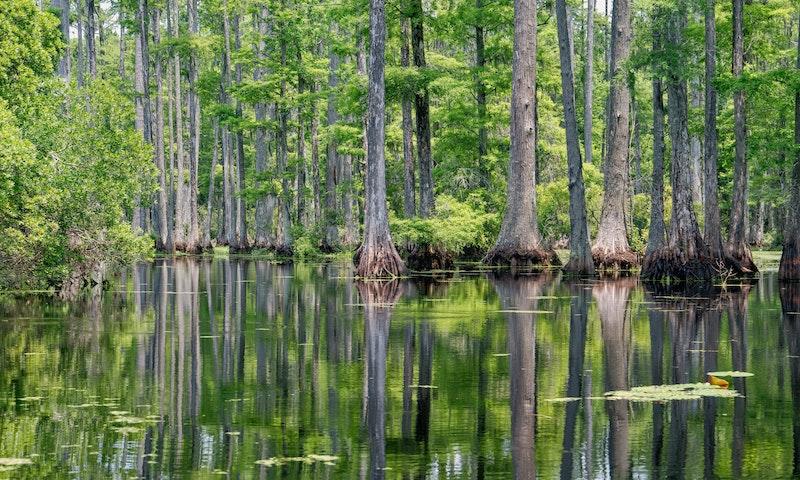 Cypress Gardens. Photo by James Morden on Unsplash.
Where was The Notebook Filmed?
The Notebook was filmed in Boone Hall Plantation & Gardens, Charleston, College of Charlesto, Cypress Gardens, Edisto Island, Los Angeles, Montréal, Mount Pleasant and The Battery.
The complete list of the locations with latitude and longitude coordinates are listed below in the table.
The Notebook Locations Map
The Notebook Locations Table
| Location Name | Latitude | Longitude |
| --- | --- | --- |
| Boone Hall Plantation & Gardens | 32.858120 | -79.823158 |
| Charleston | 32.774197 | -79.941025 |
| College of Charlesto | 32.783424 | -79.937065 |
| Cypress Gardens | 33.051666 | -79.955017 |
| Edisto Island | 32.550148 | -80.297585 |
| Los Angeles | 34.040737 | -118.258270 |
| Montréal | 45.494896 | -73.594017 |
| Mount Pleasant | 32.830357 | -79.834076 |
| The Battery | 32.769279 | -79.929031 |
Related Movies