Amélie Locations
Amélie (Le fabuleux destin d'Amélie Poulain) is a French romantic comedy film directed by Jean-Pierre Jeunet, written by Jean-Pierre Jeunet and Guillaume Laurant. Starring Audrey Tautou, Mathieu Kassovitz, Rufus, Isabelle Nanty, and Dominique Pinon, the film was released on 25 April 2001 in France and grossed over $173 million worldwide. Amélie, a shy and naive waitress living in Paris, decides to help those around her while struggling with her own isolation. It was nominated for Academy Awards including "Best Writing, Screenplay Written Directly for the Screen" and "Best Foreign Language Film", won BAFTA Awards for "Best Screenplay - Original" and "Best Production Design". The film is regarded as one of the greatest romantic films ever. Amélie was shot in Paris, France and Cologne, Germany. Café des Deux Moulins was the café where Amelie worked.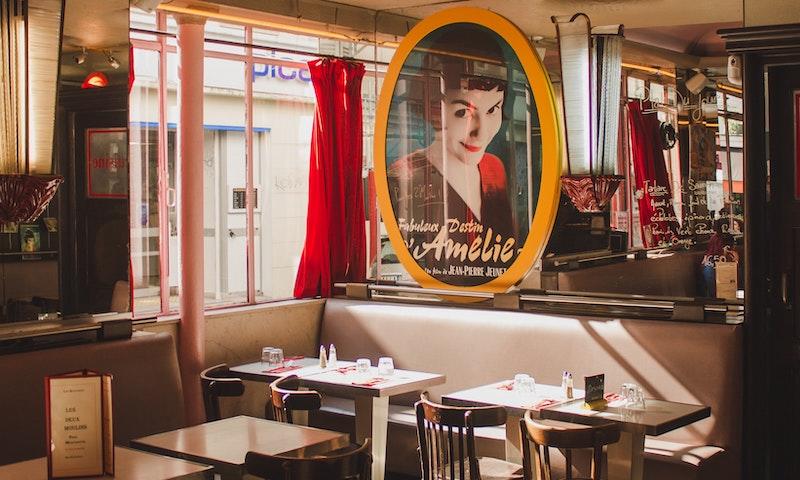 Paris, France. Photo by Diogo Fagundes on Unsplash.
Where was Amélie Filmed?
Amélie was filmed in 18 Rue des Trois Frères (Amelie's home), 18 Rue Lepic, 3 Allée Chevillard (Amélie's father's home), Acqueduc de la Vanne, Animathèque d'Eaubonne, Au Marché de la Butte, Basilique du Sacré-Coeur, Café des Deux Moulins, Canal Saint-Martin, Cathédrale Notre-Dame de Paris, Cologne, Conduite de l'aqueduc romain de Lutèce, Enghien-les-Bains, Gare d'Ermont - Eaubonne, Gare de l'Est, Gare du Nord, L'Escalier, Lamarck-Caulaincourt, Le Verre à Pied and MMC Studios Köln GmbH.
The complete list of the locations with latitude and longitude coordinates are listed below in the table.
Amélie Locations Map
Amélie Locations Table
| Location Name | Latitude | Longitude |
| --- | --- | --- |
| 18 Rue des Trois Frères (Amelie's home) | 48.885056 | 2.339913 |
| 18 Rue Lepic | 48.884815 | 2.333916 |
| 3 Allée Chevillard (Amélie's father's home) | 48.981026 | 2.277369 |
| Acqueduc de la Vanne | 48.780617 | 2.335938 |
| Animathèque d'Eaubonne | 48.990097 | 2.272684 |
| Au Marché de la Butte | 48.885651 | 2.338326 |
| Basilique du Sacré-Coeur | 48.886654 | 2.342562 |
| Café des Deux Moulins | 48.884876 | 2.333554 |
| Canal Saint-Martin | 48.868397 | 2.366716 |
| Cathédrale Notre-Dame de Paris | 48.852982 | 2.349671 |
| Cologne | 50.939106 | 6.949336 |
| Conduite de l'aqueduc romain de Lutèce | 48.824379 | 2.337916 |
| Enghien-les-Bains | 48.970497 | 2.296896 |
| Gare d'Ermont - Eaubonne | 48.980370 | 2.271090 |
| Gare de l'Est | 48.876751 | 2.358909 |
| Gare du Nord | 48.881783 | 2.357416 |
| L'Escalier | 48.890167 | 2.338878 |
| Lamarck-Caulaincourt | 48.889526 | 2.338000 |
| Le Verre à Pied | 48.840252 | 2.349547 |
| MMC Studios Köln GmbH | 50.987385 | 6.892426 |
| Montmartre | 48.886009 | 2.336627 |
| Paris Gare de Lyon | 48.843979 | 2.373381 |
| Pont des Arts | 48.858719 | 2.336985 |
| Porte des Lilas | 48.876751 | 2.406584 |
| Radio Ciné Rire | 48.846603 | 2.369213 |
| Rue Ernest Roche | 48.895451 | 2.319770 |
| Rue Mouffetard | 48.842186 | 2.349695 |
| Rue Pierre Brossollette | 48.986080 | 2.274872 |
| Rue Saint-Vincent | 48.888393 | 2.340400 |
| Tchiki Boom | 48.882996 | 2.335760 |
Related Movies