C. B. Strike Locations
C. B. Strike, also known as Strike, is a British crime-drama TV Series starring Tom Burke, Holliday Grainger, Kerr Logan, Killian Scott, Natasha O'Keeffe, Christina Cole, and Ann Akinjirin. Based on the series of crime fiction novels "Cormoran Strike" by Robert Galbraith, written by Ben Richards and Tom Edge, the series was released on BBC One on 27 August 2017. C. B. Strike was filmed in various places in London and Kent, England, UK. The exterior scenes of Cormoran Strike's office were shot at 6 Denmark Street in Soho. Filming also took place at West London Film Studios. Robin's wedding scenes were filmed at St Mary's Church, Masham.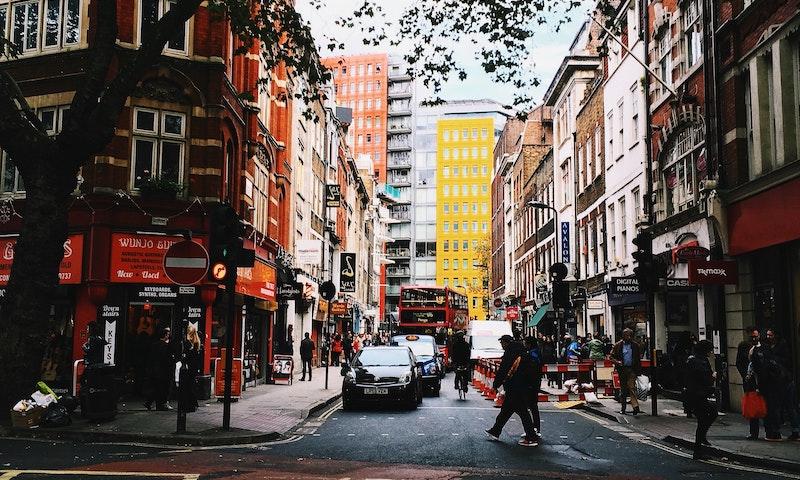 Denmark Street. Photo by Oscar Nord on Unsplash.
Where was C. B. Strike Filmed?
C. B. Strike was filmed in 141 Talgarth Rd, 151 Brick Ln, 6 Denmark St, Albert Embankment, Aldgate East tube station, Alma Grove, Area G Hair & Beauty Salon, Barrow-In-Furness, Camden High St, Catford, Catford Broadway, Crows Nest, Denmark St, Elephant Rd & Castle Square, Gerrard St, Hazlitt's, James Hammett House, Le Manoir aux Quat'Saisons, A Belmond Hotel, Oxfordshire, Leicester St and Lower Mall.
The complete list of the locations with latitude and longitude coordinates are listed below in the table.
C. B. Strike Locations Map
C. B. Strike Locations Table
| Location Name | Latitude | Longitude |
| --- | --- | --- |
| 141 Talgarth Rd | 51.490566 | -0.213731 |
| 151 Brick Ln | 51.524281 | -0.071771 |
| 6 Denmark St | 51.515224 | -0.129419 |
| Albert Embankment | 51.490326 | -0.122683 |
| Aldgate East tube station | 51.515285 | -0.072296 |
| Alma Grove | 51.491482 | -0.071299 |
| Area G Hair & Beauty Salon | 51.488235 | -0.057109 |
| Barrow-In-Furness | 54.114532 | -3.234189 |
| Camden High St | 51.538937 | -0.142707 |
| Catford | 51.445580 | -0.016681 |
| Catford Broadway | 51.445454 | -0.021137 |
| Crows Nest | 54.109077 | -3.239354 |
| Denmark St | 51.515194 | -0.129732 |
| Elephant Rd & Castle Square | 51.493919 | -0.098426 |
| Gerrard St | 51.511749 | -0.131204 |
| Hazlitt's | 51.514385 | -0.131961 |
| James Hammett House | 51.530182 | -0.072004 |
| Le Manoir aux Quat'Saisons, A Belmond Hotel, Oxfordshire | 51.716682 | -1.091858 |
| Leicester St | 51.510933 | -0.131255 |
| Lower Mall | 51.489536 | -0.231126 |
| Nam Long Le Shaker | 51.490677 | -0.183667 |
| Neal St | 51.514015 | -0.125274 |
| Penshurst Place | 51.174641 | 0.183594 |
| Penshurst Place & Gardens | 51.174637 | 0.183546 |
| Pescatori (Closed) | 51.519707 | -0.136276 |
| Porcupine Pantry Cafe | 51.176594 | 0.186545 |
| Queen's Gate | 51.496853 | -0.179286 |
| Sevenoaks | 51.278812 | 0.179611 |
| Soho Square | 51.515339 | -0.132234 |
| St Mary's Church, Masham | 54.221264 | -1.654154 |
| Stage Door Cafe | 51.445629 | -0.020811 |
| Strata | 51.492977 | -0.099620 |
| The Athenaeum Club | 51.506863 | -0.132656 |
| The Duke of York, Fitzrovia | 51.518688 | -0.136029 |
| Tottenham Ct Rd | 51.520313 | -0.134030 |
| Victoria Tower Gardens | 51.496967 | -0.125109 |
| West London Film Studios | 51.509617 | -0.398333 |
Related TV Series