Merlin Locations
Merlin is a British adventure drama fantasy television series created by Julian Jones, Jake Michie, Johnny Capps, and Julian Murphy. Starring John Hurt, Colin Morgan, Bradley James, Richard Wilson, Angel Coulby, Katie McGrath, Anthony Head, and Rupert Young, the series was released from 20 September 2008 to 24 December 2012 on BBC One and BBC One HD (Series 4 – Series 5), ran for 5 seasons, 65 episodes. Merlin was shot in Wales, England, and France. Camelot scenes took place at the Château de Pierrefonds that is located on the southeast edge of the Forest of Compiègne. Filming locations also included Puzzlewood in Coleford and Goodrich Castle in Ross-on-Wye.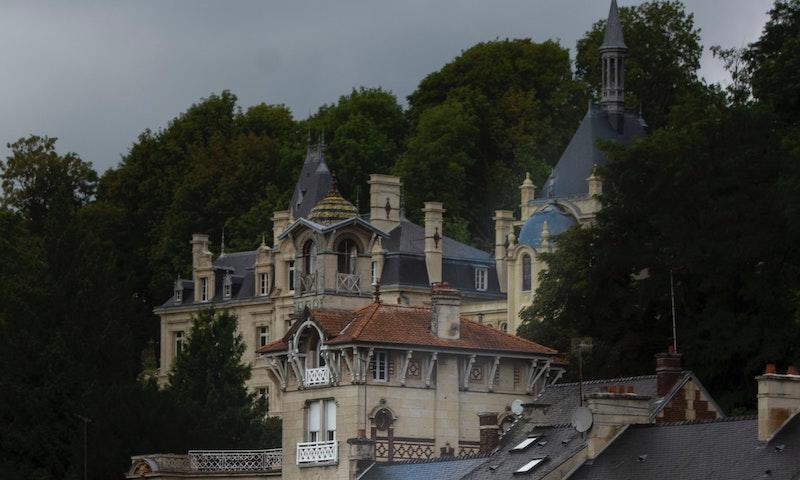 Pierrefonds, France. Photo by Gabrielle Elleirbag on Unsplash.
Where was Merlin Filmed?
Merlin was filmed in Cardiff, Château de Pierrefonds, Chislehurst Caves, Goodrich Castle, Penshurst Place, Penshurst Place & Gardens, Pierrefonds and Puzzlewood.
The complete list of the locations with latitude and longitude coordinates are listed below in the table.
Merlin Locations Map
Merlin Locations Table
| Location Name | Latitude | Longitude |
| --- | --- | --- |
| Cardiff | 51.485775 | -3.201760 |
| Château de Pierrefonds | 49.346916 | 2.980127 |
| Chislehurst Caves | 51.407013 | 0.056755 |
| Goodrich Castle | 51.876701 | -2.615952 |
| Penshurst Place | 51.174591 | 0.183653 |
| Penshurst Place & Gardens | 51.174572 | 0.184268 |
| Pierrefonds | 49.348923 | 2.964026 |
| Puzzlewood | 51.779915 | -2.610231 |
Related TV Series