Lovesick Locations
Lovesick is a British romantic comedy television series created by Tom Edge. Starring Johnny Flynn, Antonia Thomas, Daniel Ings, Hannah Britland and Joshua McGuire, the series was released from 2 October 2014 to 1 January 2018 on Channel 4 (season 1) and Netflix (season 2–season 3). It follows the romantic lives of Dylan as well as his best friends Luke and Evie. The show was directed by Elliot Hegarty, Gordon Anderson, and Aneil Karia; written by Tom Edge, Ed Macdonald, Andy Baker, and Mike Grimmer. Lovesick was mainly filmed in Glasgow, Scotland. The flat they live in was located in Mount Florida.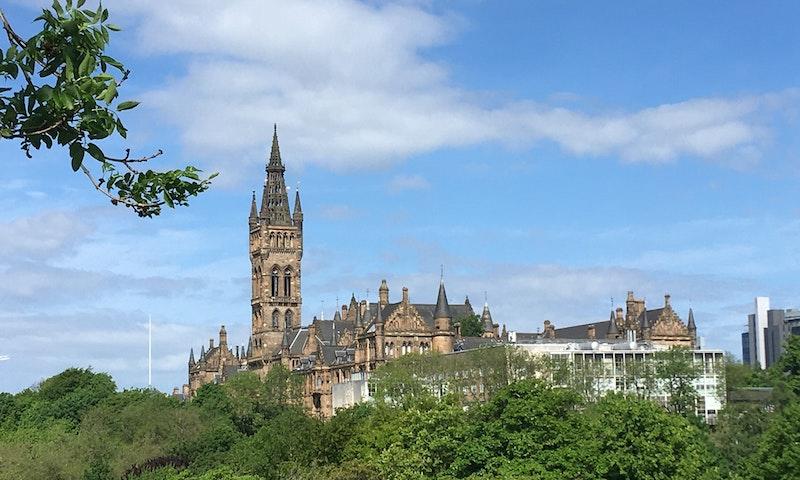 The University of Glasgow. Photo by Colin D on Unsplash.
Where was Lovesick Filmed?
Lovesick was filmed in Glasgow, Kelvingrove Park, Mount Florida, Partick, The Flat, Trans-Europe Café (Closed) and University of Glasgow.
The complete list of the locations with latitude and longitude coordinates are listed below in the table.
Lovesick Locations Map
Lovesick Locations Table
| Location Name | Latitude | Longitude |
| --- | --- | --- |
| Glasgow | 55.864944 | -4.258103 |
| Kelvingrove Park | 55.868965 | -4.282639 |
| Mount Florida | 55.825508 | -4.261415 |
| Partick | 55.870934 | -4.308783 |
| The Flat | 55.827183 | -4.257625 |
| Trans-Europe Café (Closed) | 55.856190 | -4.245588 |
| University of Glasgow | 55.872074 | -4.288320 |
Related TV Series