The Bachelor Locations
The Bachelor is an American dating and relationship reality TV series created and produced by Edwin Fordwuo, directed by Kwame Attakora, hosted by Chris Harrison. The show was released on ABC on March 25, 2002, and follows a single bachelor who dates women over several weeks and hopes to find his true love. The Bachelor was shot in different countries around the world such as the United States, Canada, New Zealand, The United Kingdom, Korea, Vietnam, France, Italy, and Thailand. Filming locations included Agoura Hills and Malibu in California, the US. The Bachelor Mansion is located at 2351 Kanan Rd, Agoura Hills, California.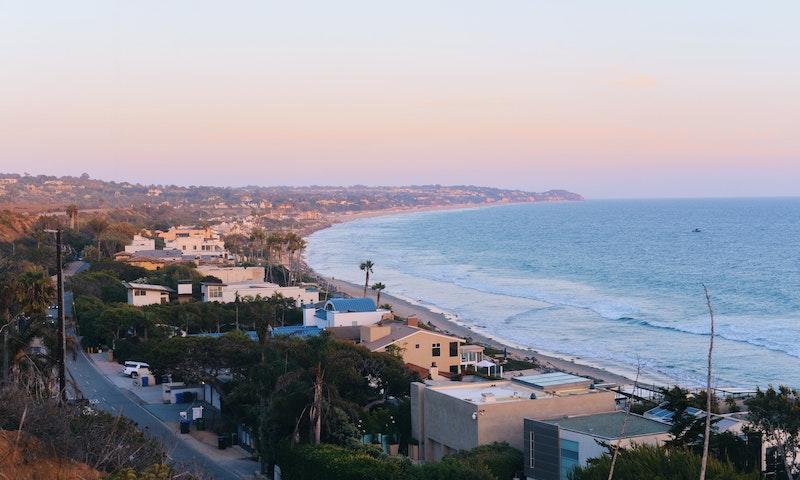 Malibu. Photo by Julian Myles on Unsplash.
Where was The Bachelor Filmed?
The Bachelor was filmed in 2351 Kanan Rd (The Bachelor Mansion), 3002 W 47th Ave, 607 S Park View St, Agoura Hills, Alice Springs, Ambergris Caye, Ao Nang Beach, Arenal, ARIA Resort & Casino, Arlington, Atlanta, Auburn, Baila Conmigo, Banff National Park, Big Sur, Bimini, Birmingham, Blackfeet Indian Reservation, Bradbury Building and Brooklyn.
The complete list of the locations with latitude and longitude coordinates are listed below in the table.
The Bachelor Locations Map
The Bachelor Locations Part 1
| Location Name | Latitude | Longitude |
| --- | --- | --- |
| 2351 Kanan Rd (The Bachelor Mansion) | 34.120689 | -118.794006 |
| 3002 W 47th Ave | 39.044521 | -94.620842 |
| 607 S Park View St | 34.061028 | -118.278893 |
| Agoura Hills | 34.147980 | -118.781242 |
| Alice Springs | -23.699463 | 133.879440 |
| Ambergris Caye | 18.003651 | -87.949257 |
| Ao Nang Beach | 8.029245 | 98.823921 |
| Arenal | 10.465577 | -84.713737 |
| ARIA Resort & Casino | 36.107349 | -115.176659 |
| Arlington | 42.749096 | -91.673126 |
| Atlanta | 33.756813 | -84.411697 |
| Auburn | 32.616100 | -85.489212 |
| Baila Conmigo | 25.827478 | -80.361809 |
| Banff National Park | 51.496834 | -115.928192 |
| Big Sur | 36.279217 | -121.822762 |
| Bimini | 25.735170 | -79.298378 |
| Birmingham | 33.544804 | -86.869530 |
| Blackfeet Indian Reservation | 48.645924 | -113.041267 |
| Bradbury Building | 34.050632 | -118.247963 |
| Brooklyn | 40.647949 | -73.966217 |
| Cal-a-Vie Health Spa | 33.249325 | -117.207291 |
| Camarillo | 34.229313 | -119.034508 |
| Camarillo Ranch | 34.217224 | -119.018089 |
| Canggu | -8.640680 | 115.136696 |
| Cape Town | -33.950367 | 18.479349 |
| Capitol Records Building | 34.103256 | -118.326523 |
| Caye Caulker | 17.761585 | -88.029778 |
| Cedar Point | 41.482201 | -82.683685 |
| Charlotte | 35.231449 | -80.885742 |
| Chiang Rai | 19.913317 | 99.839317 |
| Chicago | 41.876572 | -87.661018 |
| Chico | 39.735081 | -121.840675 |
| Clarksville | 36.580830 | -87.357231 |
| Cleveland | 41.501667 | -81.715416 |
| Cuzco | -13.527926 | -71.977463 |
| Dallas | 32.849606 | -96.831421 |
| Deadwood | 44.381508 | -103.731598 |
| Denpasar | -8.659110 | 115.206589 |
| Denver | 39.736122 | -104.989502 |
| Des Moines | 41.582218 | -93.637703 |
| Des Moines | 41.582691 | -93.631554 |
| Exuma | 23.530922 | -75.872208 |
| Fairmont Chateau Lake Louise | 51.417747 | -116.217148 |
| Fairmont San Francisco | 37.792427 | -122.410492 |
| Fort Lauderdale | 26.147202 | -80.140198 |
| Fort Leonard Wood | 37.752167 | -92.164825 |
| Fort Worth | 32.781193 | -97.379700 |
| Four Seasons Hotel Mexico City | 19.423285 | -99.174194 |
| Fredericksburg | 38.301949 | -77.498932 |
| Gering | 41.827847 | -103.664452 |
| Glacier National Park | 48.768097 | -113.811684 |
| Gold Coast | -28.004753 | 153.368530 |
| Grand Canyon National Park | 36.110870 | -112.126274 |
| Guinness World Records Museum | 34.101387 | -118.338074 |
| Hicksville Trailer Palace & Artist Retreat | 34.207474 | -116.321762 |
| Hilton Santa Fe Buffalo Thunder | 35.861149 | -105.996162 |
| Hobbiton | -37.872093 | 175.682831 |
| Hội An | 15.907596 | 108.350433 |
| Hollywood | 34.097160 | -118.335495 |
| Hollywood Bowl | 34.112209 | -118.339256 |
| Hotel Julien Dubuque | 42.496162 | -90.664520 |
| Houmas House and Gardens | 30.140675 | -90.935089 |
| Hoxie | 36.049274 | -90.979561 |
| Huacachina | -14.087187 | -75.763680 |
| Hudson | 41.242332 | -81.454880 |
| Huka Lodge | -36.856583 | 174.764954 |
| Huntington Beach | 33.698524 | -118.028534 |
| Ica | -14.072888 | -75.742378 |
| InterContinental Đà Nẵng | 16.122591 | 108.306969 |
| Interlaken | 46.687630 | 7.862830 |
| Islas Ballestas | -13.732463 | -76.398598 |
| Jasper National Park | 52.868610 | -118.078239 |
| Joshua Tree National Park | 33.884449 | -115.920204 |
| Kansas City | 39.118233 | -94.621796 |
| Khao Lak | 8.677188 | 98.243401 |
| Knoxville | 35.994495 | -83.965317 |
| Laguna Beach | 33.548698 | -117.781883 |
| Lake Louise | 51.413895 | -116.231575 |
| Las Vegas | 36.128078 | -115.207047 |
| Las Vegas Motor Speedway | 36.272419 | -115.010605 |
| LaTille Falls and Garden | 13.832113 | -60.918484 |
| Lima | -12.034201 | -77.056854 |
| Loews Miami Beach Hotel | 25.789454 | -80.129784 |
| Los Angeles | 34.057514 | -118.310867 |
| Machu Picchu | -13.162989 | -72.545410 |
| Madawaska | 47.301975 | -68.319588 |
| Madonna Inn | 35.267509 | -120.674866 |
| Malibu | 34.035801 | -118.691528 |
| Mallorca | 39.706577 | 2.901983 |
| Marlins Park | 25.778053 | -80.219872 |
| Martha Brae River | 18.358986 | -77.661026 |
| Martin Mason Hotel | 44.376072 | -103.729561 |
| Mekong River | 16.556522 | 104.737068 |
| Mexico City | 19.403511 | -99.213890 |
| Miami | 25.770626 | -80.221207 |
| Milwaukee | 43.044964 | -87.928070 |
| Milwaukee Art Museum | 43.040028 | -87.897133 |
| Minneapolis | 44.977390 | -93.288940 |
| Montalvo Arts Center | 37.243881 | -122.030914 |
The Bachelor Locations Part 2
| Location Name | Latitude | Longitude |
| --- | --- | --- |
| Montreal | 45.513348 | -73.623657 |
| Mulia Resort - Nusa Dua, Bali | -8.815843 | 115.222694 |
| Nemacolin | 39.806309 | -79.551704 |
| New Orleans | 30.002901 | -90.065262 |
| New York City | 40.733082 | -74.034340 |
| Nha Trang | 12.251367 | 109.194305 |
| Ocala | 29.188372 | -82.150681 |
| Ocho Rios | 18.406965 | -77.082207 |
| Old San Juan | 18.465836 | -66.119514 |
| Pachacamac District | -12.145973 | -76.859596 |
| Palm Springs | 33.804108 | -116.540688 |
| Panama City | 9.066691 | -79.518608 |
| Paracas | -13.835150 | -76.254272 |
| Paris | 48.862122 | 2.328634 |
| Park City | 40.663696 | -111.504494 |
| Pasadena | 34.180157 | -118.158386 |
| Phang-nga | 8.536331 | 98.314278 |
| Phoenix | 33.505661 | -112.166962 |
| Pismo Beach | 35.144337 | -120.647614 |
| Portland | 45.543392 | -122.694916 |
| Prior Lake | 44.731037 | -93.459946 |
| Red Rocks Park and Amphitheatre | 39.665577 | -105.205315 |
| Rome | 41.902782 | 12.496365 |
| Rovaniemi | 66.507240 | 25.679155 |
| Saariselkä | 68.423325 | 27.410025 |
| Sacramento | 38.575890 | -121.489647 |
| Sacred Valley | -13.331478 | -72.087830 |
| San Francisco | 37.753792 | -122.471504 |
| San Juan Teotihuacán | 19.689213 | -98.879784 |
| Sandals Royal Plantation | 18.412298 | -77.082115 |
| Santa Ana | 33.735889 | -117.890045 |
| Santa Catalina Island | 33.387295 | -118.436165 |
| Santa Fe | 35.663956 | -105.996651 |
| Santa Monica | 34.024185 | -118.497910 |
| Santiago | -33.453438 | -70.679497 |
| Sarasota | 27.337383 | -82.543457 |
| Scottsdale | 33.626919 | -111.919724 |
| Seattle | 47.609535 | -122.342590 |
| Seoul | 37.570850 | 126.924721 |
| Shreveport | 32.468193 | -93.815430 |
| Sidemen | -8.470274 | 115.432579 |
| Six Flags Magic Mountain | 34.425343 | -118.597328 |
| Sonoma | 38.291885 | -122.468208 |
| South Lake Tahoe | 38.937160 | -119.983681 |
| St Croix | 17.733511 | -64.794586 |
| St. Thomas | 18.340668 | -64.898842 |
| StubHub Center | 33.864468 | -118.261421 |
| Taupō | -38.669956 | 176.066269 |
| Te Puia | -38.164085 | 176.250320 |
| The Hollywood Roosevelt | 34.101162 | -118.341820 |
| The Neon Museum | 36.177002 | -115.135361 |
| Tra Que Vegetable Village | 15.903192 | 108.335373 |
| Tuscany | 43.390450 | 10.690677 |
| Uluru | -25.343422 | 131.033768 |
| Vieques | 18.126787 | -65.441605 |
| Virginia Beach | 36.804939 | -76.078636 |
| Virginia Beach | 36.818371 | -76.066277 |
| Warsaw | 41.243103 | -85.856873 |
| Waukesha | 43.022728 | -88.249229 |
| Weiner | 35.621593 | -90.907700 |
| Wells Fargo Arena | 41.592682 | -93.621460 |
| Wengen | 46.605679 | 7.919906 |
| Whitefish | 48.413425 | -114.353134 |
| Wrigley Field | 41.948395 | -87.655556 |
| Yong Ling Beach | 7.340811 | 99.373863 |
| YS Falls | 18.155645 | -77.825592 |
| Zermatt | 46.006226 | 7.701364 |
Related TV Series