The Rookie Locations
Created by Alexi Hawley, The Rookie is an American crime drama-comedy television series that was released on October 16, 2018, on ABC. Starring Nathan Fillion, Alyssa Diaz, Richard T. Jones, Titus Makin Jr., Melissa O'Neil, Eric Winter, Mekia Cox, and Shawn Ashmore, the series follows the story of John Nolan who joins the Los Angeles Police Department in his forties. The series won a nomination at the 2020 Primetime Emmy Awards. The Rookie was shot in Los Angeles, Oxnard, and Burbank, California, USA. Mid-Wilshire Division Police Station scenes took place at 111 N Hope St Los Angeles.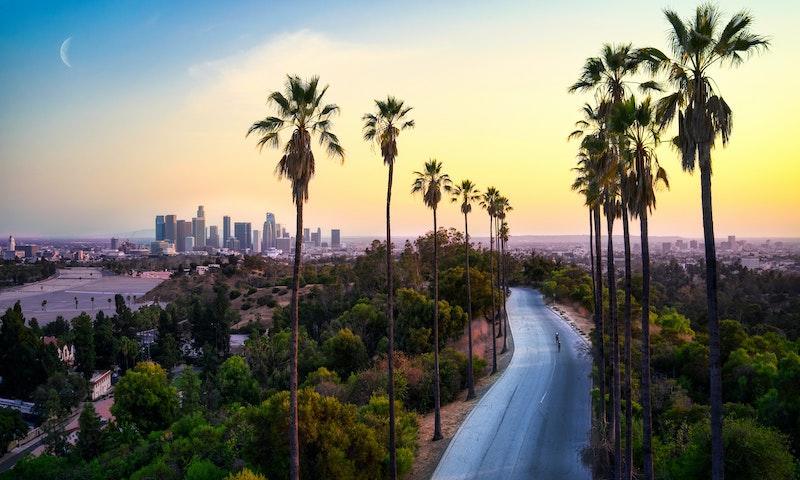 Los Angeles, CA, USA. Photo by Cameron Venti on Unsplash.
Where was The Rookie Filmed?
The Rookie was filmed in 1324 S Central Ave, 143 W 5th St, 1635 Woods Dr, 402 S Bernal Ave, 9300 White Oak Ave, Aero Liquor Store & JR Market, Angelus Rosedale Cemetery, Astro Family Restaurant, Best of Times, Department Of Water And Power, Hollywood Premiere Motel, Joe's Auto Parks, Los Angeles, Los Angeles Center Studios, Los Angeles Union Station and S Olive St & W 12th St.
The complete list of the locations with latitude and longitude coordinates are listed below in the table.
The Rookie Locations Map
The Rookie Locations Table
| Location Name | Latitude | Longitude |
| --- | --- | --- |
| 1324 S Central Ave | 34.128990 | -118.257545 |
| 143 W 5th St | 34.197968 | -119.178497 |
| 1635 Woods Dr | 34.100506 | -118.370316 |
| 402 S Bernal Ave | 34.034218 | -118.197845 |
| 9300 White Oak Ave | 34.239475 | -118.520058 |
| Aero Liquor Store & JR Market | 34.178493 | -118.339508 |
| Angelus Rosedale Cemetery | 34.042419 | -118.297302 |
| Astro Family Restaurant | 34.104458 | -118.258675 |
| Best of Times | 34.168976 | -118.344238 |
| Department Of Water And Power | 34.058006 | -118.249573 |
| Hollywood Premiere Motel | 34.102112 | -118.306931 |
| Joe's Auto Parks | 34.050957 | -118.246185 |
| Los Angeles | 34.057072 | -118.275421 |
| Los Angeles Center Studios | 34.055244 | -118.261284 |
| Los Angeles Union Station | 34.056000 | -118.236740 |
| S Olive St & W 12th St | 34.039429 | -118.262245 |
Related TV Series