The Wolf of Wall Street Locations
The Wolf of Wall Street is an American biographical crime drama comedy film directed by Martin Scorsese, written by Terence Winter, based on the memoir of the same name by Jordan Belfort. The film stars Leonardo DiCaprio, Jonah Hill, Margot Robbie, Matthew McConaughey, Kyle Chandler, Rob Reiner, and Jon Bernthal. It was released on December 25, 2013 (United States), grossed $392 million worldwide and nominated for 5 Oscars including "Best Performance by an Actor in a Leading Role" (Leonardo DiCaprio) and "Best Motion Picture of the Year". The film follows the story of Jordan Belfort, a stockbroker in New York City, from his rise to fall. The Wolf of Wall Street was filmed in Italy, the USA, and Switzerland.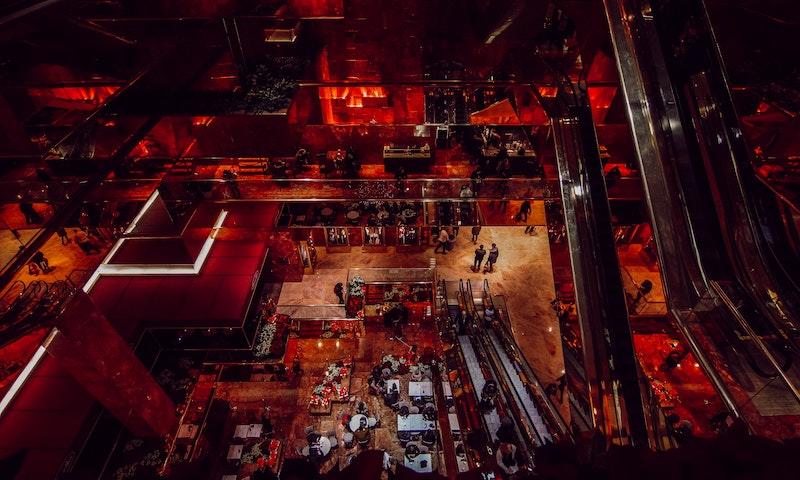 Trump Tower, NY, USA. Photo by Miltiadis Fragkidis on Unsplash.
Where was The Wolf of Wall Street Filmed?
The Wolf of Wall Street was filmed in 10 Vanderbilt Dr (Beach House), 300 East 55th St (Belfort's Apartment), Air Hollywood Inc, Ardsley, Bahamas, Bayville, Brooklyn, Chestnut Hill Dr (Belfort's estate), Classic Harbor Line New York, Closter, Closter Plaza, Equitable Building, Geneva, Harrison, Las Vegas, Mamaroneck, Nassau St, New York, New York City and Portofino.
The complete list of the locations with latitude and longitude coordinates are listed below in the table.
The Wolf of Wall Street Locations Map
The Wolf of Wall Street Locations Table
| Location Name | Latitude | Longitude |
| --- | --- | --- |
| 10 Vanderbilt Dr (Beach House) | 40.864834 | -73.721489 |
| 300 East 55th St (Belfort's Apartment) | 40.757694 | -73.966133 |
| Air Hollywood Inc | 34.273930 | -118.422188 |
| Ardsley | 41.010799 | -73.844559 |
| Bahamas | 24.735640 | -78.268028 |
| Bayville | 40.910183 | -73.563171 |
| Brooklyn | 40.680172 | -73.957764 |
| Chestnut Hill Dr (Belfort's estate) | 40.849171 | -73.569160 |
| Classic Harbor Line New York | 40.713367 | -74.016754 |
| Closter | 40.972118 | -73.960449 |
| Closter Plaza | 40.970345 | -73.956406 |
| Equitable Building | 40.708443 | -74.010841 |
| Geneva | 46.204758 | 6.140421 |
| Harrison | 40.969597 | -73.720573 |
| Las Vegas | 36.169090 | -115.140579 |
| Mamaroneck | 40.950939 | -73.734673 |
| Nassau St | 40.709637 | -74.008476 |
| New York | 40.752518 | -74.014015 |
| New York City | 40.713051 | -74.007233 |
| Portofino | 44.303959 | 9.207770 |
| Rao's | 40.793941 | -73.934235 |
| Sands Point | 40.851673 | -73.719780 |
| Shalimar Diner (closed) | 40.727127 | -73.863991 |
| Trump Tower | 40.762386 | -73.973915 |
| White Plains | 41.032730 | -73.766327 |
Related Movies