American Pie Locations
American Pie is an American teen comedy movie written by Adam Herz, directed by Paul and Chris Weitz. Starring Jason Biggs, Chris Klein, Thomas Ian Nicholas, Jennifer Coolidge, Shannon Elizabeth, Alyson Hannigan, Clyde Kusatsu, Natasha Lyonne, Tara Reid, Mena Suvari, and Eugene Levy, it is the first film in the American Pie series. It follows the funny story of a couple of teenage boys. The film was released on July 9, 1999, grossed $235.5 million worldwide. American Pie was shot in Long Beach, Los Angeles, Monrovia, and Altadena, California. Filming locations included Millikan High School, California State University Long Beach, Queen Mary Dome, and Pacific Palms Resort.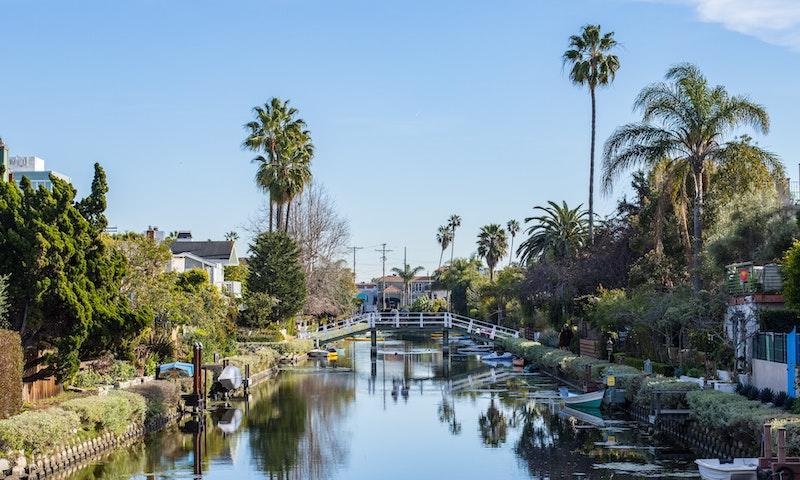 Venice Canals. Photo by Igor Kyryliuk on Unsplash.
Where was American Pie Filmed?
American Pie was filmed in 1090 Rubio St (Stifler's house interiors), 1250 N. Bellflower Boulevard, 3644 Lombardy Rd (Stifler's house exteriors), 3689 San Pasqual St (Kevin's house), 3925 Cedar Ave (Michelle's house), 402 S Myrtle Ave, 410 Lake Sherwood Dr (Stifler's lakehouse), 4153 Cedar Ave (Jim's house), Altadena, City of Industry, El Dorado East Regional Park, Lake Sherwood, Long Beach, Long Beach Polytechnic High School, Los Angeles, Millikan High School, Monrovia, OOmasa, Pacific Palms Resort and Queen Mary Dome.
The complete list of the locations with latitude and longitude coordinates are listed below in the table.
American Pie Locations Map
American Pie Locations Table
| Location Name | Latitude | Longitude |
| --- | --- | --- |
| 1090 Rubio St (Stifler's house interiors) | 34.191341 | -118.127686 |
| 1250 N. Bellflower Boulevard | 33.780853 | -118.114014 |
| 3644 Lombardy Rd (Stifler's house exteriors) | 34.133606 | -118.075310 |
| 3689 San Pasqual St (Kevin's house) | 34.138157 | -118.073814 |
| 3925 Cedar Ave (Michelle's house) | 33.829506 | -118.196671 |
| 402 S Myrtle Ave | 34.147907 | -118.000679 |
| 410 Lake Sherwood Dr (Stifler's lakehouse) | 34.140881 | -118.869530 |
| 4153 Cedar Ave (Jim's house) | 33.831562 | -118.196884 |
| Altadena | 34.189850 | -118.134270 |
| City of Industry | 34.019318 | -117.960091 |
| El Dorado East Regional Park | 33.809624 | -118.086922 |
| Lake Sherwood | 34.143406 | -118.870323 |
| Long Beach | 33.803539 | -118.171249 |
| Long Beach Polytechnic High School | 33.786800 | -118.182961 |
| Los Angeles | 34.057510 | -118.256874 |
| Millikan High School | 33.807941 | -118.110916 |
| Monrovia | 34.145592 | -118.002182 |
| OOmasa | 34.049290 | -118.239548 |
| Pacific Palms Resort | 34.020813 | -117.926918 |
| Queen Mary Dome | 33.752579 | -118.190308 |
| Queens Highway | 33.753738 | -118.195503 |
| Venice Canals | 33.983494 | -118.467659 |
Related Movies