Days of Thunder Locations
A sport, action, drama movie by Tony Scott, Days of Thunder stars Tom Cruise, Nicole Kidman, Robert Duvall, Randy Quaid, Cary Elwes, Michael Rooker, and Fred Thompson. The film was released on June 27, 1990, earned $157.9 million against a $55 million budget, and nominated for an Oscar in 1991. Produced by Don Simpson and Jerry Bruckheimer, written by Robert Towne, scored by Hans Zimmer, it is also the first film to feature both Cruise and Kidman. Days of Thunder was shot in South Carolina, Tennessee, Arizona, Florida, and North Carolina, USA.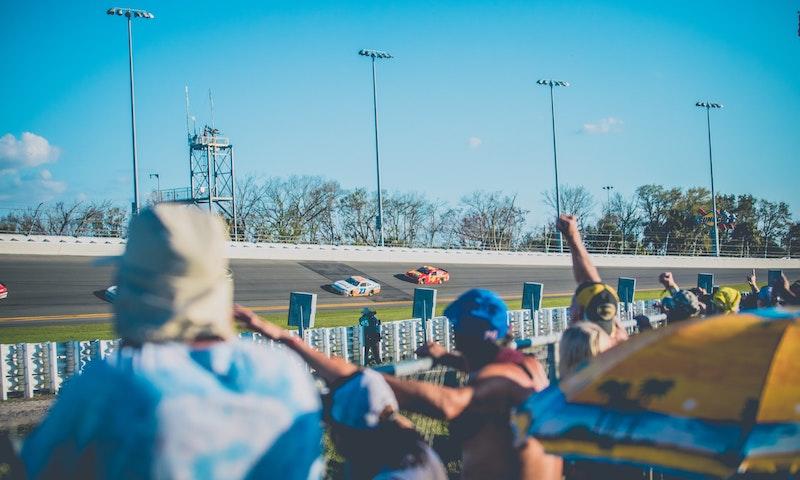 Daytona International Speedway, United States. Photo by Tim Trad on Unsplash.
Where was Days of Thunder Filmed?
Days of Thunder was filmed in Bristol, Bristol Motor Speedway, Charlotte, Charlotte Motor Speedway, Darlington, Darlington Raceway, Daytona Beach, Daytona International Speedway, DeLand, Magna, North Wilkesboro, Phoenix and Phoenix Raceway.
The complete list of the locations with latitude and longitude coordinates are listed below in the table.
Days of Thunder Locations Map
Days of Thunder Locations Table
| Location Name | Latitude | Longitude |
| --- | --- | --- |
| Bristol | 36.556671 | -82.229904 |
| Bristol Motor Speedway | 36.515606 | -82.257080 |
| Charlotte | 35.211437 | -80.852814 |
| Charlotte Motor Speedway | 35.351448 | -80.686722 |
| Darlington | 34.299328 | -79.873123 |
| Darlington Raceway | 34.295364 | -79.905495 |
| Daytona Beach | 29.207502 | -81.113373 |
| Daytona International Speedway | 29.185057 | -81.070801 |
| DeLand | 29.026615 | -81.303909 |
| Magna | 40.702927 | -112.092140 |
| North Wilkesboro | 36.163372 | -81.150551 |
| Phoenix | 33.438435 | -112.111717 |
| Phoenix Raceway | 33.374889 | -112.311424 |
Related Movies