Before Sunrise Locations
Before Sunrise is an American romantic film directed by Richard Linklater and written by Linklater and Kim Krizan. A young French woman and a young American man meet on a train in Europe and decide to spend one evening together in Vienna. Ethan Hawke and Julie Delpy starred in the film as Jesse and Céline. The film was released on January 27, 1995, in the United States, won an award at the 1995 Berlin International Film Festival, and is regarded as one of the best romantic movies of all time. Before Sunrise was shot in Vienna, Austria. Kleines Café, Café Sperl, Friedhof der Namenlosen, Wien Westbahnhof, Maria Am Gestade, and Teuchtler Schallplattenhandlung were among the filming locations.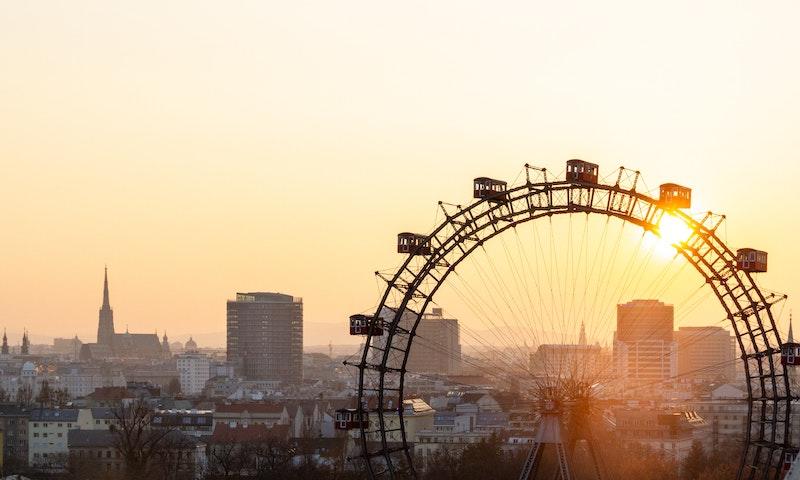 Vienna, Austria. Photo by Dimitry Anikin on Unsplash.
Where was Before Sunrise Filmed?
Before Sunrise was filmed in Albertina Palais Museum, Arena Wien, Café Sperl, Friedhof der Namenlosen (Cemetery of the Nameless), Katholische Kirche Mariahilf, Kleines Café, Maria Am Gestade, Maria Theresien Platz, Pressgasse, Teuchtler Schallplattenhandlung, Wien Westbahnhof, Wiener Riesenrad (Their First Kiss) and Zollamtssteg Bridge.
The complete list of the locations with latitude and longitude coordinates are listed below in the table.
Before Sunrise Locations Map
Before Sunrise Locations Table
| Location Name | Latitude | Longitude |
| --- | --- | --- |
| Albertina Palais Museum | 48.204533 | 16.368200 |
| Arena Wien | 48.187519 | 16.413380 |
| Café Sperl | 48.199837 | 16.361183 |
| Friedhof der Namenlosen (Cemetery of the Nameless) | 48.159603 | 16.502401 |
| Katholische Kirche Mariahilf | 48.199104 | 16.352921 |
| Kleines Café | 48.206322 | 16.373980 |
| Maria Am Gestade | 48.212891 | 16.370556 |
| Maria Theresien Platz | 48.204212 | 16.361252 |
| Pressgasse | 48.196011 | 16.362749 |
| Teuchtler Schallplattenhandlung | 48.199604 | 16.356979 |
| Wien Westbahnhof | 48.196892 | 16.338610 |
| Wiener Riesenrad (Their First Kiss) | 48.217201 | 16.396780 |
| Zollamtssteg Bridge | 48.209808 | 16.384300 |
Related Movies