Better Call Saul Locations
Better Call Saul is an American crime-drama TV series created by Vince Gilligan and Peter Gould. Starring are Bob Odenkirk, Rhea Seehorn, Jonathan Banks, Patrick Fabian, and Michael Mando, the series premiered on February 8, 2015, on AMC. It is the prequel to Breaking Bad, set six years before Saul Goodman became Walter White's lawyer. Better Call Saul was mainly shot in Albuquerque, New Mexico, USA. The sixth and final season of the series was aired between April 18, 2022 and 15 August 2022. Filming locations included Cafe Route66, Cathedral of St John, District Court Grand Jury, Mountain View Community Center, and Vintage 423. Filming also took place at Albuquerque Studios.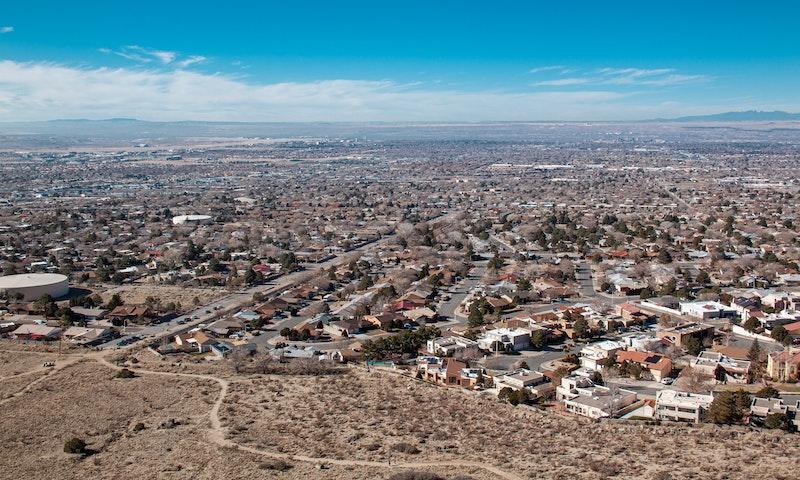 Albuquerque, New Mexico, USA. Photo by Gabriel Griego on Unsplash.
Where was Better Call Saul Filmed?
Better Call Saul was filmed in 102 Marquette Ave NE, 1108 Quincy St NE, 12204 Manitoba Dr NE (Tuco's Abuelita's House), 1500 Pan American Central Hwy, 1520 Tejana Mesa Pl NE (Kettleman house), 1607 San Cristobal Rd (Chuck's house), 1751 Bellamah Ave NW, 204 Edith Blvd. NE (Mike's House), 2817 California St NE, 330 Tijeras Ave NW, 400 Gold Ave SW, 444 Luna Ave SE, 491 NM-165 (Don Eladio's House), 5001 Royene Ave NE (Mrs. Strauss' house), 501 1st St NW (Mike's Parking booth), 5400 Gibson Blvd SE, 5793 Bobby Foster Rd (Kim's accident scene), 6500 Montgomery Blvd NE, 6500 Zuni Rd SE and 6611 Zuni Rd SE.
The complete list of the locations with latitude and longitude coordinates are listed below in the table.
Better Call Saul Locations Map
Better Call Saul Locations Table
| Location Name | Latitude | Longitude |
| --- | --- | --- |
| 102 Marquette Ave NE | 35.087624 | -106.647026 |
| 1108 Quincy St NE | 35.096203 | -106.588463 |
| 12204 Manitoba Dr NE (Tuco's Abuelita's House) | 35.136982 | -106.503571 |
| 1500 Pan American Central Hwy | 35.385757 | -106.464066 |
| 1520 Tejana Mesa Pl NE (Kettleman house) | 35.093372 | -106.480911 |
| 1607 San Cristobal Rd (Chuck's house) | 35.088486 | -106.666115 |
| 1751 Bellamah Ave NW | 35.101887 | -106.663734 |
| 204 Edith Blvd. NE (Mike's House) | 35.084686 | -106.641624 |
| 2817 California St NE | 35.113728 | -106.575905 |
| 330 Tijeras Ave NW | 35.086273 | -106.650879 |
| 400 Gold Ave SW | 35.083363 | -106.652260 |
| 444 Luna Ave SE | 34.802185 | -106.733856 |
| 491 NM-165 (Don Eladio's House) | 35.307526 | -106.454887 |
| 5001 Royene Ave NE (Mrs. Strauss' house) | 35.095657 | -106.590065 |
| 501 1st St NW (Mike's Parking booth) | 35.087872 | -106.647453 |
| 5400 Gibson Blvd SE | 35.057957 | -106.581413 |
| 5793 Bobby Foster Rd (Kim's accident scene) | 34.990463 | -106.646523 |
| 6500 Montgomery Blvd NE | 35.130409 | -106.574005 |
| 6500 Zuni Rd SE | 35.072426 | -106.574966 |
| 6611 Zuni Rd SE | 35.072990 | -106.573410 |
| 7401 Paseo Del Volcan NW | 35.155537 | -106.794731 |
| 7715 Central Ave NE | 35.075367 | -106.561127 |
| 7729 Robin Ave NE (Daniel 'Pryce' Wormald House) | 35.098713 | -106.558289 |
| 7901 Sartan Way NE | 35.143097 | -106.555939 |
| 7th St SW & Central Ave SW | 35.085003 | -106.655212 |
| 8613 La Sala Del Centro NE (Stacey Ehrmantraut House) | 35.121807 | -106.547188 |
| Ace Rebar Inc | 35.021908 | -106.647705 |
| Albuquerque | 35.083820 | -106.675591 |
| Albuquerque Studios | 34.988575 | -106.612854 |
| Allen's Automotive, Inc. | 35.069939 | -106.511703 |
| Animal Humane New Mexico | 35.067112 | -106.553024 |
| Ballut Abyad Shriners | 35.071617 | -106.573662 |
| Bank of America (Closed) | 35.089237 | -106.649834 |
| Belen | 34.665882 | -106.784683 |
| Cathedral of St John | 35.082153 | -106.651825 |
| Check Advance Loans (Closed) | 35.122082 | -106.586891 |
| Contact Wireless Repair & More | 35.109493 | -106.581230 |
| Coronado Center | 35.107056 | -106.570404 |
| Cottonwood Mall | 35.198242 | -106.657181 |
| Day Spa & Nail | 35.071873 | -106.514374 |
| District Court Grand Jury | 35.087132 | -106.651932 |
| Dog House Drive In | 35.087601 | -106.661636 |
| Edelweiss Am Rio Grande - German American Club | 35.109413 | -106.589867 |
| Firestone Complete Auto Care (Closed) | 35.085320 | -106.655540 |
| Grandma's K & I Diner | 35.056358 | -106.644867 |
| J & D's Little Store | 35.003246 | -106.663078 |
| Los Altos Skate Park | 35.086918 | -106.538582 |
| Louie's Pub & Grill | 35.109535 | -106.581680 |
| Loyola's Family Restaurant (Cafe Route66) | 35.078362 | -106.594177 |
| Manitoba Dr NE (Tuco's house) | 35.136913 | -106.503548 |
| Monte Carlo Liquors & Steak House | 35.086170 | -106.683647 |
| Mountain View Community Center | 35.015835 | -106.657913 |
| National Hispanic Cultural Center | 35.068195 | -106.655685 |
| New Mexico | 34.289917 | -107.030296 |
| Rio Bravo Veterinary Hospital | 35.026222 | -106.653503 |
| Skip Maisel's Indian Jewelry (Closed) | 35.084637 | -106.653412 |
| Special Collections Public Library | 35.083813 | -106.642502 |
| Sunshine Building | 35.083893 | -106.649139 |
| The Hotel Blue | 35.085506 | -106.655998 |
| Triangle Grocery | 35.124428 | -106.370117 |
| Two Fools Tavern | 35.080662 | -106.609016 |
| Valliant Printing (Closed) | 35.084202 | -106.654869 |
| Vassar Dr NE (Saul's Apartment - Omaha) | 35.104687 | -106.614845 |
| Vintage 423 | 35.173687 | -106.557625 |
| Westward Ho Motel | 35.077538 | -106.719185 |
Related TV Series