Mad Men Locations
Mad Men is an American period drama TV series created by Matthew Weiner, produced by Lionsgate Television, aired on AMC. The series was released from 2007 to 2015, ran for 7 seasons and 92 episodes. Starring Jon Hamm, Elisabeth Moss, Vincent Kartheiser, January Jones, Christina Hendricks, Aaron Staton, Rich Sommer, John Slattery, Kiernan Shipka, Robert Morse, Christopher Stanley, Alison Brie, and Jessica Paré, the series won 5 Golden Globes including "Best Television Series - Drama". Mad Men was shot at Silvercup Studios in New York City and Los Angeles Center Studios.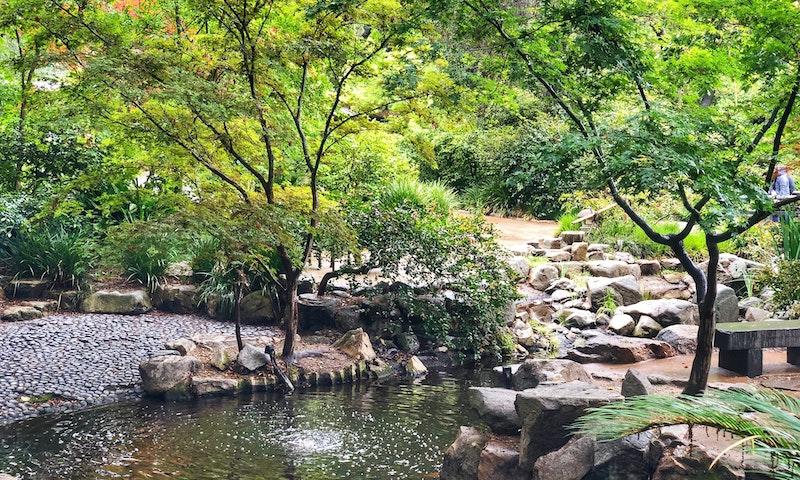 Descanso Gardens. Photo by W K on Unsplash.
Where was Mad Men Filmed?
Mad Men was filmed in Bob's Big Boy, Canter's Restaurant, Bakery, Deli and Bar, Casey's Irish Pub, Cicada Club, Clifton's, Cole's French Dip, Descanso Gardens, Dorothy Chandler Pavilion, HMS Bounty, James Oviatt Building, Los Angeles Center Studios, Millennium Biltmore Hotel Los Angeles, Musso & Frank Grill, New York City, Pasadena, Quality Cafe, Rod's Grill, Silvercup Studios, St. James' Episcopal Church and The Ebell of Los Angeles.
The complete list of the locations with latitude and longitude coordinates are listed below in the table.
Mad Men Locations Map
Mad Men Locations Table
| Location Name | Latitude | Longitude |
| --- | --- | --- |
| Bob's Big Boy | 33.947639 | -118.147133 |
| Canter's Restaurant, Bakery, Deli and Bar | 34.078754 | -118.361862 |
| Casey's Irish Pub | 34.048443 | -118.255768 |
| Cicada Club | 34.047688 | -118.254776 |
| Clifton's | 34.045353 | -118.252991 |
| Cole's French Dip | 34.044758 | -118.249550 |
| Descanso Gardens | 34.201454 | -118.211266 |
| Dorothy Chandler Pavilion | 34.056755 | -118.248322 |
| HMS Bounty | 34.062008 | -118.297173 |
| James Oviatt Building | 34.047680 | -118.254730 |
| Los Angeles Center Studios | 34.054668 | -118.260048 |
| Millennium Biltmore Hotel Los Angeles | 34.049702 | -118.254204 |
| Musso & Frank Grill | 34.101768 | -118.335327 |
| New York City | 40.710007 | -74.015121 |
| Pasadena | 34.147865 | -118.149414 |
| Quality Cafe | 34.051929 | -118.267113 |
| Rod's Grill | 34.140285 | -118.033333 |
| Silvercup Studios | 40.751411 | -73.943802 |
| St. James' Episcopal Church | 34.062057 | -118.312042 |
| The Ebell of Los Angeles | 34.061195 | -118.324844 |
| The Los Angeles Athletic Club | 34.046581 | -118.255013 |
| The Los Angeles Theatre | 34.046478 | -118.252678 |
| The Prince | 34.059418 | -118.295090 |
| The Royal Hawaiian | 21.277119 | -157.829102 |
| The Slipper Room | 40.721455 | -73.988800 |
| The Three Clubs | 34.091328 | -118.326912 |
Related TV Series