Friends Locations
Friends is a sitcom TV series, and it focuses on the lives of six close friends living in Manhattan. The show was created by David Crane and Marta Kauffman and ran for 10 seasons (236 episodes) on NBC. It was aired from September 22, 1994, to May 6, 2004. Jennifer Aniston, Courteney Cox, Lisa Kudrow, Matt LeBlanc, Matthew Perry and David Schwimmer were starred in the show. Friends was filmed in New York City, New York, USA and London, the UK. Filming mostly took place at Warner Brothers Studios in Burbank.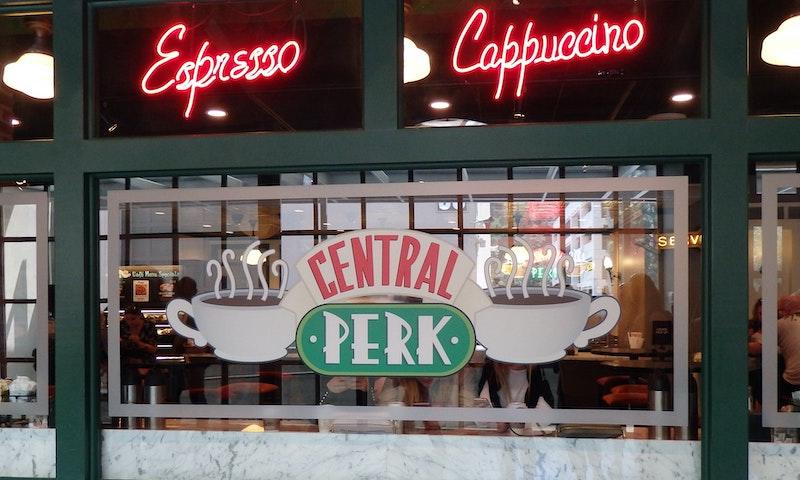 Photo by Ilse Orsel on Unsplash.
Where was Friends Filmed?
Friends was filmed in 454 W 58th St (Phoebe Buffay's Apartment), 90 Bedford St (Friends Apartment), Friends Fountain, Las Vegas, Leo Carrillo State Park, London, London Marriott Hotel Grosvenor Square, Los Angeles, Mount Sinai Beth Israel (Beth Israel Medical Center), New York City, Rome, Solow Building (Chandler's Office), Stage 24, Warner Brothers Studios, The Lucille Lortel Theatre, The Plaza Hotel and Vasquez Rocks.
The complete list of the locations with latitude and longitude coordinates are listed below in the table.
Friends Locations Map
Friends Locations Table
| Location Name | Latitude | Longitude |
| --- | --- | --- |
| 454 W 58th St (Phoebe Buffay's Apartment) | 40.769211 | -73.987305 |
| 90 Bedford St (Friends Apartment) | 40.732449 | -74.005447 |
| Friends Fountain | 34.157894 | -118.344315 |
| Las Vegas | 36.114647 | -115.172813 |
| Leo Carrillo State Park | 34.051430 | -118.934441 |
| London | 51.509865 | -0.118092 |
| London Marriott Hotel Grosvenor Square | 51.512615 | -0.151004 |
| Los Angeles | 34.052235 | -118.243683 |
| Mount Sinai Beth Israel (Beth Israel Medical Center) | 40.732861 | -73.981750 |
| New York City | 40.730610 | -73.935242 |
| Rome | 41.890560 | 12.494270 |
| Solow Building (Chandler's Office) | 40.763660 | -73.975258 |
| Stage 24, Warner Brothers Studios | 34.148712 | -118.338669 |
| The Lucille Lortel Theatre | 40.733269 | -74.005699 |
| The Plaza Hotel | 40.764435 | -73.974648 |
| Vasquez Rocks | 34.483673 | -118.319351 |
Related TV Series