Band of Brothers Locations
Band of Brothers is an American war drama miniseries aired on HBO. It was based on historian Stephen E. Ambrose's best-seller non-fiction book "Band of Brothers". This drama series is produced by Tom Hanks and Steven Spielberg, and it ran for 10 episodes. Band of Brothers won Emmy and Golden Globe awards for best miniseries in 2001. Scott Grimes, Damian Lewis, Ron Livingston, Shane Taylor, Michael Fassbender, Donnie Wahlberg, David Schwimmer, and Peter Youngblood Hills are starred in the show. It is regarded as one of the best war drama TV series ever. Band of Brothers was shot at Hatfield Aerodrome in Hertfordshire, England and North Weald Airfield in Essex. Filming also took place in Hambleden, Buckinghamshire and Giessbach Hotel, Switzerland.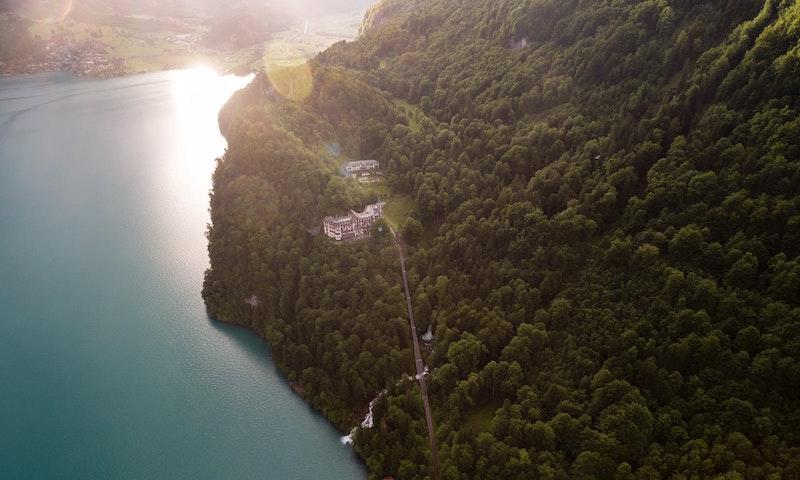 Grandhotel Giessbach, Brienz, Switzerland. Photo by Andreas Gücklhorn on Unsplash.
Where was Band of Brothers Filmed?
Band of Brothers was filmed in Ashdown Forest, Bourne Woods, Goldings, Grandhotel Giessbach, Grimsel Pass, Hambleden, Hatfield Aerodrome, Hertfordshire, Interlaken Airport and North Weald Airfield.
The complete list of the locations with latitude and longitude coordinates are listed below in the table.
Band of Brothers Locations Map
Band of Brothers Locations Table
| Location Name | Latitude | Longitude |
| --- | --- | --- |
| Ashdown Forest | 51.030010 | 0.079559 |
| Bourne Woods | 51.192703 | -0.771278 |
| Goldings | 51.811741 | -0.100884 |
| Grandhotel Giessbach | 46.735180 | 8.023160 |
| Grimsel Pass | 46.561378 | 8.337503 |
| Hambleden | 51.570862 | -0.870990 |
| Hatfield Aerodrome | 51.767902 | -0.249756 |
| Hertfordshire | 51.797726 | -0.078980 |
| Interlaken Airport | 46.673962 | 7.882390 |
| North Weald Airfield | 51.717644 | 0.159836 |
Related TV Series