Outlander Locations
Outlander is a sci-fi historical drama TV series based on Diana Gabaldon's time travel book series of the same name. The show follows the story of Claire Randall, a married World War II nurse from 1945 who found herself mysteriously in 1743. The series was aired on Starz, released on August 9, 2014. Outlander was filmed in Scotland, UK. Doune Castle in Stirling was used for Castle Leoch. Blackness Castle in Falkirk, Highland Folk Museum in Highland, Pollok House in Strathclyde were among the filming locations.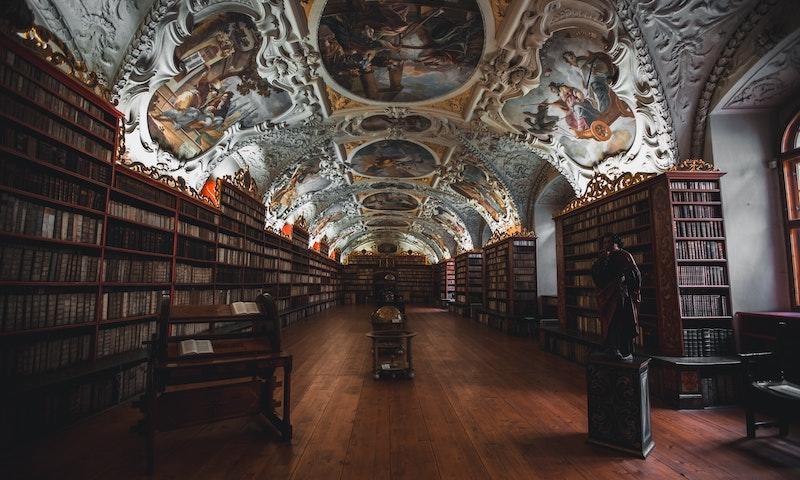 Strahov Monastery, Prague. Photo by Hieu Vu Minh on Unsplash.
Where was Outlander Filmed?
Outlander was filmed in Blackness Castle (Fort William), Cape Town, Cape Town Film Studios, Culross, Cumbernauld, Doune Castle (Castle Leoch), Falkland, Highland Folk Museum, Hopetoun House, Pollok House and Prague.
The complete list of the locations with latitude and longitude coordinates are listed below in the table.
Outlander Locations Map
Outlander Locations Table
| Location Name | Latitude | Longitude |
| --- | --- | --- |
| Blackness Castle (Fort William) | 56.005905 | -3.516376 |
| Cape Town | -33.952030 | 18.427074 |
| Cape Town Film Studios | -34.028946 | 18.719513 |
| Culross | 56.054989 | -3.629460 |
| Cumbernauld | 55.944401 | -3.991730 |
| Doune Castle (Castle Leoch) | 56.185028 | -4.050078 |
| Falkland | 56.253330 | -3.207310 |
| Highland Folk Museum | 57.069748 | -4.102462 |
| Hopetoun House | 55.995323 | -3.462853 |
| Pollok House | 55.828102 | -4.318600 |
| Prague | 50.075600 | 14.428489 |
Related TV Series