Ozark Locations
Ozark is an American crime drama-thriller web TV series created by Bill Dubuque and Mark Williams, produced by Media Rights Capital. Starring Jason Bateman, Laura Linney, Julia Garner, Sofia Hublitz, Skylar Gaertner, Jason Butler Harner, Peter Mullan, Lisa Emery, and Jordana Spiro, the series premiered July 21, 2017, on Netflix. In the series, Jason Bateman plays the lead character who is a financial adviser, and Laura Linney plays his wife Wendy. The first episode of the show "Sugarwood" was directed by Jason Bateman, written by Bill Dubuque. Ozark was shot in Lake Ozark, Missouri, USA. Filming also took place in Atlanta, Woodstock, Lake Allatoona, and Conyers, Georgia.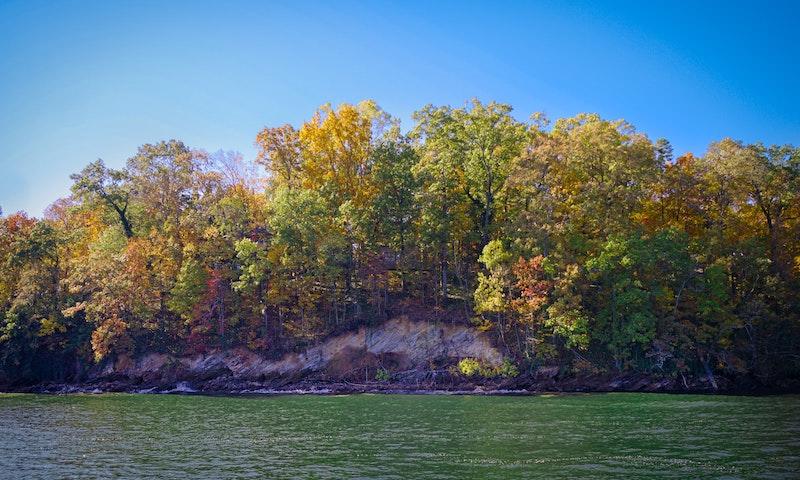 Lake Lanier. Photo by Timothy Perry on Unsplash.
Where was Ozark Filmed?
Ozark was filmed in 1075 Peachtree St NE, 1321 Atlanta Hwy, 1360 Atlanta Hwy, 150 Dixie Dr, 191 Peachtree St, 2050 Lawrenceville Hwy, 304 Atlanta Rd, 3256 Union Hill Rd, 3455 Peachtree Rd, NE, 3765 Park Ave, 6224 Jimmy Carter Blvd, Allatoona Lake, Americas Best Value Inn & Suites Conyers, Blue Cat Lodge, Buford, Byrde Family House, Chateau Elan Winery & Resort, Doraville City Municipal Court, Eagle Rock Studios Atlanta and Jones Bridge Park.
The complete list of the locations with latitude and longitude coordinates are listed below in the table.
Ozark Locations Map
Ozark Locations Table
| Location Name | Latitude | Longitude |
| --- | --- | --- |
| 1075 Peachtree St NE | 33.783741 | -84.382820 |
| 1321 Atlanta Hwy | 34.174686 | -84.158150 |
| 1360 Atlanta Hwy | 34.174221 | -84.161346 |
| 150 Dixie Dr | 34.089596 | -84.561272 |
| 191 Peachtree St | 33.758995 | -84.387299 |
| 2050 Lawrenceville Hwy | 33.808701 | -84.276382 |
| 304 Atlanta Rd | 34.202465 | -84.134445 |
| 3256 Union Hill Rd | 34.185902 | -84.338692 |
| 3455 Peachtree Rd, NE | 33.850147 | -84.360283 |
| 3765 Park Ave | 33.901718 | -84.279388 |
| 6224 Jimmy Carter Blvd | 33.926582 | -84.225891 |
| Allatoona Lake | 34.135639 | -84.630219 |
| Americas Best Value Inn & Suites Conyers | 33.666161 | -84.028893 |
| Blue Cat Lodge | 34.163361 | -84.580299 |
| Buford | 34.122231 | -84.006882 |
| Byrde Family House | 34.184750 | -83.983246 |
| Chateau Elan Winery & Resort | 34.101677 | -83.817719 |
| Doraville City Municipal Court | 33.901684 | -84.279457 |
| Eagle Rock Studios Atlanta | 33.922680 | -84.220001 |
| Jones Bridge Park | 34.000107 | -84.234612 |
| Lake Allatoona | 34.134068 | -84.627060 |
| Lake Lanier | 34.216942 | -83.977989 |
| Lake Ozark | 38.198166 | -92.639336 |
| Lakeside High School (as Morrow High School) | 33.845554 | -84.285110 |
| Lickety Splitz | 33.912464 | -84.203720 |
| Little River Marina | 34.162815 | -84.579628 |
| Mausoleum and Abbey of Westview Cemetery | 33.747074 | -84.455025 |
| Mount Pisgah Methodist Church Cemetery | 34.018085 | -84.279488 |
| Northside Tavern (Season 4) | 33.783691 | -84.412056 |
| Silver Skillet | 33.786274 | -84.394135 |
| Stone Mountain | 33.807121 | -84.172165 |
| Sunset Grille Lakeside Restaurant | 34.153740 | -84.620369 |
| Woodstock | 34.102615 | -84.522652 |
Related TV Series