Children of Men Locations
Children of Men is a sci-fi drama thriller film directed by Alfonso Cuarón, written by Cuarón, Timothy J. Sexton, David Arata, Mark Fergus, and Hawk Ostby, based on the 1992 novel The Children of Men, by P.D. James. Starring Julianne Moore, Clive Owen, Chiwetel Ejiofor, Michael Caine, Rita Davies, Charlie Hunnam, and Peter Mullan, the film was released on 22 September 2006 (United Kingdom) and 25 December 2006 (United States), nominated for 3 Oscars. The film takes place in a world in which women have become infertile. A civil servant Theo Faron agrees to help a miraculously pregnant woman to escape the chaos. Children of Men was shot in England, Argentina, and Uruguay.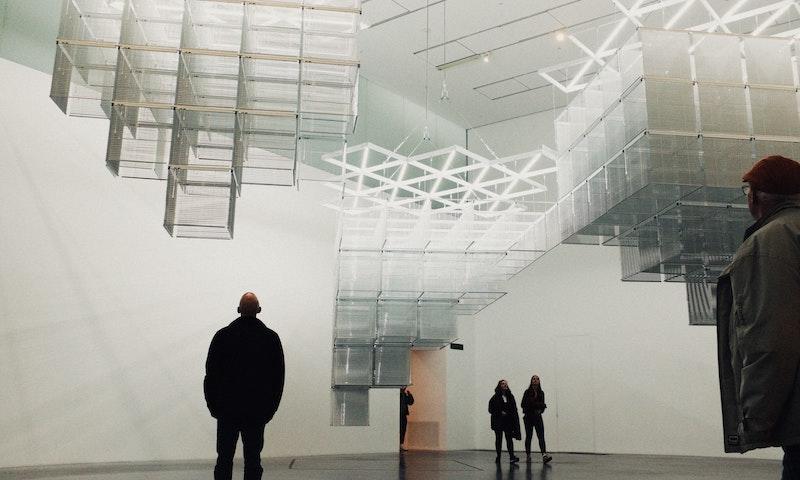 Tate Modern. Photo by Alexander Ward on Unsplash.
Where was Children of Men Filmed?
Children of Men was filmed in Admiralty Arch, Aldershot, Alice Holt Forest, Ashridge House, Battersea Power Station, Bexhill-on-Sea, Bourne Woods, Buenos Aires, Bushey, Cable St, Chobham, Church Crookham, Eastbourne, Fleet St, Hackney Road, Hertfordshire, Mid Hants Railway 'Watercress Line', Montevideo, Obelisco and Old St.
The complete list of the locations with latitude and longitude coordinates are listed below in the table.
Children of Men Locations Map
Children of Men Locations Table
| Location Name | Latitude | Longitude |
| --- | --- | --- |
| Admiralty Arch | 51.506767 | -0.128712 |
| Aldershot | 51.249191 | -0.759265 |
| Alice Holt Forest | 51.167999 | -0.845573 |
| Ashridge House | 51.799244 | -0.560635 |
| Battersea Power Station | 51.481800 | -0.144435 |
| Bexhill-on-Sea | 50.850517 | 0.463055 |
| Bourne Woods | 51.192703 | -0.771252 |
| Buenos Aires | -34.609955 | -58.460457 |
| Bushey | 51.647350 | -0.359559 |
| Cable St | 51.511036 | -0.061276 |
| Chobham | 51.348286 | -0.604538 |
| Church Crookham | 51.259937 | -0.842183 |
| Eastbourne | 50.768894 | 0.287660 |
| Fleet St | 51.514236 | -0.107845 |
| Hackney Road | 51.531094 | -0.067636 |
| Hertfordshire | 51.790630 | -0.354778 |
| Mid Hants Railway 'Watercress Line' | 51.088360 | -1.160677 |
| Montevideo | -34.874466 | -56.186718 |
| Obelisco | -34.603775 | -58.381603 |
| Old St | 51.525276 | -0.090904 |
| Oxfordshire | 51.776703 | -1.412376 |
| Pinewood Studios | 51.548618 | -0.534942 |
| Powis St | 51.492054 | 0.064267 |
| Puerto Madero | -34.617371 | -58.363331 |
| Scrutton St | 51.523224 | -0.082327 |
| St. James's Park | 51.502468 | -0.134970 |
| Stockers Farm | 51.630299 | -0.475050 |
| Tate Modern | 51.507599 | -0.099481 |
| The Historic Dockyard Chatham | 51.397072 | 0.528906 |
| The Mall | 51.504787 | -0.133626 |
| Trafalgar Square | 51.508064 | -0.128142 |
| Upper Heyford Airfield (disused) | 51.936504 | -1.257980 |
| Victoria St | 51.497276 | -0.137144 |
| Wimbledon Greyhound Stadium (Closed) | 51.431137 | -0.186480 |
| Woolwich | 51.487247 | 0.057580 |
Related Movies