The Fall (2006) Locations
The Fall is a 2006 adventure drama fantasy film directed by Tarsem Singh, written by Dan Gilroy, Nico Soultanakis, and Tarsem Singh, distributed by Roadside Attractions. The Fall is based on the screenplay of the 1981 Bulgarian film Yo Ho Ho by Valeri Petrov. Starring Lee Pace, Catinca Untaru, Justine Waddell, Sean Gilder, Emil Hostina, Marcus Wesley, Leo Bill, Jeetu Verma, and Robin Smith, the film premiered at Toronto International Film Festival, was released on 30 May 2008 (United States), and won Crystal Bear - Special Mention Award at the 2007 Berlin International Film Festival. The Fall was filmed in India, South Africa, Argentina, Indonesia, Italy, Turkey, Fiji, Namibia, Czech Republic, England, the United States, Bolivia, Spain, Cambodia, and France.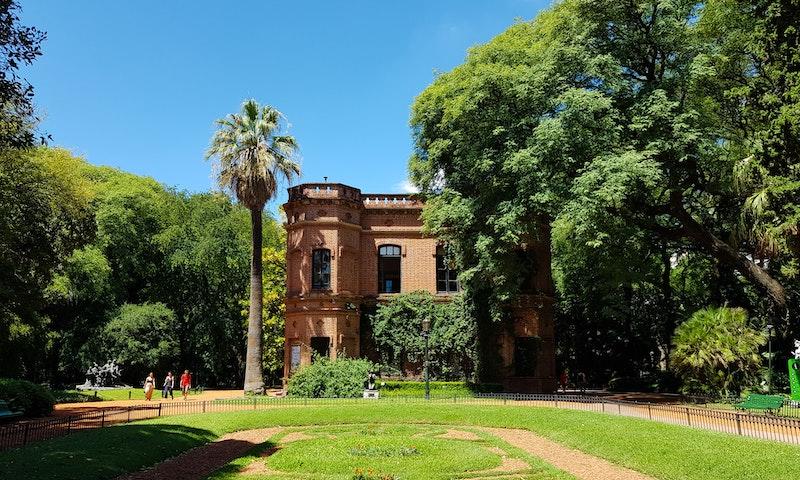 Jardín Botánico Carlos Thays. Photo by Christian Von Koenig on Unsplash.
Where was The Fall (2006) Filmed?
The Fall (2006) was filmed in Agra, Agra Fort, Andaman Islands, Bayon Temple (ប្រាសាទបាយ័ន), Buenos Aires, Buland Darwaza (बुलन्द दरवाजा), Cape Town, Chand Bawri, Step Well (चाँद बावड़ी), Chandra Mahal (चंद्रा महल), Chennai, Colosseum, Consuegra, Dunsfold Park, Fatehpur Sikri, Hagia Sophia, Himalayas, Jailsalmer Fort (जैसलमेर किला), Jaipur, Jantar Mantar and Jardín Botánico Carlos Thays.
The complete list of the locations with latitude and longitude coordinates are listed below in the table.
The Fall (2006) Locations Map
The Fall (2006) Locations Table
| Location Name | Latitude | Longitude |
| --- | --- | --- |
| Agra | 27.175842 | 77.985146 |
| Agra Fort | 27.179485 | 78.021049 |
| Andaman Islands | 11.312350 | 92.456261 |
| Bayon Temple (ប្រាសាទបាយ័ន) | 13.441184 | 103.858749 |
| Buenos Aires | -34.620747 | -58.470081 |
| Buland Darwaza (बुलन्द दरवाजा) | 27.094189 | 77.662880 |
| Cape Town | -33.946850 | 18.451468 |
| Chand Bawri, Step Well (चाँद बावड़ी) | 27.007196 | 76.606361 |
| Chandra Mahal (चंद्रा महल) | 26.926962 | 75.823402 |
| Chennai | 13.086498 | 80.203911 |
| Colosseum | 41.890198 | 12.492189 |
| Consuegra | 39.460651 | -3.610399 |
| Dunsfold Park | 51.119709 | -0.535534 |
| Fatehpur Sikri | 27.096468 | 77.667183 |
| Hagia Sophia | 41.008533 | 28.980122 |
| Himalayas | 28.259365 | 83.214867 |
| Jailsalmer Fort (जैसलमेर किला) | 26.912828 | 70.912971 |
| Jaipur | 26.907337 | 75.772675 |
| Jantar Mantar | 26.924759 | 75.824463 |
| Jardín Botánico Carlos Thays | -34.582603 | -58.417358 |
| Jodhpur | 26.283831 | 73.001137 |
| Karlův most (Charles Bridge) | 50.086468 | 14.411367 |
| Magnetic Hill | 34.170830 | 77.352310 |
| Mehrangarh Fort | 26.297907 | 73.018768 |
| Namib Desert | -22.424135 | 16.271395 |
| Namib-Naukluft National Park | -23.083466 | 15.166483 |
| Ópera Orbis | -34.603848 | -58.379017 |
| Pangong Tso | 33.759598 | 78.663696 |
| Piketberg | -32.905018 | 18.763634 |
| Prague | 50.073395 | 14.415018 |
| Pura Gunung Kawi | -8.423708 | 115.310448 |
| Red Fort (लाल किला) | 28.655930 | 77.238319 |
| Salar de Uyuni | -20.215523 | -67.757347 |
| Sand Bank, Fiji (Butterfly Island) | -17.672327 | 177.130890 |
| Stakna Gompa | 34.005009 | 77.685066 |
| Sumatra | -0.688198 | 101.279800 |
| Taj Lake Palace | 24.575256 | 73.679939 |
| Taj Mahal | 27.175112 | 78.042038 |
| The Lamayuru Monastery | 34.283009 | 76.774139 |
| Tomb of Akbar the Great (टॉम्ब ऑफ़ अकबर थे ग्रेट) | 27.220509 | 77.950417 |
| Umaid Bhawan Palace (उम्मेद भवन पैलेस) | 26.281048 | 73.047600 |
| Valkenberg Hospital | -33.937653 | 18.479935 |
| Villa Adriana | 41.942768 | 12.774297 |
Related Movies