Dawson's Creek Locations
Dawson's Creek is an American teen drama romance TV series created by Kevin Williamson, starring James Van Der Beek, Katie Holmes, Joshua Jackson, Michelle Williams, and Busy Philipps. It was released between January 20, 1998, and May 14, 2003, aired six seasons. The show follows the lives of four close friends living in a small coastal town. One of the lead characters, Joshua Jackson won the Teen Choice Award three times, and the show won the Teen Choice Award in "Choice Drama" twice. Dawson's Creek was shot in Wilmington, North Carolina.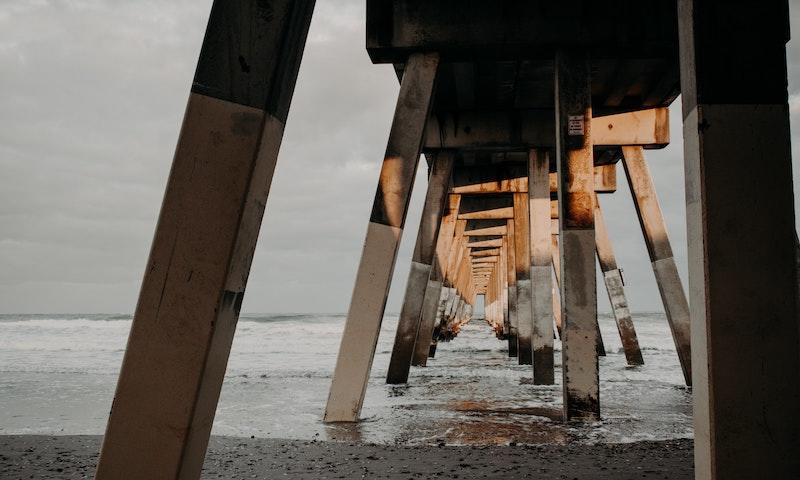 Wrightsville Beach, NC, USA. Photo by Avery Cocozziello on Unsplash.
Where was Dawson's Creek Filmed?
Dawson's Creek was filmed in 111 Ann St (Jen & Gram's house), 115 South Water Street, 207 S 3rd St (Jack's house), 212 North Front St (Video store), 5 South Water Street, 5426 Efird Rd (Arthur Brooks's house), 6401 Pine Grove Dr (Joey's house), Airlie Gardens, Airlie Road, Alton Lennon Federal Courthouse, Battleship North Carolina, Cape Cod, Capeside Yatch Club, CD Alley Music (closed), Dock Street, Dockside Restaurant and Bar, Duke University, Elijah's, EUE / Screen Gems Studios and Greenfield Park.
The complete list of the locations with latitude and longitude coordinates are listed below in the table.
Dawson's Creek Locations Map
Dawson's Creek Locations Table
| Location Name | Latitude | Longitude |
| --- | --- | --- |
| 111 Ann St (Jen & Gram's house) | 34.231747 | -77.947784 |
| 115 South Water Street | 34.233711 | -77.949326 |
| 207 S 3rd St (Jack's house) | 34.232624 | -77.945412 |
| 212 North Front St (Video store) | 34.237801 | -77.948997 |
| 5 South Water Street | 34.234859 | -77.949715 |
| 5426 Efird Rd (Arthur Brooks's house) | 34.190575 | -77.861641 |
| 6401 Pine Grove Dr (Joey's house) | 34.191490 | -77.864304 |
| Airlie Gardens | 34.218025 | -77.830536 |
| Airlie Road | 34.214584 | -77.823776 |
| Alton Lennon Federal Courthouse | 34.236176 | -77.949860 |
| Battleship North Carolina | 34.236290 | -77.954956 |
| Cape Cod | 41.707325 | -70.375473 |
| Capeside Yatch Club | 34.216766 | -77.812881 |
| CD Alley Music (closed) | 34.235100 | -77.949806 |
| Dock Street | 34.234959 | -77.938660 |
| Dockside Restaurant and Bar | 34.215591 | -77.815903 |
| Duke University | 36.001183 | -78.938454 |
| Elijah's | 34.231117 | -77.949486 |
| EUE / Screen Gems Studios | 34.253506 | -77.921555 |
| Greenfield Park | 34.214054 | -77.944221 |
| Head Rd (Dawson's house & Jen's house) | 34.191772 | -77.845711 |
| Hell's Kitchen | 34.236366 | -77.948410 |
| Holiday Inn Sunspree Resort | 34.220280 | -77.786095 |
| Orton Plantation Gardens | 34.059525 | -77.948860 |
| Southport | 33.922070 | -78.021919 |
| University of North Carolina Wilmington | 34.223759 | -77.870590 |
| W Atlanta Street | 34.210468 | -77.795364 |
| Wellesley Place | 34.198280 | -77.840324 |
| Wilmington | 34.205090 | -77.895767 |
| Wrightsville Beach | 34.208447 | -77.797928 |
| Yacht Basin Dr | 33.917274 | -78.023415 |
Related TV Series