Master of None Locations
Master of None is an American comedy-drama TV series, created by Aziz Ansari and Alan Yang. Starring Ansari, Eric Wareheim, Lena Waithe, Noël Wells, Kelvin Yu, Alessandra Mastronardi, Shoukath Ansari, Fatima Ansari, and Claire Danes, the series was released from November 6, 2015, to May 12, 2017, on Netflix, ran for 2 seasons/20 episodes, won 2018 Golden Globes for "Best Performance by an Actor in a Television Series - Musical or Comedy". The third season of the show will be premiered on Netflix on May 23, 2021. It follows the life of Dev Shah, a 30-year-old actor living in New York City. Master of None was shot in New York City, New York, USA, and Modena, Italy.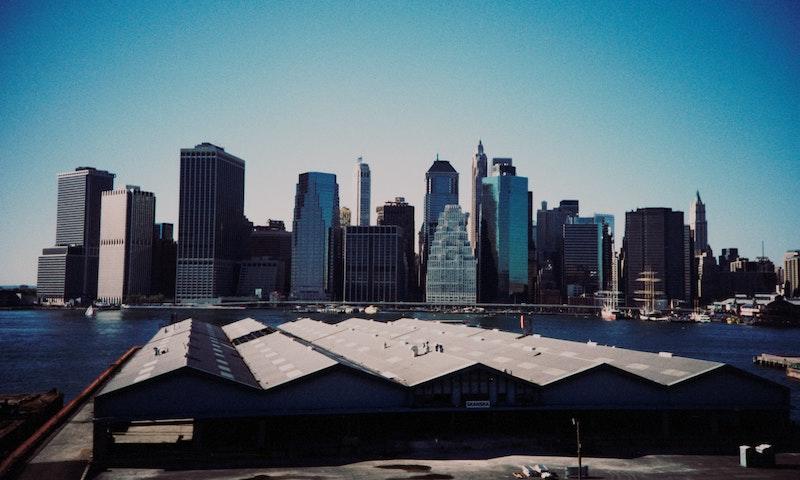 Brooklyn, NY. Photo by Scott Evans on Unsplash.
Where was Master of None Filmed?
Master of None was filmed in 1 OAK, 169 Bar, Ace Bar, Agra Taj Mahal Restaurant, Archer, Baby's All Right, Bar Schiavoni, Borgo Stomennano, Boutique del Tortellino di Dall'Olio Luca, Brooklyn Museum, Carbone, Casa Mono, Enoteca Compagnia Del Taglio, Good Room, Hosteria Giusti, Il Buco, J I A, LOS TACOS No. 1, Lucky's Famous Burgers and Marlow & Sons.
The complete list of the locations with latitude and longitude coordinates are listed below in the table.
Master of None Locations Map
Master of None Locations Table
| Location Name | Latitude | Longitude |
| --- | --- | --- |
| 1 OAK | 40.743904 | -74.006355 |
| 169 Bar | 40.713856 | -73.989807 |
| Ace Bar | 40.724316 | -73.982964 |
| Agra Taj Mahal Restaurant | 40.733269 | -73.955132 |
| Archer | 44.647739 | 10.926781 |
| Baby's All Right | 40.710136 | -73.963562 |
| Bar Schiavoni | 44.644821 | 10.925212 |
| Borgo Stomennano | 43.388081 | 11.240044 |
| Boutique del Tortellino di Dall'Olio Luca | 44.643879 | 10.927413 |
| Brooklyn Museum | 40.671169 | -73.963730 |
| Carbone | 40.728024 | -74.000275 |
| Casa Mono | 40.735867 | -73.987206 |
| Enoteca Compagnia Del Taglio | 44.648014 | 10.927572 |
| Good Room | 40.726887 | -73.952988 |
| Hosteria Giusti | 44.647324 | 10.928152 |
| Il Buco | 40.725803 | -73.993111 |
| J I A | 40.719738 | -73.988190 |
| LOS TACOS No. 1 | 40.742374 | -74.005966 |
| Lucky's Famous Burgers | 40.744888 | -73.998230 |
| Marlow & Sons | 40.710670 | -73.965752 |
| Marusco e Maria | 43.076923 | 11.677938 |
| Menomoka Coffee & More | 44.643929 | 10.921957 |
| Modena | 44.646648 | 10.923601 |
| Morgenstern's Finest Ice Cream | 40.721577 | -73.993050 |
| Mr. Taka | 40.721199 | -73.988914 |
| Nitecap | 40.719135 | -73.985771 |
| OKONOMI // YUJI Ramen | 40.712528 | -73.948875 |
| Oleanders (Closed) | 40.720886 | -73.955826 |
| Osteria Francescana | 44.644806 | 10.921432 |
| Pienza | 43.078049 | 11.677320 |
| Please Don't Tell | 40.727116 | -73.983833 |
| Roberta's Pizza & Bakery | 40.704891 | -73.934120 |
| Russian Orthodox Cathedral of the Transfiguration of Our Lord | 40.719482 | -73.953423 |
| Sauvage | 40.723515 | -73.951958 |
| Shuko | 40.733612 | -73.991776 |
| Slick Willie Table & Bar | 40.728432 | -73.949417 |
| Smorgasburg | 40.721066 | -73.962662 |
| Tertulia (Closed) | 40.732342 | -74.000954 |
| Thai Villa | 40.738983 | -73.990784 |
| The Chinese Club (Closed) | 40.713917 | -73.960373 |
| The Four Horsemen | 40.713058 | -73.957428 |
| The Jane Ballroom | 40.738220 | -74.009453 |
| The Liberty Warehouse | 40.676662 | -74.019585 |
| Washington Square Park | 40.730762 | -73.997437 |
| Westlight | 40.722183 | -73.956764 |
| Wilfie & Nell | 40.734047 | -74.003220 |
Related TV Series