Wonder Woman (2017) Locations
Wonder Woman is an American superhero film directed by Patty Jenkins, written by Allan Heinberg. It is based on the DC Comics character of the same name "Wonder Woman" by William Moulton Marston and H. G. Peter. Starring Gal Gadot, Chris Pine, Robin Wright, Connie Nielsen, Danny Huston, and David Thewlis, the film premiered in Shanghai on May 15, 2017, was released on June 2, 2017 (United States), and grossed $821.8 million worldwide. The film is also the fourth installment in the DC Extended Universe (DCEU). Wonder Woman is listed as one of the best superhero movies of all time. Filming locations were Lower Halstow, Australia House, Bourne Woods, Arundel Castle, Trafalgar Square in England and Castel del Monte, Palinuro in Italy. Additional filming took place at the Louvre Museum in Paris, France.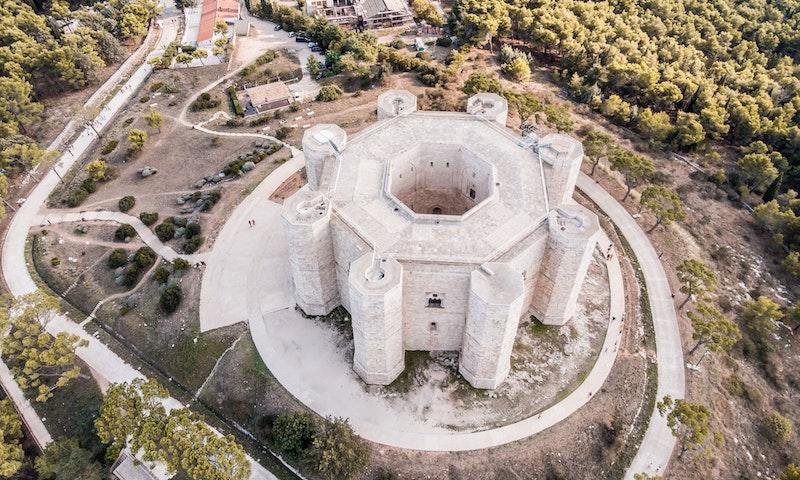 Castel del Monte. Photo by Giulia Gasperini on Unsplash.
Where was Wonder Woman (2017) Filmed?
Wonder Woman (2017) was filmed in Arundel Castle, Australian High Commission, Bloomsbury, Bourne Woods, Camerota, Castel del Monte, King's Cross, Lincoln's Inn, Louvre Museum, Lower Halstow, Luton Hoo Estate, Matera, Palinuro, Paris, RAF Halton, Southend-on-Sea, Tilbury Fort, Trafalgar Square, Upper Heyford and Victoria House.
The complete list of the locations with latitude and longitude coordinates are listed below in the table.
Wonder Woman (2017) Locations Map
Wonder Woman (2017) Locations Table
| Location Name | Latitude | Longitude |
| --- | --- | --- |
| Arundel Castle | 50.856201 | -0.553963 |
| Australian High Commission | 51.512844 | -0.115360 |
| Bloomsbury | 51.521767 | -0.129819 |
| Bourne Woods | 51.192642 | -0.771265 |
| Camerota | 40.033176 | 15.368645 |
| Castel del Monte | 41.084717 | 16.270800 |
| King's Cross | 51.531967 | -0.123528 |
| Lincoln's Inn | 51.516674 | -0.114456 |
| Louvre Museum | 48.860561 | 2.337547 |
| Lower Halstow | 51.372978 | 0.670426 |
| Luton Hoo Estate | 51.845116 | -0.399721 |
| Matera | 40.665749 | 16.599670 |
| Palinuro | 40.037331 | 15.285665 |
| Paris | 48.864716 | 2.349014 |
| RAF Halton | 51.776230 | -0.728240 |
| Southend-on-Sea | 51.544247 | 0.702824 |
| Tilbury Fort | 51.452675 | 0.374331 |
| Trafalgar Square | 51.507923 | -0.128188 |
| Upper Heyford | 51.929493 | -1.279918 |
| Victoria House | 51.519379 | -0.122256 |
| Villa Cimbrone | 40.644218 | 14.611049 |
| Warner Bros. Studios Leavesden | 51.693108 | -0.419656 |
Related Movies