Spider-Man 2 Locations
An American action-adventure sci-fi film Spider-Man 2 is the sequel to 2002's Spider-Man as well as the second installment in director Sam Raimi's Spider-Man trilogy. Written by Alvin Sargent, based on a story by Alfred Gough, Miles Millar, and Michael Chabon, the film stars Tobey Maguire, Kirsten Dunst, James Franco, Alfred Molina, Rosemary Harris, and Donna Murphy. It premiered on June 25, 2004, at Mann Village Theater, was released on June 30, 2004, in the US, and grossed $789 million worldwide against a $200 million budget. The film won an Oscar for Best Achievement in Visual Effects. Spider-Man 2 was shot in Los Angeles, California, and New York City, New York, United States. Filming locations included Spring Street Towers, Ivar Theatre, and Madison Square Park. The warehouse scenes took place at 28 Old Fulton Street.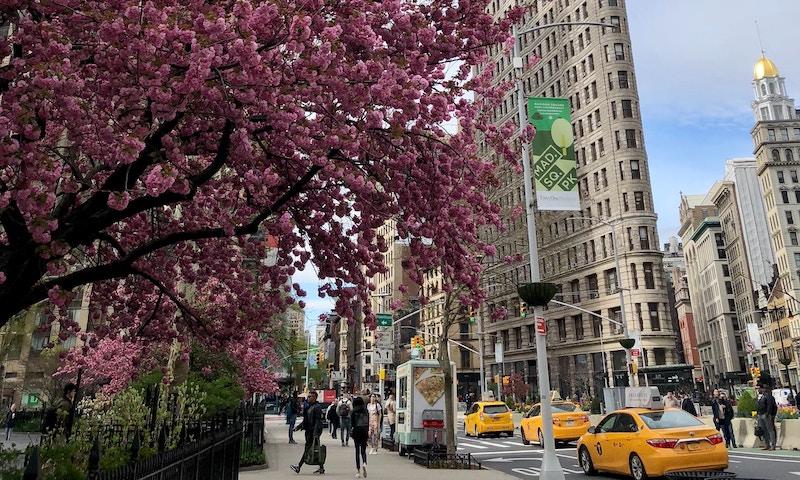 Madison Square Park. Photo by Meghan Crown on Unsplash.
Where was Spider-Man 2 Filmed?
Spider-Man 2 was filmed in 28 Old Fulton St, 650 S Spring St, First Congregational Church of Los Angeles, Ivar Theatre and Madison Square Park.
The complete list of the locations with latitude and longitude coordinates are listed below in the table.
Spider-Man 2 Locations Map
Spider-Man 2 Locations Table
| Location Name | Latitude | Longitude |
| --- | --- | --- |
| 28 Old Fulton St | 40.702328 | -73.993851 |
| 650 S Spring St | 34.044609 | -118.252029 |
| First Congregational Church of Los Angeles | 34.064205 | -118.285126 |
| Ivar Theatre | 34.100086 | -118.328621 |
| Madison Square Park | 40.742172 | -73.988113 |
Related Movies