Wonder Woman 1984 Locations
"Wonder Woman 1984" is an American superhero action, adventure, fantasy movie directed by Patty Jenkins, written by Dave Callaham, Geoff Johns, and Patty Jenkins. It is based on the DC Comics character Wonder Woman created by William Moulton Marston. Starring Pedro Pascal, Gal Gadot, Kristen Wiig, Connie Nielsen, Robin Wright, Chris Pine, Gabriella Wilde, Lyon Beckwith, and Kristoffer Polaha, it was released on 25 December 2020 in the USA. Wonder Woman 1984 is a sequel to 2017's Wonder Woman as well as the ninth installment in the DC Extended Universe (DCEU). Wonder Woman 1984 was shot in the USA, the UK, and Spain. Filming locations included Parque Natural de Corralejo, National Museum of Natural History, Warner Bros. Studios, Torrington Square, and the Canary Islands.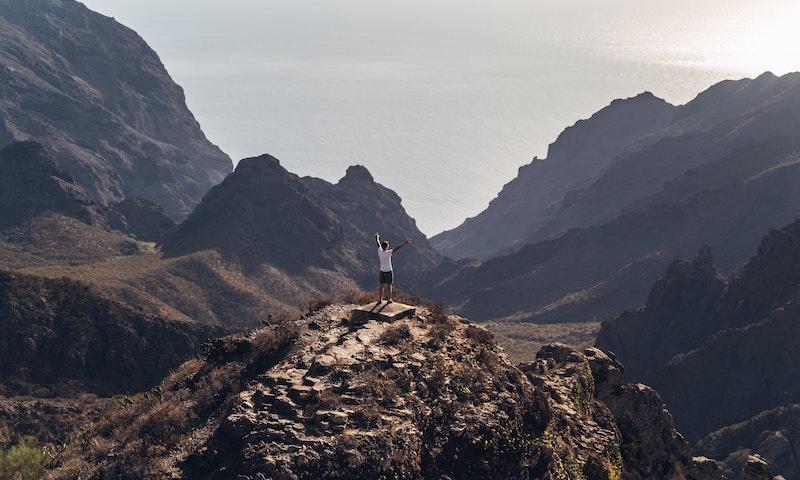 Tenerife. Photo by Majestic Lukas on Unsplash.
Where was Wonder Woman 1984 Filmed?
Wonder Woman 1984 was filmed in Alcazaba, Alexandria, Almería, Barranco de la Hoya, Calle Cruces Bajas, Calle Ramón Castilla Pérez, Canary Islands, Cerro San Cristobal, Fuerteventura, Georgetown, Hirshhorn Museum, Hirshhorn Sculpture Garden, L'Enfant Plaza Subway Station, Landmark Mall, Muralla de Jairán, National Museum of Natural History, Parque Natural de Corralejo, Tenerife, Torrington Square and Warner Bros. Studios Leavesden.
The complete list of the locations with latitude and longitude coordinates are listed below in the table.
Wonder Woman 1984 Locations Map
Wonder Woman 1984 Locations Table
| Location Name | Latitude | Longitude |
| --- | --- | --- |
| Alcazaba | 36.840923 | -2.471437 |
| Alexandria | 38.821568 | -77.090088 |
| Almería | 36.842587 | -2.457520 |
| Barranco de la Hoya | 37.726715 | -2.172517 |
| Calle Cruces Bajas | 36.839954 | -2.471685 |
| Calle Ramón Castilla Pérez | 36.840736 | -2.472904 |
| Canary Islands | 28.372332 | -16.899345 |
| Cerro San Cristobal | 36.842381 | -2.468659 |
| Fuerteventura | 28.353889 | -14.085932 |
| Georgetown | 38.909901 | -77.068001 |
| Hirshhorn Museum | 38.888123 | -77.023094 |
| Hirshhorn Sculpture Garden | 38.889038 | -77.022972 |
| L'Enfant Plaza Subway Station | 38.886147 | -77.021812 |
| Landmark Mall | 38.816006 | -77.132118 |
| Muralla de Jairán | 36.842533 | -2.468670 |
| National Museum of Natural History | 38.891270 | -77.026184 |
| Parque Natural de Corralejo | 28.682930 | -13.850844 |
| Tenerife | 28.273415 | -16.664040 |
| Torrington Square | 51.522362 | -0.129964 |
| Warner Bros. Studios Leavesden | 51.693012 | -0.419834 |
| Washington | 38.907303 | -77.043755 |
| Wisconsin Ave | 38.932388 | -77.072830 |
Related Movies