House of Cards Locations
House of Cards is an American political thriller drama web TV series created by Beau Willimon, adapted from the 1990 BBC miniseries of the same title, and based on Michael Dobbs' novel of the same name. Starring Kevin Spacey, Michel Gill, Robin Wright, Justin Doescher, Derek Cecil, Jayne Atkinson, Nathan Darrow, and Mahershala Ali, the series was released between February 1, 2013, and November 2, 2018, on Netflix. House of Cards was shot in Harford County and Baltimore, Maryland; Española, Santa Fe, and Las Vegas, New Mexico. Maryland Historical Society in Mount Vernon, Baltimore was among the filming locations.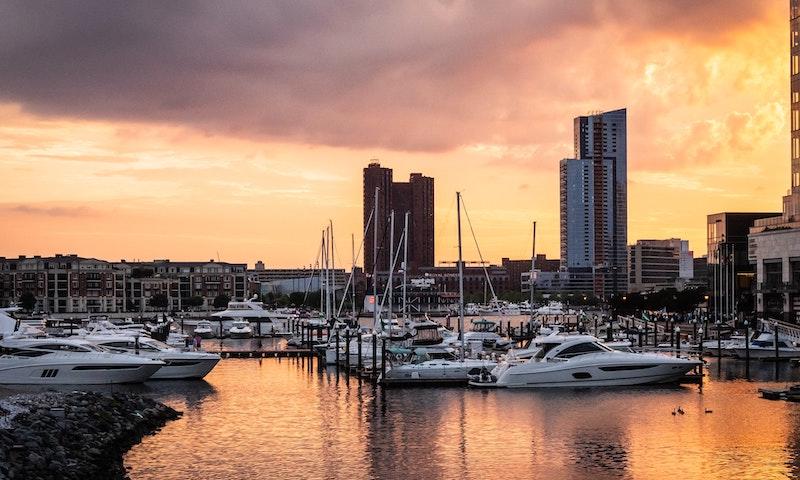 Baltimore, MD, USA. Photo by Austin Kirk on Unsplash.
Where was House of Cards Filmed?
House of Cards was filmed in 1609 Park Ave (Frank Underwood and Claire's House), Baltimore, Baltimore Museum of Art, Charles Center Station, Española, Freddy's BBQ Joint, Gaffney, Golden West Cafe, Joppa, Las Vegas, Maryland Historical Society, Maryland State House, Monkton, Patricia & Arthur Modell Performing Arts Center at The Lyric, Peabody Institute of The Johns Hopkins University, Restaurante Tio Pepe, The Baltimore Sun and Wit & Wisdom (Closed).
The complete list of the locations with latitude and longitude coordinates are listed below in the table.
House of Cards Locations Map
House of Cards Locations Table
| Location Name | Latitude | Longitude |
| --- | --- | --- |
| 1609 Park Ave (Frank Underwood and Claire's House) | 39.308933 | -76.626038 |
| Baltimore | 39.290440 | -76.612328 |
| Baltimore Museum of Art | 39.325932 | -76.619362 |
| Charles Center Station | 39.289368 | -76.615746 |
| Española | 36.002071 | -106.065163 |
| Freddy's BBQ Joint | 39.319752 | -76.609222 |
| Gaffney | 35.058529 | -81.640961 |
| Golden West Cafe | 39.330936 | -76.634094 |
| Joppa | 39.433929 | -76.357811 |
| Las Vegas | 35.598518 | -105.218849 |
| Maryland Historical Society | 39.297077 | -76.619080 |
| Maryland State House | 38.978809 | -76.491013 |
| Monkton | 39.578644 | -76.613396 |
| Patricia & Arthur Modell Performing Arts Center at The Lyric | 39.305912 | -76.617981 |
| Peabody Institute of The Johns Hopkins University | 39.296818 | -76.614861 |
| Restaurante Tio Pepe | 39.295303 | -76.614883 |
| The Baltimore Sun | 39.264469 | -76.610458 |
| Wit & Wisdom (Closed) | 39.282574 | -76.602516 |
Related TV Series