3 Idiots Locations
3 Idiots is an Indian Hindi-language comedy-drama film directed by Rajkumar Hirani. Aamir Khan, Sharman Joshi, R. Madhavan, Boman Irani, Kareena Kapoor, and Omi Vaidya starred in the film, released on 25 December 2009 in India. 3 Idiots is based on "Five Point Someone" by Chetan Bhagat and follows the tale of three students at an Indian engineering college. The film had great success and won six Filmfare Awards and three National Film Awards. It is considered one of the best Indian movies of all time. 3 Idiots was shot in Mumbai, Maharashtra; Ladakh, Jammu & Kashmir; Bangalore, Karnataka; and Shimla, Himachal Pradesh, India. Indira Gandhi International Airport, Woodville Palace Hotel, and IIM Campus were among the filming locations.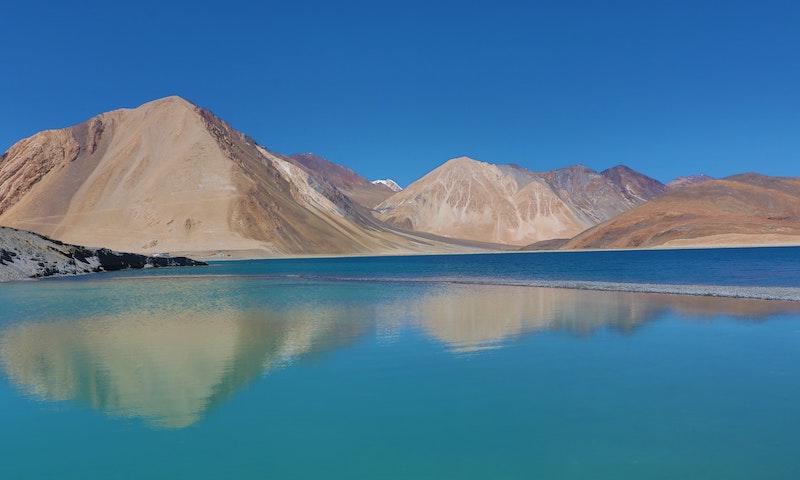 Pangong Tso. Photo by Vijit Dutta on Unsplash.
Where was 3 Idiots Filmed?
3 Idiots was filmed in Bangalore, IIM Campus, Indira Gandhi International Airport, Madh Island, Mall Road, Mumbai, Noida, Pangong Tso and Woodville Palace Hotel.
The complete list of the locations with latitude and longitude coordinates are listed below in the table.
3 Idiots Locations Map
3 Idiots Locations Table
| Location Name | Latitude | Longitude |
| --- | --- | --- |
| Bangalore | 12.971599 | 77.594566 |
| IIM Campus | 12.895615 | 77.600349 |
| Indira Gandhi International Airport | 28.554939 | 77.086945 |
| Madh Island | 19.135000 | 72.793442 |
| Mall Road | 31.103889 | 77.175743 |
| Mumbai | 19.076090 | 72.877426 |
| Noida | 28.535517 | 77.391029 |
| Pangong Tso | 33.821751 | 78.442719 |
| Woodville Palace Hotel | 31.091440 | 77.177757 |
Related Movies